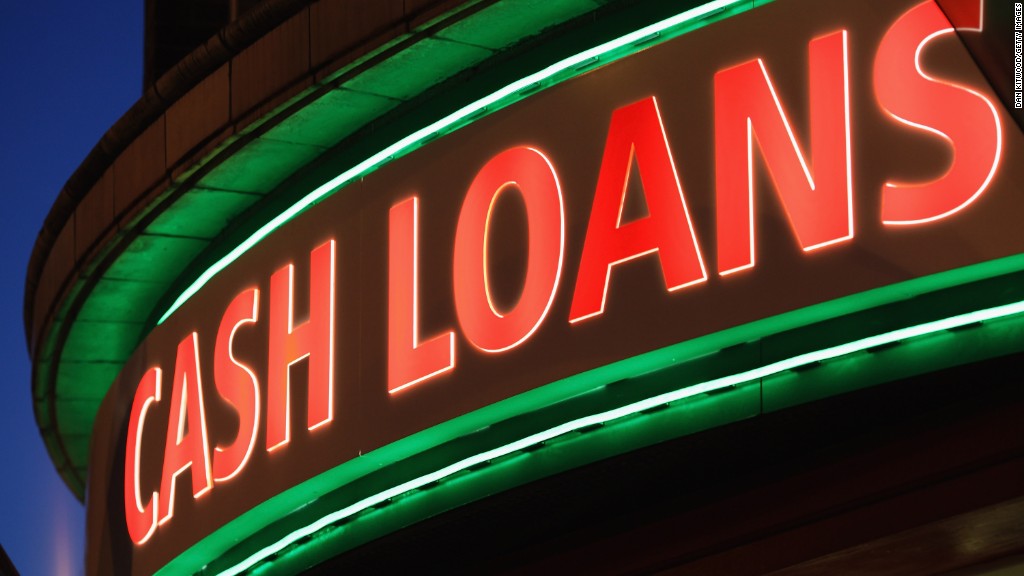 The payday loan industry could soon get a big overhaul.
The Consumer Financial Protection Bureau is taking aim at these short-term loans that carry high interest rates to try and keep borrowers from falling into an endless cycle of debt.
The bureau has proposed new rules that would require payday lenders verify a borrower's ability to afford a loan and restrict some lending and fee practices.
Related: Google bans all ads for payday loans
Payday loans, which tend to be tied to the customer's next payday, typically have an average annual percentage rate of around 390%, the CFPB said.
Many borrowers tend to live paycheck to paycheck with unstable incomes that can vary monthly, according to research from The Pew Charitable Trusts. The loans are often used to cover basic living expenses like rent or utility bills.
Here's what the CFPB is proposing:
1. Make sure borrowers can afford to pay off a loan: The CFPB's proposed "full-payment test" would require lenders to verify that a borrower can afford to make payments and still meet basic living expenses and other major financial obligations.
"Too many borrowers seeking a short-term cash fix are saddled with loans they cannot afford and sink into long-term debt," said CFPB Director Richard Cordray in a statement. "It's much like getting into a taxi just to ride across town and finding yourself stuck in a ruinously expensive cross-country journey."
2. End the "debt trap" cycle: The proposals also aim to end what the CFPB called "debt traps" by making it harder for lenders to re-issue or refinance a borrower's loans.
According to the CFPB, more than 80% of payday loans are re-borrowed within a month.
The rules would prevent lenders from issuing a similar loan to a borrower seeking more money or looking to roll over a loan within 30 days of paying off a previous short-term debt. They would also limit when a loan could be refinanced.
Related: Payday loan borrowers pay more in fees than original loan
3. Regulate penalty fees: Many payday lenders have access to their customer's checking accounts so they can automatically collect payment come pay day. But unsuccessful withdrawals on an account can trigger massive fees from both the debtor's bank and lender.
The average payday loan borrower spends nearly half the year in debt, and spends an average of $520 in fees to repeatedly borrow $375, according to Pew.
Under the new proposed rules, lenders must provide written notice typically at least three days before they attempt to debit an account that details how much money will be taken out and when.
Related: Americans in love-hate relationship with payday loans
While the potential rules aim to keep borrowers from taking on insurmountable debt, some say they don't go far enough
For starters, the government should limit the amount that payday lenders can lend, said Nick Bourke, director of small dollar loans at The Pew Charitable Trusts.
He added that the lack of federal standards is keeping other lenders, like banks and credit unions, out of the short-term lending market.
"Banks are perfectly situated to offer these loans to customers...but banks aren't making these loans available because there is no federal standard on what a safe and affordable loan looks like."
The CFPB is opening up these proposals for public comment, which must be submitted before September 14.