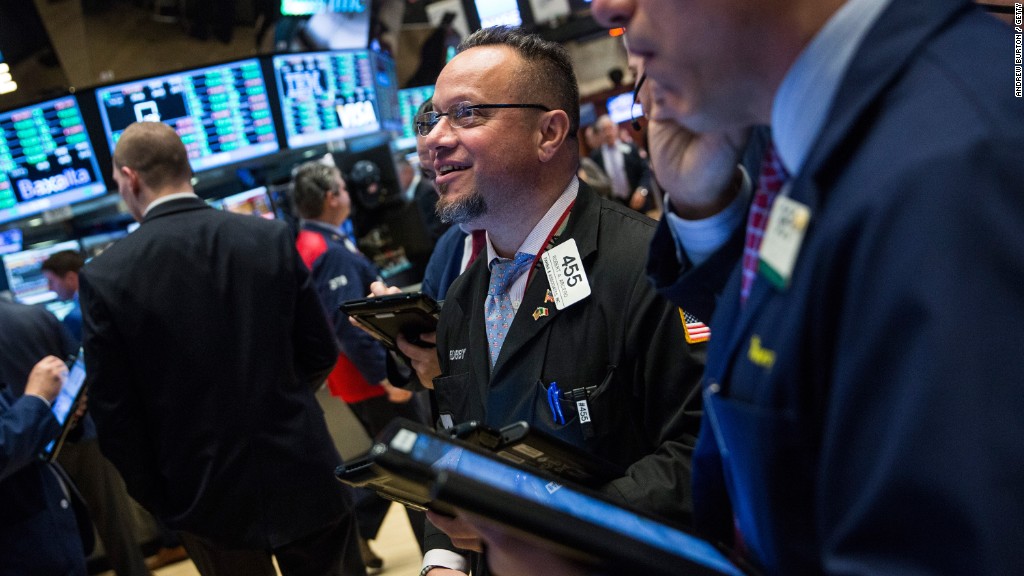 The Nasdaq, home to Apple, Google, Facebook and many other leading tech stocks, is within spitting distance of topping the 5,000 mark for the first time this year.
It was hovering around 4,975 Wednesday afternoon. The Nasdaq has surged nearly 20% since hitting a 52-week low right around 4,200 back in February.
But the recent rebound in the Nasdaq has less to do with high tech and more to do with shampoo, 18-wheeler trucks, toys and ketchup.
Sure, there are some tech stocks helping to push the Nasdaq back near 5K.
Nvidia (NVDA), a graphics chip company that also is a leader in self-driving car technology, is up 40% this year. Semiconductor equipment giant Applied Materials (AMAT) has surged 30%. They are the top gainers in the Nasdaq-100 (NDX) so far in 2016.
But dig deeper and you'd find that other hot Nasdaq stocks have little to do with Silicon Valley.
Hair care and cosmetics giant Ulta Salon (ULTA) is up 30%. Peterbilt and Kentworth owner PACCAR (PCAR) is up 20%.
Other big Nasdaq winners? Barbie and Hot Wheels maker Mattel (MAT), discount retailer Dollar Tree (DLTR) and condiments and cheese king Kraft Heinz (KHC). The latter is the top holding of Warren Buffett's Berkshire Hathaway (BRKB). You can't get more old economy than that!
The Nasdaq is still down slightly for the year though. The last time it was above 5,000 was on December 31.
Related: Tech bear worries about another bubble, but LOVES Google
It's also 5% below the all-time high of 5,231.94 it hit nearly a year ago. The Dow and S&P 500 are much closer to their records.
And we shouldn't sugarcoat things here either. The Nasdaq first hit 5,000 way back in March 2000 -- only to quickly plunge as the dot-com bubble burst.
So the Nasdaq has essentially done nothing but tread water through the last part of Bill Clinton's presidency, two terms of George W. Bush and two terms of Barack Obama. (Maybe it will finally hit 6,000 under President Clinton II or President Trump.)
The Nasdaq is a lot different now than it was in 2000. Facebook (FB) was still negative four years old, for example. (Mark Zuckerberg founded it with some Harvard colleagues in 2004.) Google (now Alphabet (GOOGL)) wouldn't go public until 2004 either.
Related: Investors are greedy despite some warning signs
Of course, there are a handful of brand name tech stocks that are also thriving this year. Facebook is among the top performing Nasdaq stocks, up 13%. Amazon (AMZN) has done well too, gaining 8% and recently hitting an all-time high.
Cisco (CSCO), which many people thought back in 2000 could one day be worth a trillion dollars, is up 6%. Cisco never got to $1 trillion. Its market value is now "only" $146 billion. But it is in the Dow!
Chip giants Texas Instruments (TXN) and Broadcom (AVGO) are both up more than 10% too. Even Yahoo (YHOO) -- which arguably had its best days back in 2000 -- is up double digits now that the company is looking to sell its core assets.
But if the Nasdaq continues to rally, there's a good chance that a lot of stodgier stocks are going to help lead the way too.
Whole Foods (WFM), farming equipment retailer Tractor Supply (TSCO), railroad CSX (CSX) and old media stalwarts Viacom (VIAB) and Fox (FOXA) have helped lift the Nasdaq this year as well.
So much for the Nasdaq being home only to innovative tech upstarts. And that's not necessarily a bad thing.