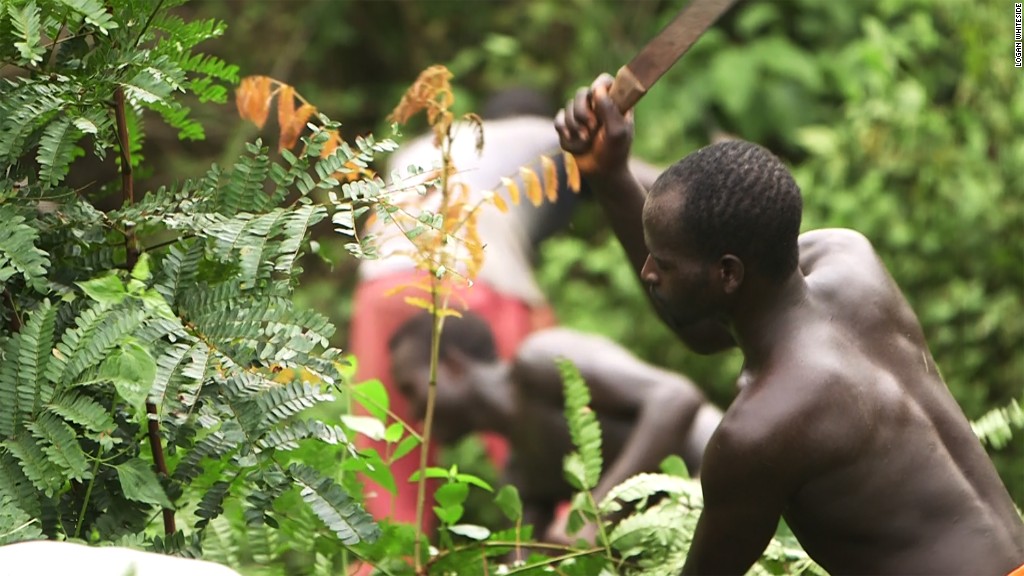 For years, John-Paul Iwuoha enjoyed the fruits of Nigeria's oil boom: The executive had a cushy job in Lagos, making plenty of what he describes as "easy money."
But even as the riches flowed, the former consultant commenced work on an unlikely escape plan: a small farm on the outskirts of town.
Iwuoha describes the farm, started four years ago, as an "experiment." But when oil prices crashed in 2015, he quickly traded in his business suit for a chance to help remake Nigeria's agricultural sector.
"When I saw this crisis coming, I knew this was my exit," Iwuoha told CNNMoney.
"We have a vibrant agricultural sector that has been abandoned," he continued. "[Nigeria has] a population of a hundred and seventy million plus people ... they can't feed on oil, somebody has to produce the food."
Full coverage: Nigeria: An economy divided
The former oil executive is right: Shortages of rice and wheat force Nigeria to import food worth $12 billion each year, or one-third of the continent's total food import bill, according to the African Development Bank.
Nigeria -- where agriculture is 20% of gross domestic product -- simply isn't growing enough crops. The sector employs tens of millions of people, but malnutrition, low yields and volatile pricing remain rampant.
Related: Nigeria's space program is not an 'ego trip'
The country's agricultural products were once its pride. In the 1960s, Nigeria was the global leader in palm oil production, and second in cocoa. Export crops were its main foreign exchange earner.
But the industry faded into the background as oil became the new commodity of choice.
"I call it oil drunkenness," said Iwuoha. "I am happy with the current situation, where things are going bad, because it's causing us to reflect, look inwards."
Plunging crude prices have now pushed Africa's largest economy to the brink of recession. The government is racing through its foreign currency reserves, and is facing a shortfall of $11 billion in its 2016 budget.
The crisis has also spurred the government to take a serious look at diversifying Nigeria's economy. Already, it has created incentives to lure workers into agriculture.
Related: Can this massive refinery solve Nigeria's energy crisis?
Iwuoha, meanwhile, has found farming to be difficult. His land was successfully cultivated during the 1980s, but years of inactivity allowed the forest to reclaim the fields. The farm also lacks an irrigation system and efficient storage rooms.
Iwuoha now wants to turn his start-up farm into a successful business. To do so, he says he just needs to secure funding.
"We built this country on agriculture, on the pride of the planted seed," he said. "We need to go back to the business."