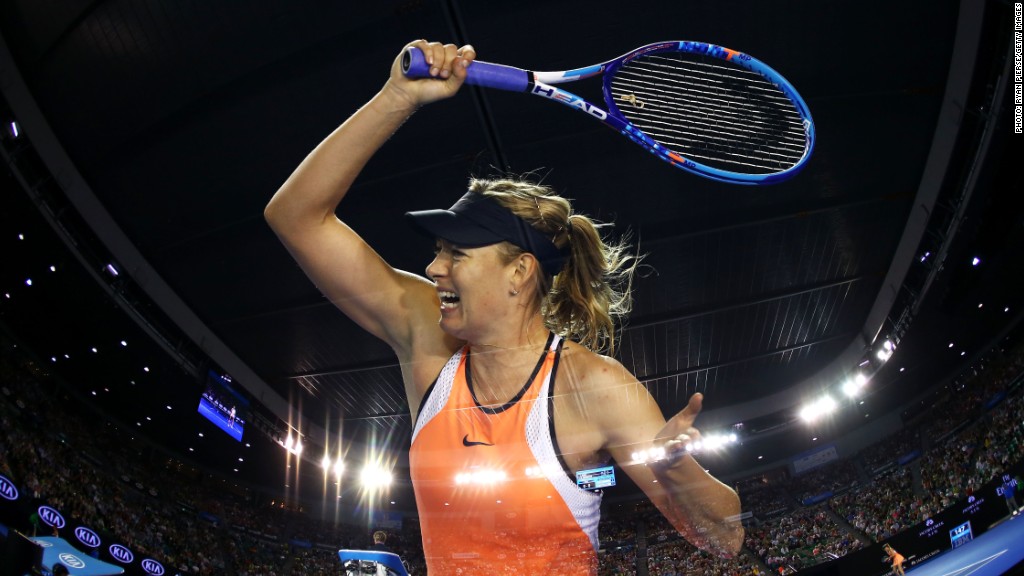 Nike is standing by tennis star Maria Sharapova, even after she was suspended for two years for using a banned drug. Other sponsors are in less of a hurry to restore ties with her.
The sportswear giant, which had previously put its relationship with the athlete on hold, highlighted that an investigation by the International Tennis Federation found that she "did not intentionally break its rules."
"Maria has always made her position clear, has apologized for her mistake and is now appealing the length of the ban," Nike (NKE) said in a statement. "Based on the decision of the ITF and their factual findings, we hope to see Maria back on court and will continue to partner with her."
Sharapova received a two-year suspension on Wednesday from the ITF after testing positive for meldonium, a drug that was recently banned by the organization. Although the ITF said she didn't purposefully break the rules, it found she was at "very significant fault" for failing to stay abreast of changes to the banned substances list.
Related: Maria Sharapova banned for two years over meldonium drug use
Nike and automaker Porsche suspended their sponsorship deals with Sharapova in March after she first announced that she had failed a drug test at the Australian Open. But sports equipment company HEAD, stuck with her, saying it believes she made an "honest mistake."
Another sponsor, the Swiss watch brand TAG Heuer -- part of the LVMH (LVMHF) group -- halted negotiations in March over renewing a sponsorship deal with Sharapova. Tag Heuer CEO Jean-Claude Biver said that given the two-year suspension, "we are not in a hurry anymore to sign a new contract today or this month."
Porsche is taking a similarly cautious position.
"As Maria will appeal the [ITF] decision, we will continue to keep all activities with her on hold until the final judgment has been reached," a Porsche spokeswoman said.
Sharapova tested positive for meldonium, an active ingredient in a medication she had been taking for the last decade. The chemical was added to the ITF's banned substances list in January, and Sharapova has maintained that she wasn't aware of the change.
Nike's deal with Sharapova has been reported to be worth $70 milion over eight years. The world's top endorser of athletes, Nike has more than $6 billion in endorsement deals on its books.
The brand has courted controversy in the past for working with scandal-hit athletes. Last year, it signed a deal with American track star Justin Gatlin, whose four-year ban for using a performance enhancing drug ended in 2010. It was his second suspension. A Nike spokesman at the time told USA Today that Gatlin had served his penalties.
-- With reporting by Chris Isidore