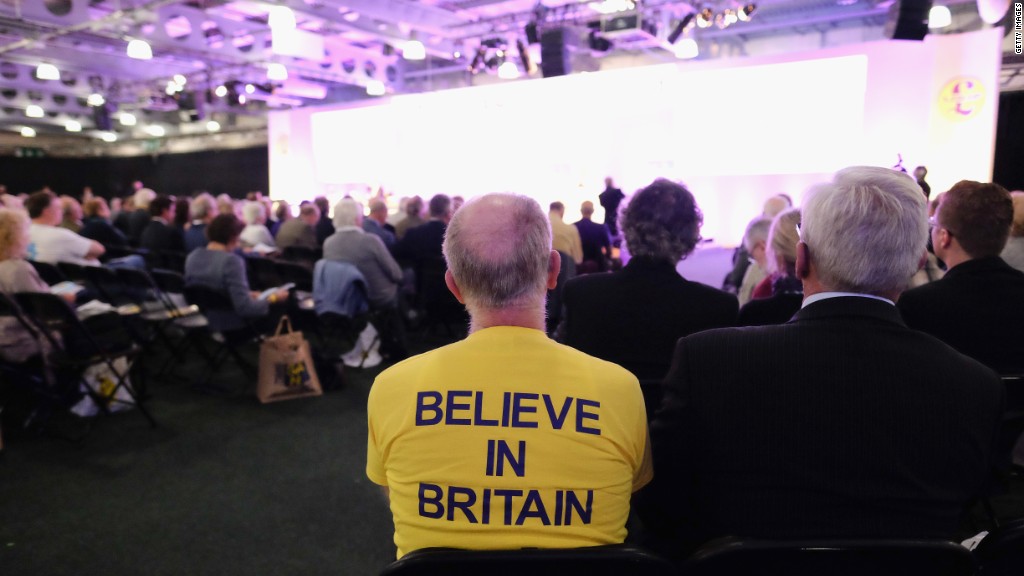 Up until now, U.S. investors have largely shrugged off the threat of America's closest ally potentially voting itself into a recession.
But with the June 23 U.K. referendum growing closer and support for leaving the European Union rising, Wall Street is starting to take notice of the Brexit risk. Futures are pointing to a lower open for U.S. stocks Tuesday, after the market slumped on Monday. Volatility has ratcheted higher as the chances of a Brexit seem to have increased.
The U.K. government, which is campaigning against leaving the EU, has warned Brexit would kill U.K. jobs, plunge the country into a recession and create currency turbulence.
"Now it's becoming a clear and present risk" for U.S. investors, said Troy Gayeski, senior portfolio manager at SkyBridge Capital.
But how much damage would Brexit do to the American market in today's highly interconnected financial world? After all, almost one-third of American sales in Europe are in the U.K., which is the U.S.' 7th biggest trading partner. And U.S. businesses remain very cozy with the U.K.
Related: Why Brexit matters to America
No one can say for sure, but the consensus is that the U.K. voting to leave the EU would create trouble -- but not catastrophe -- for U.S. investors.
In the weeks after a vote in favor of Brexit, the S&P 500 would likely slump 5% and volatility would spike by 40%, according to a scenario analysis conducted by financial technology company FIS. The stress test, used by asset managers to assess risk, was based on economic and market analysis and by studying previous shocks to the system.
As you might expect, British stocks face greater downside here. FIS warns of a 15% drop for U.K. markets and a 60% surge in volatility. A separate stress test conducted by risk modeling company Axioma envisions an even deeper loss of as much as 24% for British equities.
Financial stocks are more exposed than their peers due to their close proximity to market turbulence and the memory of the 2008 meltdown on Wall Street. U.S. financial stocks could drop by 8% if Brexit happens, according to FIS.
Gayeski agrees that U.S. stocks could take a hit, though not a big one. He said it's "probably 3% to 5%." He said a more serious drop of 10% (technically called a correction) or 20% (a bear market) "sounds extreme" at this point.
Michael Block, chief strategist at Rhino Trading, notes that Brexit doesn't mean the U.K. will cut all ties with the EU. "The Loch Ness Monster is not going to emerge and start shooting fire from its claws to defend the island," Block joked in a note.
Related: Brexit could trigger European stock market crash
Of course, the scary part about Brexit is it calls into question the entire European experiment of integration. Investors would naturally fear: Which country is next to jump ship?
"It gets awfully messy. It could create some powerful forces for disintegrating the whole project," said Ed Yardeni, president of investment advisory Yardeni Research.
That's why FIS analyzed a second scenario called "exit contagion" in which a Brexit leads to calls from powerful anti-EU parties across Europe to renegotiate with the EU. In that scenario, domestic politics in Europe could be destabilized in a way that rattles markets.
Under an "exit contagion" situation, the U.S. stock market could drop by 10% and financial stocks may retreat 15%, FIS said.
Brexit "could provide a significant shock to securities markets," Laurence Wormald, head of research at FIS, wrote in the report. "Asset managers should be paying very close attention."
Related: Banks having worst start to a year since 2011
The good news is that Brexit could make American stocks look pretty good by comparison.
"There could be a 5% to 10% quick correction -- but then widespread recognition that increasingly the U.S. is the only game in town in terms of owning stocks," said Yardeni.
Yardeni and other analysts also believe global central bankers would come to the markets' rescue by pumping extra liquidity into the financial system. The U.S. Federal Reserve would likely be forced to further dial back its plans to raise interest rates as well.
"Any selloff in U.S. stocks could turn out to be a buying opportunity," said Yardeni.
--CNNMoney's Ivana Kottasova contributed to this report.