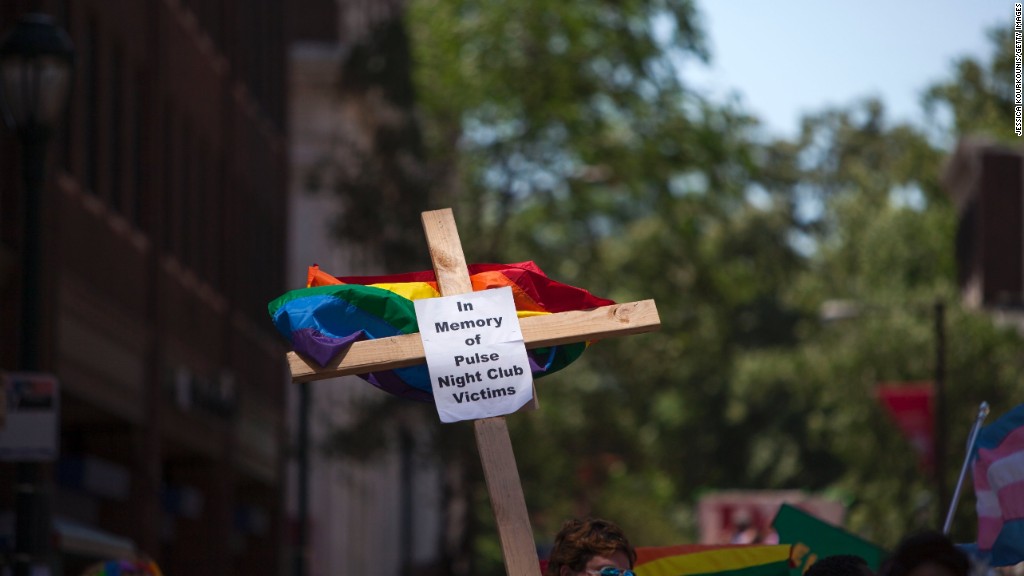 More than 100,000 donors have given nearly $5 million to a GoFundMe campaign that's raising money to help the victims of the Orlando Pulse shooting.
The money will be used to help pay for things like funeral arrangements, hospital bills and the transportation of bodies overseas.
"[The victims'] families are international, and we want to make sure that they can all be here to mourn the loss of their loved ones but also bring their loved ones back home if they need," Ida Eskamani told CNNMoney on Wednesday.
Eskamani is a member of Equality Florida -- the group that started the GoFundMe campaign on Sunday after a gunman killed 49 people and injured dozens at a gay nightclub called Pulse.
"We've had victims' families and survivors contact us needing support for funeral arrangements, needing support burying their family overseas," she said. "So many folks in this tragedy are from the Latino community and their families don't live here in Orlando; they don't even live in the country."
Victims of the Orlando shooting can request assistance by calling the Victim Connect Resource Center's hotline at 855-4-VICTIM or at chat.victimconnect.org.
Impact Your World: How to help Orlando shooting victims
Equality Florida is working with the National Center for Victims of Crime, a nonprofit that helped distribute funds to victims after the mass shootings in Fort Hood and Chattanooga.
According to NCVC executive director Mai Fernandez, the money that's raised will be given to families of deceased victims, people injured in the shooting and may also go anyone in the club at the time of the attack.
The funds will be distributed in about nine to ten months. That's about how long it takes to figure out a framework as to how to pay different kinds of victims and to vet applicants to make sure they are legit.
Though the NCVC is considering distributing some money sooner for emergency situations, this fund isn't intended to cover victims' immediate expenses.
There are other emergency organizations on the ground helping to cover funeral costs, travel expenses for family members, food and housing costs already.
The money from NCVC, on the other hand, can be spent however the victims and their families choose. Think of it as the type of compensation a person receives when they win a lawsuit.
In addition to the GoFundMe campaign, people can safely give money directly to the NCVC at NationalCompassionFund.org.
Related: Orlando GoFundMe campaign sets record
The largest single donation came from GoFundMe. The company donated $100,000 by waiving its transaction fee.
Other large donations came from Cricket Wireless ($25,000) and an organization that promotes LGBT rights among business executives called Executive Pride ($30,000). Singer-songwriter Jeffree Star gave $20,000.
Most of the donations were for $1,000 or less.
The initial goal was to raise $100,000, but donations hit $1 million in just 10 hours. The goal was raised to $6 million on Wednesday.
The campaign is GoFundMe's largest ever, dwarfing the site's previous record of just over $2 million.
Related: Orlando shooters was a security officer and cleared twice by his employer
Eskamani said the organizers have no idea how much money the victims and their families will end up needing, but want to raise as much money as possible. The mass shooting is the deadliest in U.S. history.
Eskamani said there's been an "overwhelming" outpouring of support.
"We have many corporations, for example United Airlines, JetBlue supporting the families with airline costs. We have various individuals donating services for the funeral arrangements and things of that nature," she said. "We are working with hospitals and funeral homes to try to insure that these families can get the resources they need during this difficult time."