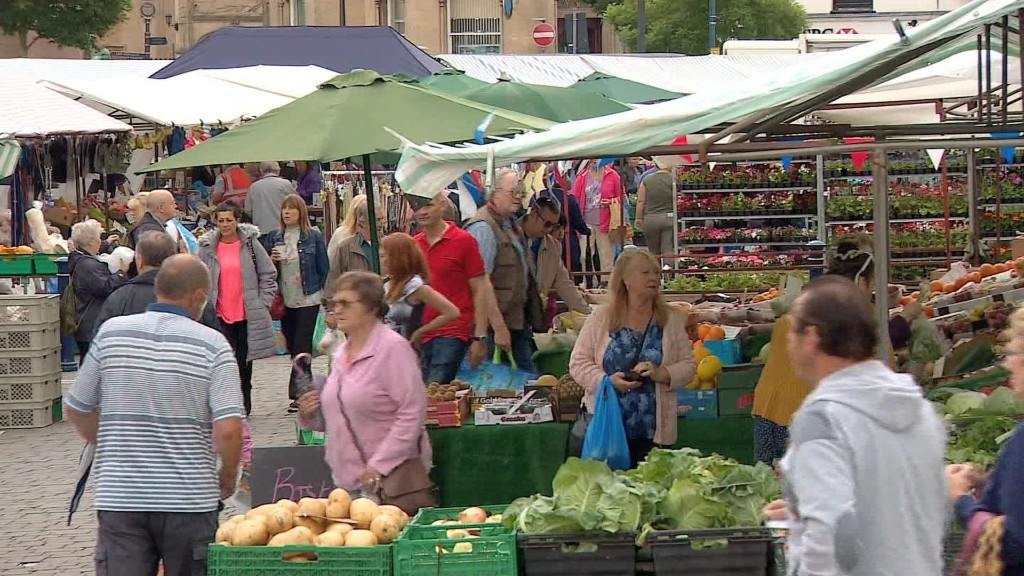 Major global firms are fuming after their brands were used in advertising campaigns that encouraged British voters to ditch the European Union.
General Electric (GE), Unilever (UL) and Airbus (EADSF) sent a joint letter to the "Vote Leave" campaign this week saying they were "extremely surprised and disappointed" to see their names and logos used in "propaganda" leaflets calling for a so-called Brexit.
"We believe that -- for jobs and investment -- Britain is better off in Europe," the companies wrote in the letter. They called for any remaining leaflets to be destroyed and threatened to take legal action if their brands were used again without permission.
British voters will decide on June 23 whether to stay in the EU. A vote to leave -- or Brexit -- would end more than four decades of U.K. membership in a political and economic union with other European nations.
Last week, automakers Toyota (TM) and Nissan (NSANY) said their logos were also used in pro-Brexit campaign materials without permission.
Toyota said it was considering legal action, while Nissan said the "Vote Leave" campaign had refused to remove its name and logo from their marketing materials and website.
Nissan said it wants Britain to remain a part of the EU, and accused the campaign of "grossly" misrepresenting its views.
GE, Unilever, Airbus, Toyota and Nissan together employ tens of thousands of workers in the U.K.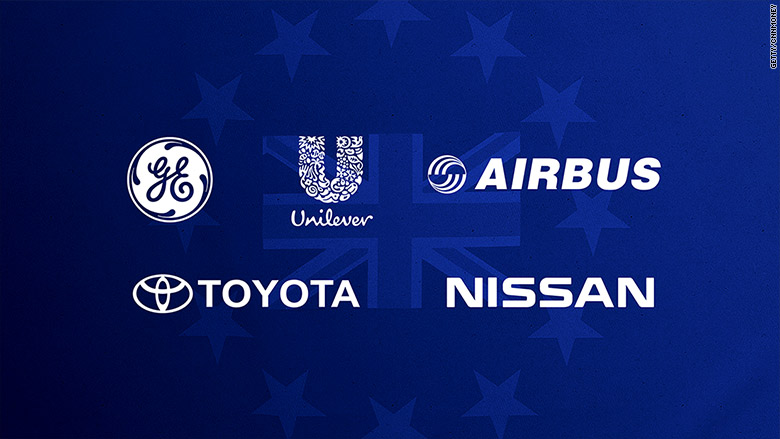 The "Vote Leave" campaign did not respond to multiple requests for comment. But a campaign press release from February said many company executives feel political pressure to support the "Remain" campaign.
Related: How much will U.S. stocks drop if there's a Brexit?
A battle for the hearts and minds of British voters has been waged for months in the lead up to the referendum.
Those in favor of leaving the EU say wide-reaching regulations from Europe stifle U.K. businesses, and that immigration is damaging British society. They say leaving the EU would boost the economy.
Those campaigning for the U.K. to remain in the EU paint a much grimmer picture. They say a Brexit would make trade and investment suffer, trigger a recession, kill jobs, slam the pound and cause house prices to fall.
Prime Minister David Cameron is campaigning for the U.K. to remain in the EU, but many members of his Conservative Party have taken the opposite view.
Chancellor George Osborne, head of the U.K. Treasury, warned on Wednesday that if a Brexit occurs, the government would have to hike taxes and slash spending to compensate for about £30 billion ($42.6 billion) in lost annual revenue.