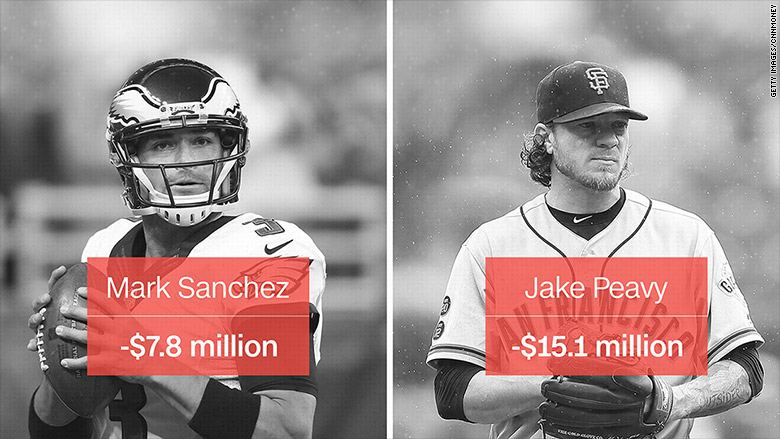 Jake Peavy and Mark Sanchez are just two of the pro athletes robbed in a $33 million Ponzi-like scheme.
Ash Narayan is being investigated by the SEC for "secretly siphoning millions of dollars" from the athletes' accounts "using forged or unauthorized signatures." Narayan then invested the money in a failing online ticket company that he has a stake in.
Among the documents in the SEC's lawsuit was a ledger that contained a list of athletes and how much they lost:
- San Francisco Giants pitcher Jake Peavy: $15.1 million
- Denver Broncos quarterback Mark Sanchez: $7.8 million
- Former MLB pitcher Roy Oswalt: $7.6 million
- Analyst and former NBA player Austin Croshere: $125,000
- Colorado Rockies pitcher Tyler Matzek: $25,000
Peavy, Sanchez and Oswalt all said they trusted Narayan because he was Christian and represented several other pro athletes, according to the SEC's lawsuit.
All three noted that Narayan had helped them set up investment accounts, where a portion of their paychecks were directly deposited.
Related: Star hedge fund manager in apparent suicide a week after arrest
Narayan was on the board of the ticket company, The Ticket Reserve, and made about $2 million from the company, according to the SEC's statement.
The CEO of Ticket Reserve, Richard Harmon, is also being investigated along with the company's COO John Kaptrosky. The two executives were aware of the Ponzi-like scheme and paid Narayan finder's fees out of the money he stole from his clients.
The SEC has frozen the assets of all three defendants.
The original SEC complaint was filed on May 24 but was unsealed on Tuesday. It showed that current investors in The Ticket Reserve were paid using money from the company's newer investors.
Related: When someone else claims your tax refund
On Wednesday, the NFL Players Association sent a letter to its players warning them of the fraudulent scheme.
The NFLPA has suspended Narayan as a registered financial adviser for the union.
Correction: An earlier version of this story misstated how much Mark Sanchez lost. The amount was $7.8 million, not $5.3 million.