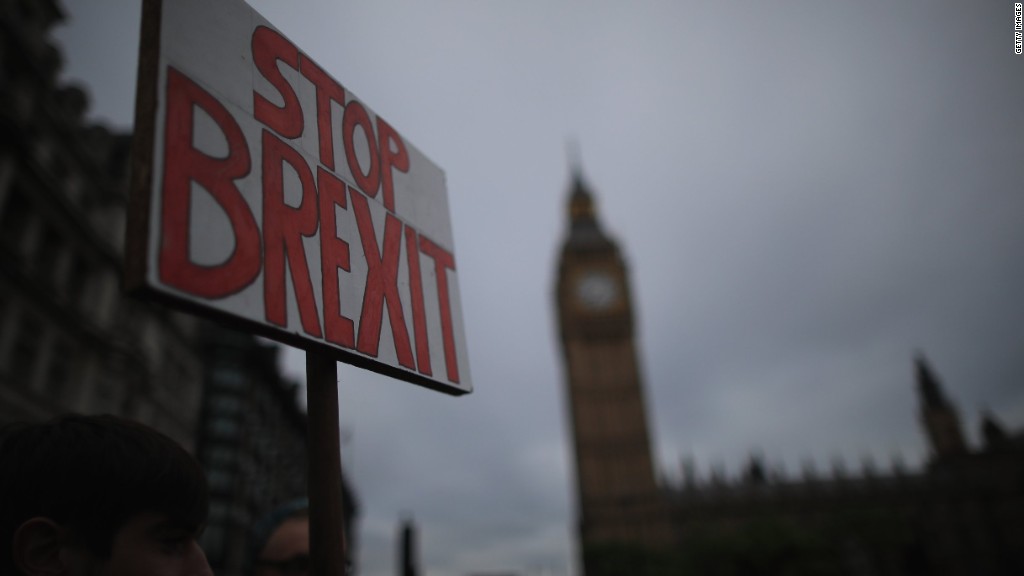 Millions of European Union citizens living in the U.K. have a clear message for the British government: We're not bargaining chips.
EU migrants are stuck in limbo following last month's Brexit vote. Their future status is uncertain and the next British prime minister could trade away their rights in divorce talks with the EU.
EU rules guarantee visa-free movement of people across its 28 member states. But once Britain exits the EU, that could stop. EU passport holders are worried they could lose their jobs and right to remain in the U.K.
Theresa May, the frontrunner to succeed David Cameron as prime minister, won't guarantee the status of EU migrants, contradicting assurances given by leaders of the Vote Leave campaign before the referendum.
The status of people who have put down roots would be part of the Brexit negotiations, she told U.K media at the weekend.
Related: Brexit's broken promises
The government said Monday that it would be "unwise" to guarantee EU nationals the right to stay without a corresponding assurance about Brits living in other EU states. Lawmaker Gisela Stuart, who campaigned for Brexit, said that was offensive.
"May I point out to ministers that people are not bargaining chips?" she said in a parliamentary debate.
EU migrants have seized on the analogy to press their case for clarity.
"I'm Portuguese, a scientist and a lecturer, creating and sharing knowledge in the U.K. for the last 15 years. I am not a bargaining chip," said Paula Salgado, a biology lecturer at Newcastle University.
Charlotter Beyer, a lecturer from Denmark, said she's been teaching in the U.K. for 20 years. "I am married to a Brit and have a family - one of so many EU-British families in this country. We deserve reassurance," she said.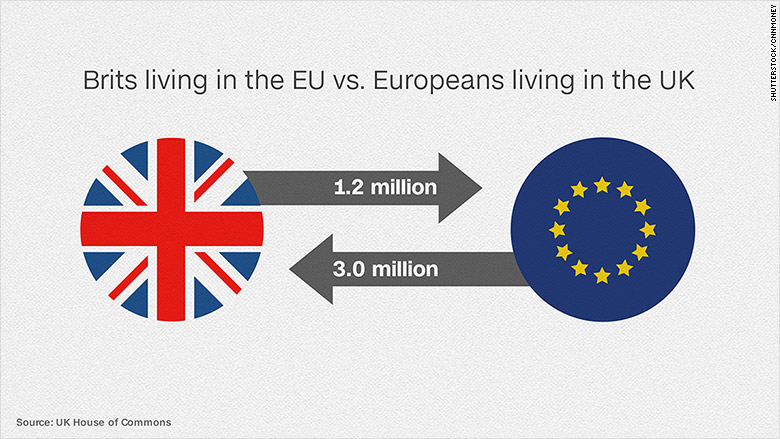 Related: Will Britain's EU workers get the boot?
The Oxford Migration Observatory estimates there are 3 million EU-born migrants living in the U.K. About 1.9 million of them -- or 63% -- are working.
EU workers are vital for many British industries. Five of the biggest business associations in the U.K. wrote an open letter Tuesday calling on the government to confirm the residence rights of EU citizens working in the U.K.
"Both because it is the fair thing to do, and because their skills are crucial to the success of our businesses, both now and into the future," the groups said in the letter.
The Society of Motor Manufacturers and Traders, which represents automakers in Britain, has said it needs more skilled workers from the EU.
Roughly 55,000 of the National Health Service's 1.2 million staff in England are EU citizens. And about 10% of registered doctors in the U.K. come from other European countries.
Many NHS hospitals are demanding protection for their European staff.
Related: The facts about Brexit and immigration
-- Alanna Petroff contributed reporting.