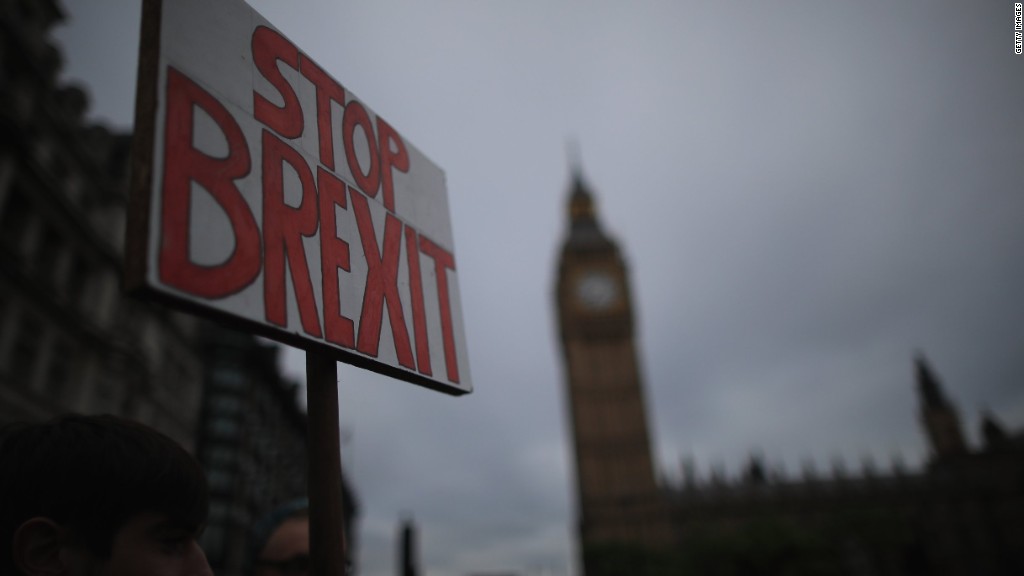 Always fancied a London holiday? Now is the time to do it.
The pound has collapsed 14% against the dollar and 11% against the euro since the U.K. voted to leave the European Union. One pound was $1.50 on June 23, the day of the referendum. Now it's less than $1.29. That's the cheapest in 31 years.
And while the fall might be unsettling for global financial markets, it's great news for American tourists heading to the U.K. this summer.
Take London's luxury Langham Hotel. A night at the five-star hotel cost £300. That was $450 before the referendum. Now? Just $387 per night. Not bad.
Related: Pound drops to lowest in 30 years
Buckingham Palace, where the Queen lives most of the year, is open to public over the summer. A perfect tourist destination. Two tickets to visit the palace, its state rooms, the royal mews and the Queen's gallery cost £74. That's $95.40 at the current exchange rates. Yet it was $111 just two weeks ago.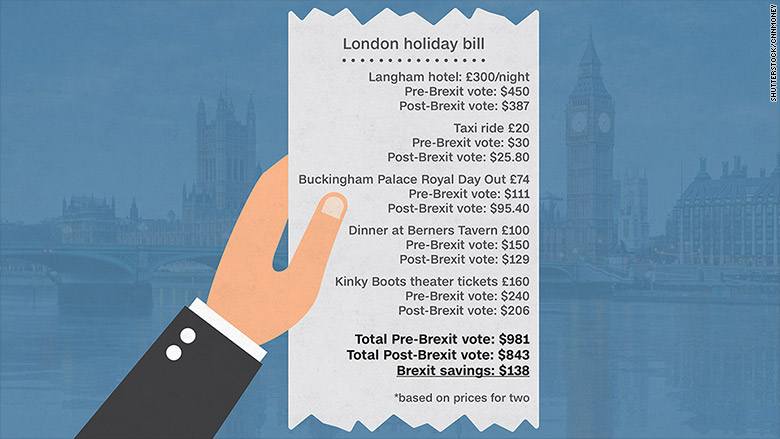 Walking through London is lovely, but when it starts pouring, a taxi comes in handy. A trip across the center in one of the classic London black cabs costs roughly £20. That's $25.80, compared to $30 on June 23.
Theater fan? Two tickets for "Kinky Boots," one of London's hottest shows right now, will set you back $206, $34 less than it would have cost two weeks ago.
EU migrants: We're not Brexit 'bargaining chips'
And of course, you'd need to eat too. How about a bite at Berners Tavern, an upmarket modern British restaurant in Fitzrovia? Set menu dinner for two with wine would cost you $150 before the referendum. Now, with the "Brexit discount," it's just $129.
The pound has dropped so low against the dollar that the savings from this five-item tourist itinerary add up to $138. That's enough to pay for another London staple: a champagne afternoon tea for two at the Ritz. Enjoy!