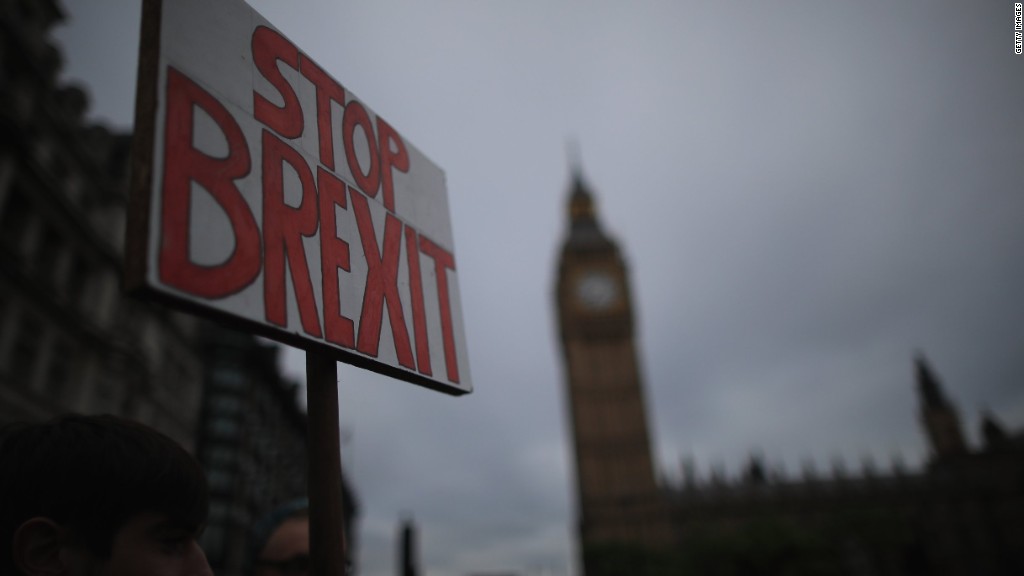 Thousands of Brits are so worried about losing their access to the European Union that they're lining up for passports from other countries in the bloc.
Embassies and consulate offices for Germany, Italy, Sweden, Poland and Hungary all reported a surge in interest in the days immediately after the Brexit referendum.
The German embassy in London was getting about 200 calls and emails a day immediately after the vote, a tenfold increase on normal levels, a spokesperson said. The pace has slowed a bit but about 100 people a day are still contacting the embassy.
The Italian embassy in the U.K. said it received about 500 calls after the referendum from people inquiring about Italian citizenship applications.
"We usually get 10 a year," a spokesperson told CNNMoney.
The Swedish Migration Agency also reported a sixfold surge in citizenship applications in the three weeks after the vote. It normally gets just 20 U.K. applications per week, but that quickly rose to nearly 120 per week.
Poland and Hungary are also seeing elevated levels of interest. Dozens applied before the referendum, the Polish embassy reported. Since the vote, it has received nearly 350 emails asking about citizenship.
Hungary's consulate in London said it had been contacted by about 150 people in the wake of the Brexit vote, compared with fewer than two per month over the previous six months.
Related: Investors will shun Europe's 'golden visas' after Brexit
Many have turned to the Republic of Ireland because U.K. citizens with Irish parents or grandparents are entitled to passports.
"Following the U.K. referendum, there has been a spike in interest in Irish passports in Northern Ireland, Great Britain and elsewhere," said Ireland's minister for foreign affairs and trade, Charlie Flanagan, in late June.
He said a surge in applications would put "significant pressure on the system."
Northern Ireland is part of the U.K. and will therefore leave the EU when Brexit happens.
Armand Arton, founder of global citizenship advisory firm Arton Capital, said the main way people could get citizenship of another EU country is by proving they have ancestors or origins in the target country. But some may try to secure citizenship via investment programs, if necessary.