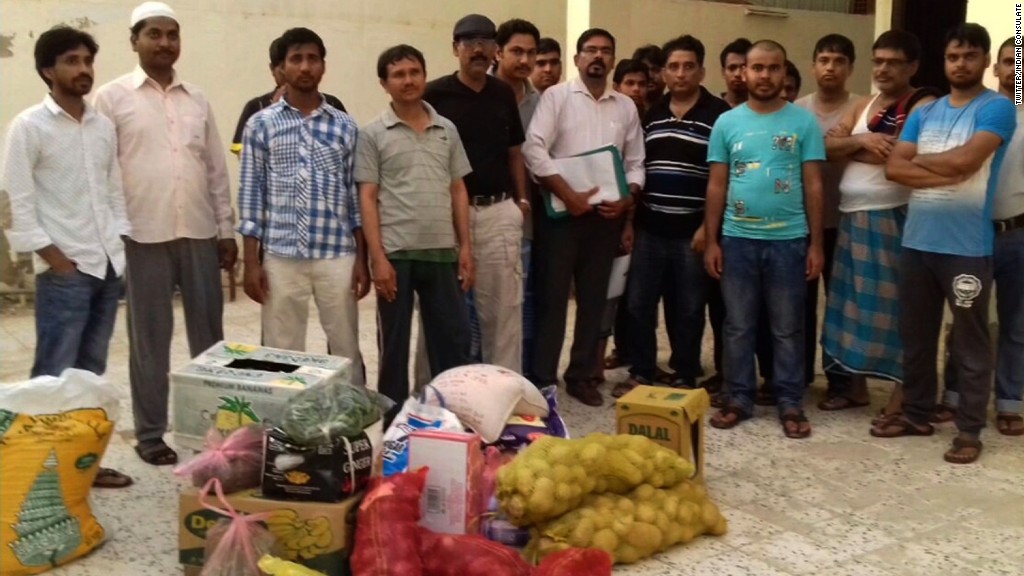 India is rushing aid to thousands of its citizens in Saudi Arabia who are running short of food after losing their jobs.
The Indian consulate in Jeddah said it distributed 15,475 kilograms (34,100 pounds) of food including eggs, spices and salt over the weekend. It said it was trying to reach all affected Indians "to help them overcome this crisis."
Sushma Swaraj, India's Minister of External Affairs, said that a large number Indians in Saudi Arabia and Kuwait had lost their jobs, and were owed wages by their employers. Many are now stuck in camps for migrant workers.
"I assure you that no Indian worker rendered unemployed in Saudi Arabia will go without food," Swaraj said on Twitter. She said more than 10,000 Indians in the country were facing a "food crisis" and dispatched one of her deputies to the country.
Vikas Swarup, a spokesman for the foreign ministry, said Tuesday that initial number was an approximation, and that 7,700 Indian workers in 20 camps were affected by the crisis.
There are roughly 3 million Indians employed in Saudi Arabia, which depends on foreign workers to fill jobs in its services, manufacturing and construction sectors.
Low oil prices have slashed economic growth and forced the Saudi government to cut spending. In April, the government announced an ambitious plan to break its dependence on oil but that won't happen for years.
Related: Saudi Arabia says $60 oil is coming soon
India's representative in Jeddah, Muhammad Noor Rahman Sheikh, said 2,500 of the affected workers had been employed by Saudi Oger Company, a construction firm.
Workers at one of the camps told CNNMoney that their bosses at Oger stopped showing up to work about seven months ago, and they had heard nothing from the company since.
Conditions at the camp are bleak: Trash collection has stopped, and there's no electricity. The workers get water from the mosque across the street. Police are stationed outside after protests erupted in recent weeks.
The workers cannot leave Saudi Arabia because the company holds their passports.
Sheikh said the workers' situation became more dire after the company stopped providing food about 10 days ago.
A source familiar with the circumstances said some of the abandoned construction projects were Saudi government contracts.
Oger representatives were not immediately available for comment. Saudi government officials contacted by CNNMoney said they would look into questions about the situation, but had no immediate response.
Related: How much more oil can the Saudis really pump?
Falling oil revenue has also put pressure on the country's biggest businesses.
Earlier this year, labor protests erupted after the Binladin Group, a massive construction company founded by the father of the late al Qaeda leader Osama bin Laden, reportedly laid off at least 50,000 employees.
-- Essam Al-Ghalib, Omar Khan, Schams Elwazer and Ravi Agrawal contributed reporting.