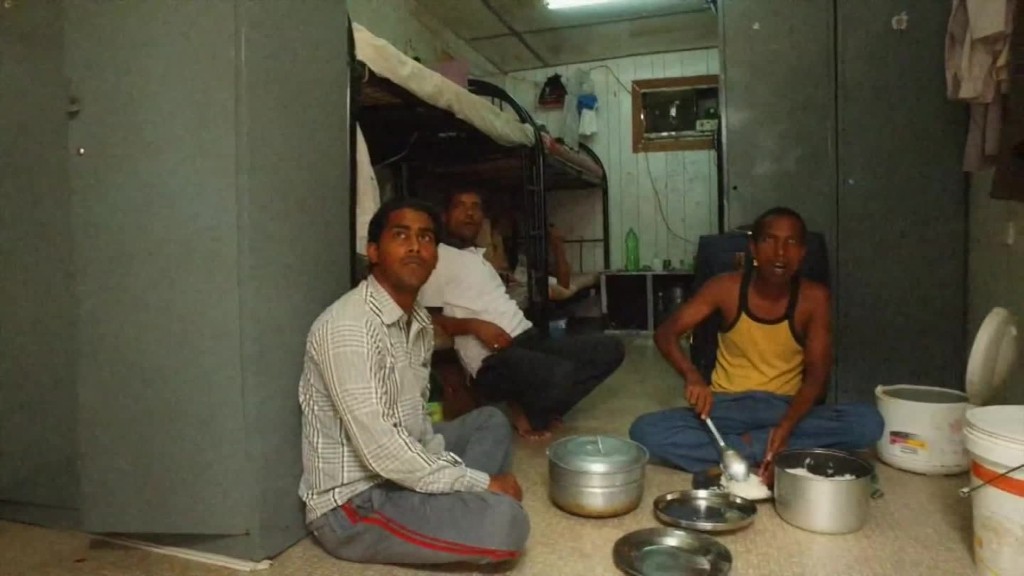 Thousands of stranded Indian workers in Saudi Arabia are about to get some much-needed help.
The Saudi government said it would provide the workers with free food, health care and flights to get home after their employers abandoned them and stopped paying their wages.
But this belated offer to help comes only after India rushed in over 34,000 pounds of food to the workers "to help them overcome this crisis," according to the Indian consulate in Jeddah, Saudi Arabia.
An estimated 7,700 Indian workers in Saudi Arabia and neighboring Kuwait have lost their jobs and are now stuck in camps for migrant workers. Many have been running short on food and water.
The Saudi construction firm Oger employed 2,500 of the affected workers and has been blamed for creating an emergency situation.
Saudi's labor minister Mufrej Al-Haqbani announced Wednesday that food and medicine would be provided to the workers, and airlines had been contacted about repatriating those who wanted to return home.
"What happened is one company made a great and unacceptable mistake," Al-Haqbani said during a briefing with reporters. "We have been directed by the [Saudi kingdom] to take all measures necessary to solve the problem [at] the expense of Saudi Arabia."
Workers at one camp told CNNMoney that their Oger bosses stopped coming to work about seven months ago and they've heard nothing from the company since.
Conditions at the camps are bleak: Trash collection has stopped, and there's no electricity. Police are stationed outside after protests erupted in recent weeks.
Former Oger workers say they cannot leave Saudi Arabia because the company holds their passports.
Oger representatives were not available for comment.
A source familiar with the circumstances said some abandoned construction projects were Saudi government contracts.
Related: Saudi Arabia introducing tax on soda
There are roughly 3 million Indians employed in Saudi Arabia, which depends on foreign workers to fill jobs in its services, manufacturing and construction sectors.
But low oil prices have slashed economic growth and forced the Saudi government to cut spending. In April, the government announced an ambitious plan to break its dependence on oil but that won't happen for years.
--CNN's Paul Armstrong contributed to this report.