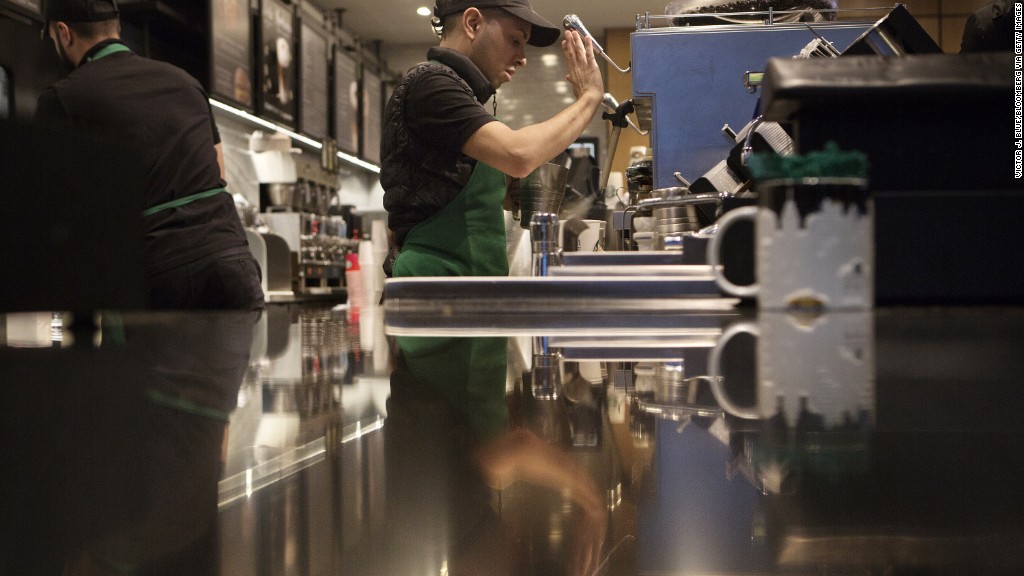 Just before Starbucks announced higher wages this summer, a vocal group of employees had been clamoring over what they were calling a "labor crisis."
Stores were cutting back on hours, they said, and even with a pay increase, they'd be bringing home less money.
The issue came to light in June after Jaime Prater, a barista in California, started an online petition. It claimed a reduction in hours was "killing morale" and has gotten over 16,5000 signatures.
"I don't think they understand how personal it is for the people who work at these companies when a lot of these people, myself included, are breadwinners" said Prater. "They rely on their income and all of a sudden, they're used to getting, say, 30 hours a week and now you're getting 15 or 20 and you have a car payment due and you have a phone bill due."
Starbucks responded this week with a letter to employees that acknowledged the complaints. It said it had reviewed all reported cases and found issues to be isolated.
In recent weeks, CNNMoney has interviewed five Starbucks employees who say they are worried about losing their health insurance coverage -- the company offers it to those averaging 20 hours a week.
These workers also said they were being asked to maintain customer service standards with fewer people. They spoke of longer lines and dirty stores across the country.
In one case, a store manager at a Starbucks in Florida encouraged the supervisors under him to extend unpaid breaks and send employees home early, according to a former employee who saw a "shift communication" from the manager and shared notes from it with CNNMoney. The store could "cut" two to three hours a day as a result, the letter said. The manager told the employee that the mandate trickled down from "the company."
Starbucks (SBUX) did not comment on the shift communication from the Florida store.
In the employee letter, Starbucks said it "looked into every one of the situations" and found complaints valid in a small percentage of cases. Starbucks says it has addressed "the deficit" directly with the specific stores.
"In most situations, partners had a consistent level of hours, according to the payroll system," wrote Cosimo LaPorta, executive vice president for U.S. retail store operations.
LaPorta put a positive spin on the situation, noting that transactions tend to "build and/or shift" during the fall. This could mean that a lull in summer sales may soon ease, allowing store managers to add back hours they may have trimmed. LaPorta also asked district managers to follow up this week with each store to ensure appropriate staffing.
The company says it treats workers better than most other retail chains. In addition to providing health benefits, Starbucks also prides itself for calling its employees "partners," instituting a relaxed dress code and taking a progressive stance on social issues such as LGBT rights.
But these employees think the company needs to do more when it comes to compensation.
"Being a trans-man, I don't know if there are many other companies that are as progressive," said Maximo Cortez, who works as a barista in Texas. "But it's time for baristas to speak up. We aren't asking for a handout. We're asking to be real partners."
And Prater wasn't satisfied with the letter, saying he still didn't think Starbucks was taking the issue seriously by not providing more details from its review. "It's really insulting," he said.