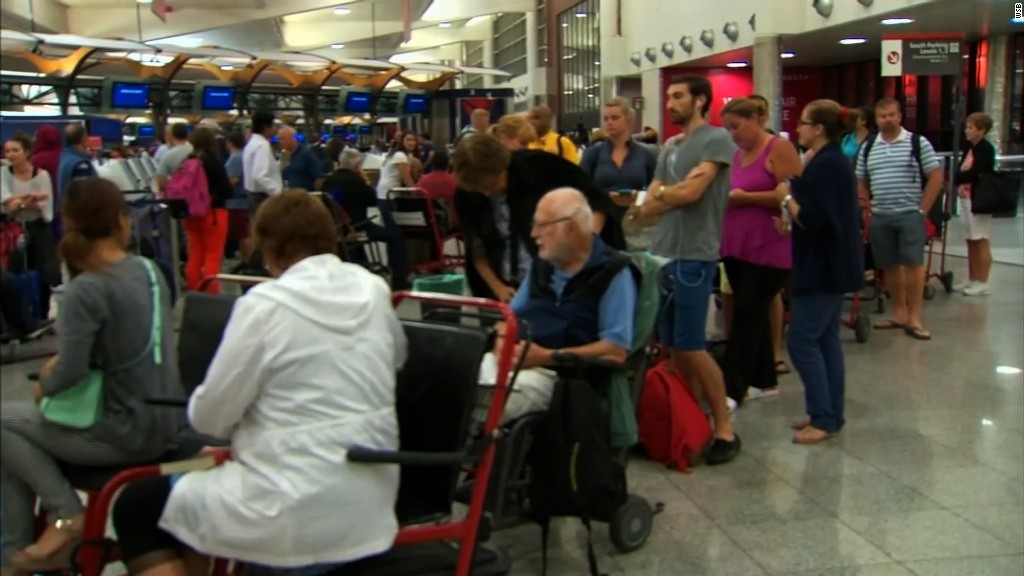 It's been more than 48 hours since Delta suffered a massive power outage that grounded all its planes Monday morning, but the travel nightmare isn't over for some fliers.
Flight cancellations and delays are still plaguing the airline.
After canceling around 800 flights on Tuesday, Delta said it would start Wednesday with more than 150 canceled flights.
Passengers whose flights have been canceled or "significantly" delayed due to Monday's glitch are entitled to a refund.
Those traveling on Monday, Tuesday, Wednesday or Thursday and want to rebook can do so without a fee as long as they depart on or before Sunday, August 21.
Anyone who rebooks for a flight that leaves after August 21 could end up paying any difference in fare, but won't have to pay the change fee, which is normally $200 for U.S. travel.
Passengers whose flights are canceled or delayed more than three hours will also get a $200 travel voucher for future travel.
Related: Delta still digging out on Day 3
Delta (DAL) didn't say how it would define a "significant" delay. A spokesperson said passengers should reach out to reservations for more information. The number is (800) 221-1212.
The massive power outage started around 2:30am ET on Monday and left flight airport departure and arrival screens on the fritz. Some passengers were stuck on the tarmac.
The ground stop was lifted before 9:00 am ET on Monday, and some departures resumed, but Delta warned that cancellations and delays would continue.
-- CNNMoney's Chris Isidore contributed to this report.