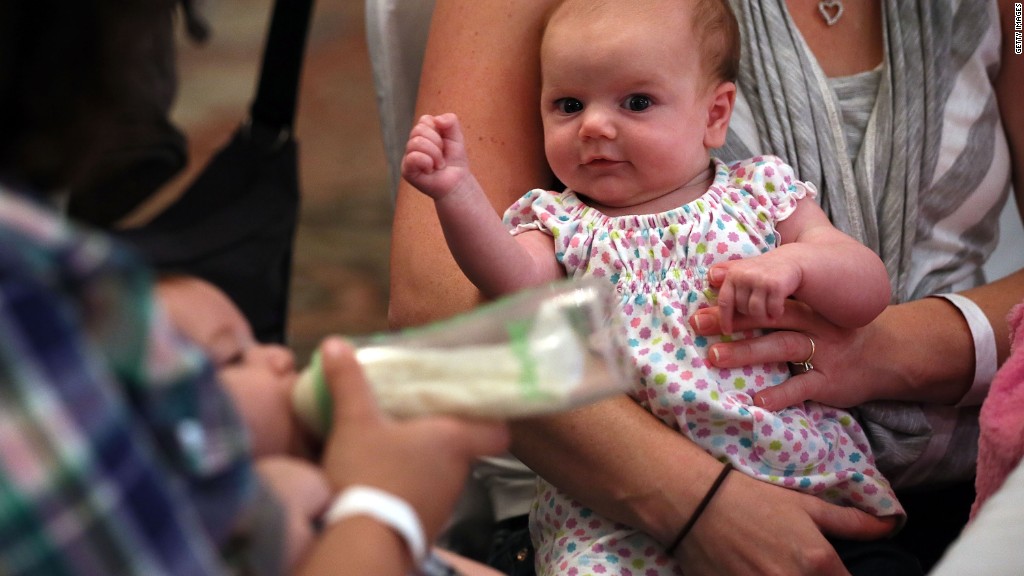 Many soon-to-be parents in the U.S. are still forced to choose between taking time off and keeping a paycheck following the arrival of a child.
The United States is now infamous for being the only developed nation not to guarantee paid family leave.
Right now, the only protection the federal government offers to eligible new parents is the Family and Medical Leave Act, which offers eligible workers 12 weeks of unpaid leave.
But the next president could potentially change all that.
Related: How paid family leave could become a reality in the U.S.
Paid family leave, along with other gender and family workplace policies, have become hot topics on the campaign trail.
On Monday, Donald Trump announced plans to make child care more affordable by allowing parents to fully deduct the average cost from their taxes. Right now, parents can deduct up to $6,000 for child care expenses on their federal income taxes.
Democratic Presidential Nominee Hillary Clinton supports 12 weeks of paid family leave for parents to care for a new child. Her plan includes workers getting at least two thirds of their current pay, up to a limit, while on leave and would be funded by tax reforms, according to her campaign website.
She also wants to limit child care expenses to 10% of income and offer universal pre-kindergarten for 4-year-olds.
Related: It's good to be a working parent in Europe
Some states and corporations aren't waiting around for Uncle Sam and have taken matters into their own hands to offer family paid leave.
Companies are facing increased hiring competition and many are expanding their parental leave benefits as a way to help attract and retain top talent, according to a Mercer report on paid family leave released last week.
The tech sector has taken an active role in offering its workers generous time off.
For instance, Facebook (FB) offers all new parents four months of paid time off. Microsoft (MSFT) announced last summer that new mothers will be able to take 20 weeks of paid leave while non-birth parents can take up to 12 weeks of paid leave.
Starting this year, eBay (EBAY) offers 24 weeks of paid leave to new moms while new dads get 12 weeks of paid time off.
At Netflix (NFLX), new moms and dads can take unlimited time off during the year following their child's birth or adoption.
Related: These workplace benefits are slowly fading away
The financial world also offers some strong paid leave policies. Earlier this year, Bank of America (BAC) announced it upped its paid parental leave to 16 weeks from 12 weeks.
Four states have also taken action: California, New Jersey and Rhode Island all offer paid family leave. And starting in 2018, New York will also offer paid family and medical leave.