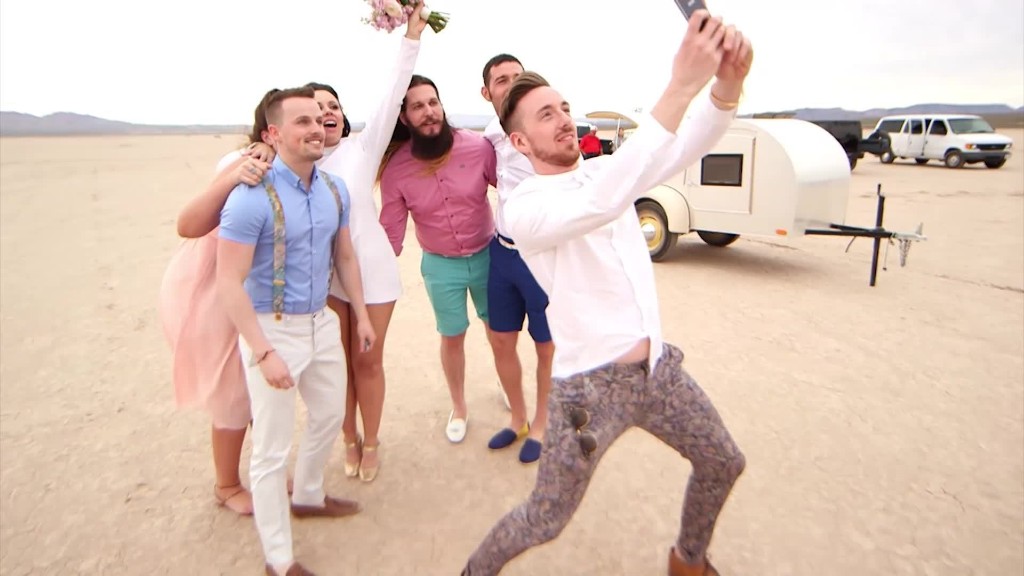 When Joe and Susan Browne got engaged last summer, they quickly realized their dream wedding was going to be expensive. But rather than trim their wish list, they did something most couples don't consider: they got married on a Thursday.
Joe, a dentist outside the New York City area, said the couple saved at least 20% on photography and around 40% on flowers just by changing their wedding date.
"We had a lot more purchasing power," he said. "Everyone would come down [in price] when they heard the word Thursday."
Related: She's an expert at pop-up weddings
A small but growing number of couples are saying "I do" to Thursday weddings, which can bring considerable savings compared to more traditional weekend dates.
Nearly 6% of couples got married on Thursday last year -- up from 4.3% in 2014, according to The Knot.
Saturday is still the most popular day to get hitched followed by Friday and Sunday.
But as weddings become increasingly expensive, Thursdays are slowly growing in popularity -- particularly in cities where couples spend the most like New York, Los Angeles and San Francisco, according to Kristen Maxwell Cooper, executive editor at The Knot.
The average cost of a wedding in the U.S. is nearly $33,000, but wedding expenses in some cities can be significantly higher.
"For a lot of people, a Saturday wedding just isn't in the budget with the venue they want," Maxwell Cooper said.
In Manhattan for example, the average wedding costs more than $82,000.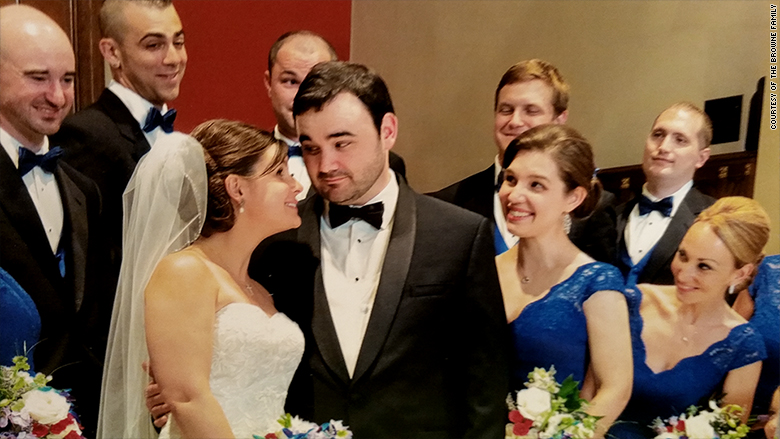 Related: Couples are spending more than ever to get married
Booking a venue for a Thursday is 17% cheaper on average than hosting a Saturday night affair, according to Tina Hoang-To, CEO and co-founder of Wedding Spot, a wedding venue marketplace.
She says the company has seen a 25% bump in couples inquiring about a Thursday wedding date this year.
Along with the savings, Thursday weddings can also be attractive to couples who aren't going on a honeymoon right away and want to take a long weekend to celebrate their new marital status.
While etiquette experts might scoff at asking guests to attend a wedding in the middle of the week, it's good news for wedding professionals, like DJs and photographers, who can book more events.
And many wedding professionals are more likely to negotiate their rates because there is less competition for their services.
For instance, catering and reception venue Anthony's Pier 9 in New York, where the Brownes got married, reduces its minimum head count and price per head by $20 for non-weekend weddings.
"By going for a weekday event, you can save more, add more upgrades or even upgrade to a higher package and get more for your dollar value, said Wanda Mendillo, banquet sales manager at Anthony's Pier 9.
Related: Here comes the ... virtual reality wedding. Couple preserves memories in VR
Browne said planning a Thursday wedding was also less stressful.
"We were able to book very quickly -- under three months," he said. "It was much more fun to plan."
He said he expected some pushback from the Thursday date, and that around 20 of their 130 guests didn't stay until the end because they had to work the next day. He added that most of his guests were local and have more flexible work schedules in the summer.
"We had the wedding we wanted versus having to make a lot of scarifies."
Did you use credit cards to pay for your wedding and are still paying them off? Send us an email, and you may be featured in an upcoming CNNMoney story.