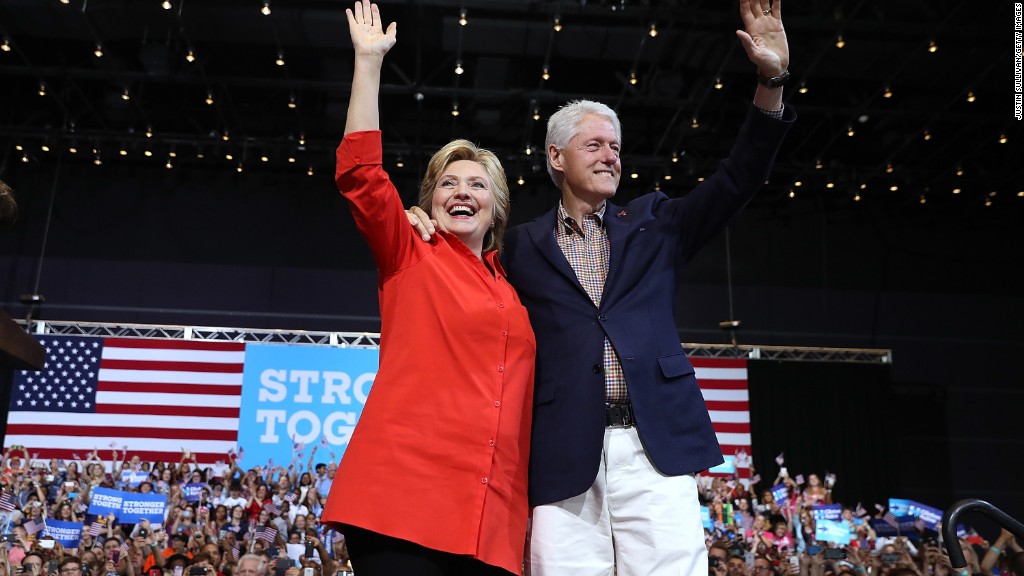 It's got all the makings of a conspiracy theory.
After Hillary Clinton became secretary of state, Bill Clinton received $17.6 million in payments from a for-profit university. Since that time, another organization with a connection to that university received almost $90 million in grants from an agency that's part of the State Department.
Critics of the Clintons have cried foul. But is there really something shady going on?
There is no shortage of connections between the Clintons and Laureate International Universities. Laureate is a for-profit university -- the same kind Hillary Clinton has railed against for saddling students with huge debts.
"[Students] find little support once they actually enroll, or they graduate and discover that, when it comes to finding a job, their degree isn't worth what they thought," she told an audience last year.
Laureate has about one million students worldwide, mostly in Latin America, with five schools in the United States.
Laureate has faced investigations in Brazil over whether students were getting what they paid for, and in Chile concerning its for-profit status. U.S. students have complained the school failed to deliver on its promised degree programs.
In addition, three of the five schools Laureate operates in the United States are under what the U.S. Department of Education calls "heightened cash monitoring" because of potential problems with its "financial responsibility." The school told CNN it disagrees with the government's methodology.
The Clinton campaign told CNN that the candidate intends to hold for-profit colleges accountable.
"Hillary Clinton has made it clear that all for-profit institutions should be held to the same standards and she will crack down on law-breaking for-profits by expanding support for federal regulators to enforce laws against deceptive marketing, fraud, and other illegal practices."
The Clinton connection
Doug Becker, the wealthy founder of Laureate Universities, is a big donor to Democratic causes, and has made large contributions to both Hillary Clinton's and Barack Obama's political campaigns.
Laureate is also listed as a donor to the Clinton Foundation in the $1 million to $5 million range.
Since 2008, Laureate has partnered with the Clinton Global Initiative on various educational causes throughout the world.
And, in 2010, Becker and Laureate signed Bill Clinton to be its new honorary chancellor.
Between 2010 and 2015, from the time when Hillary Clinton was secretary of state up until the very month she announced she was running for president, Bill Clinton received at least $17.6 million for his role.
What did the former president actually do?
According to Laureate, he "inspired" people. "We could see the impact that his visits had on our campuses and how he inspired our students," Laureate told CNN in a statement.
Weeks after Hillary Clinton announced her candidacy for president in April 2015, Bill Clinton and Laureate announced their mutual contract was up, and he stepped down as honorary chancellor.
Political opponents smelled something rotten. What exactly did a for-profit international school get for that $17.6 million? And why did Bill Clinton's employment with the school coincide with Hillary Clinton's term as secretary of state, which ended in 2013?
Related: Why the Clinton Foundation controversies won't go away
The conspiracy theory moved to another organization called the International Youth Foundation. The non-profit organization is also involved with international education, providing job and life skill training to disenfranchised youth.
It is run out of Baltimore (as is Laureate), but has far reaching programs in developing countries.
The IYF has been operating with funds provided from the State Department through the U.S. Agency for International Development, a federal government organization.
What's the connection to Laureate and the Clintons? Becker is the chairman of the board of IYF. And during the very same years Bill Clinton was honorary chairman of Becker's Laureate and Hillary Clinton was secretary of state, U.S. government grants to IYF soared.
The group was awarded $17.1 million in 2010 when Bill Clinton became honorary chancellor, up from $9 million the prior year.
It was awarded another $40 million over the next two years.
After Hillary Clinton left State in early 2013, grants declined, to about $6 million in 2014, and $3.8 million in 2015.
Clinton's critics point to the trend as a sign of corruption and bid rigging.
"The only scam in education that I am aware of is the scam of Hillary Clinton and Bill Clinton," said Stephen Miller, a senior adviser to Donald Trump. "Secretary Clinton was funneling State Department grants to this university."
Is there really a conspiracy?
Becker isn't paid for his work on the board of IYF.
Laureate received no money directly from the U.S. State Department during or after Hillary Clinton's time as secretary.
And one of the years in which IYF received the most grants came under the Bush administration, when it was awarded about $19 million in 2008.
Bill Reese, the president of IYF, says the conspiracy theorists are trying to connect dots that simply do not exist.
"This has nothing to do with politics," Reese told CNN.
Related: Why the Clinton Foundation is so controversial
As for the contracts his organization was granted by the State Department, Reese says, "Every one of them has been won competitively under procurement regulations of the U.S. government."
He also noted that IYF has received grants in different administrations.
"The International Youth Foundation has received federal grants from USAID and State going back many years, under both Democratic and Republican administrations," said State Department Spokesperson John Kirby, in a statement. "Information about grants and contracts awarded by federal agencies is publicly available online."
And Laureate International Universities said in an email, "Allegations of any impropriety in the relationships between Laureate, the International Youth Foundation and the Clintons, are completely false."
Despite the lack of evidence of any legal or administrative violations involving the Clintons, Laureate and IYF, some government watchdogs say these types of arrangements create ethical challenges.
"In this situation you have a huge network of connections compounded with a spouse's government work," said John Wonderlich, the director of the nonpartisan Sunlight Foundation. "You would think there would have been a serious discussion about whether this arrangement was appropriate."
CNN's Marybel Gonzalez contributed to this report.