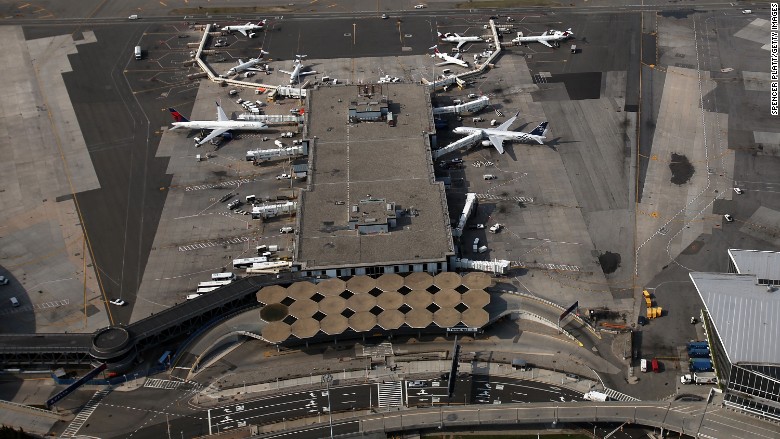 In exchange for discounted liquor and consumer electronics, a former manager for an international airline smuggled packages out of the U.S. for Chinese military officers, prosecutors say.
Ying Lin is accused of using her job at the airline to place the packages on flights to China out of New York's JFK airport, federal prosecutors said in a statement Wednesday.
"The defendant repeatedly acted in direct contravention of rules and regulations providing for the safety of flights in the United States in order to reap personal benefit," said Robert Capers, U.S. Attorney for the Eastern District of New York.
It's the latest case of a person linked to China being accused of breaking U.S. laws to get items across American borders illicitly.
The prosecutors' statement didn't identify the airline Lin had worked for, but the Wall Street Journal reported it was Air China, the country's flag carrier. Air China and the Chinese Ministry of Foreign Affairs didn't respond to requests for comment Thursday.
Related: Why China wants U.S. military jet engines
Lin, a 46-year-old resident of Queens, is alleged to have received packages from military officers at China's mission to the United Nations in New York, and from other employees at the Chinese consulate in New York. Prosecutors didn't say what the packages contained.
She has been charged with smuggling, obstruction of justice and wire fraud. CNNMoney wasn't immediately able to reach her representatives for comment on the charges.
Prosecutors said Lin continued to smuggle packages onto flights even after an initial arrest in August 2015. She worked as counter agent for the airline at JFK and later as a station chief at Newark airport.
The perks she is alleged to have received include "discounted liquor purchased from diplomatic duty-free shops and tax-exempt purchases of electronic devices, as well as free contracting work at her personal residence" by Chinese government workers. She's also accused of helping a Chinese citizen she believed was being investigated by the U.S. escape to China on a flight from JFK.
In June, a woman was convicted in a Florida court of conspiring to evade U.S. export laws by illegally acquiring and sending fighter jet engines and drones to China. And in January, a Chinese man pleaded guilty to stealing valuable seeds from fields in Iowa with the aim of transporting them to China.