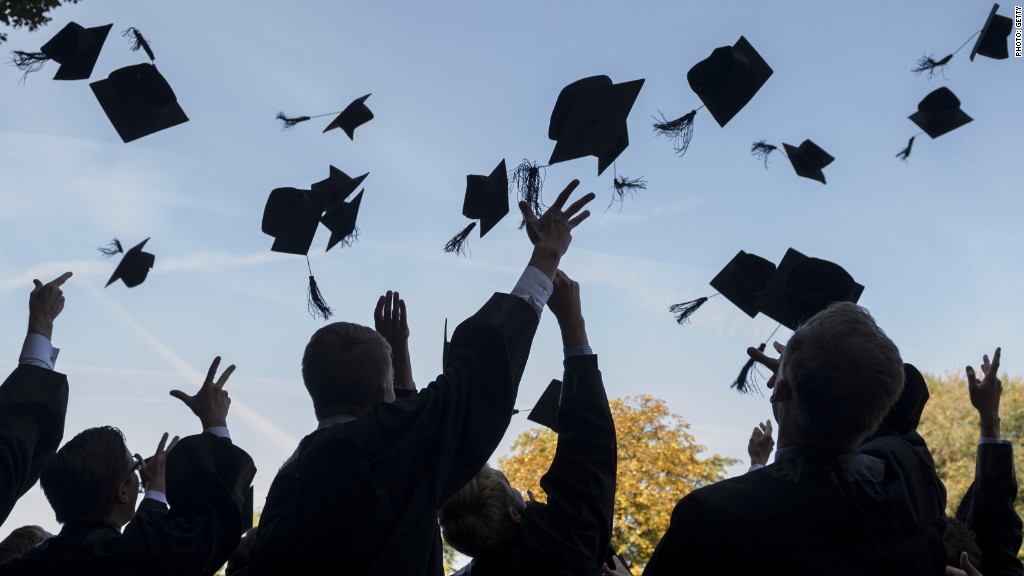 More than 1,200 for-profit college students will be getting a refund for their private student loan payments, and their remaining debts will be canceled.
Bridgepoint Education (BPI), which operates Ashford University and University of the Rockies, is in trouble for allegedly misleading students about the real cost of the loans.
The company -- which also acted as the lender -- told students that borrowers usually paid as little as $25 a month for the loans when typical payments were higher, the Consumer Financial Protection Bureau said Monday.
"Bridgepoint deceived its students into taking out loans that cost more than advertised, and so we are ordering full relief of all loans made by the school," said CFPB Director Richard Cordray.
Related: What's next for ITT Tech students after school shutdown
Bridgepoint has agreed to pay $5 million to students who had already started paying off their loans and forgive about $18.5 million of outstanding debt.
The company will also pay an $8 million civil penalty to the CFPB.
Students and graduates who borrowed from the company's private student loan program between 2009 and 2015 are eligible for the refund and debt cancellation. The borrowers will not have to take any action to receive the debt relief, the CFPB said. Bridgepoint has 45 days to come up with a plan for refunding the money.
The private loan program has already been discontinued, Bridgepoint said.
The company maintains that it acted in good faith and negotiated an agreement with the CFPB so that it could "move forward" and "focus on students," it said in a press release.
Ashford University currently enrolls about 50,000 students, according to government data. It offers online programs for Associate's, Bachelor's and Master's degrees. The University of the Rockies offers Master's and Doctorate degrees online and currently has about 1,400 students.
The action does not apply to those who borrowed federal student loans. About three-quarters of Ashford University students borrow those loans. At graduation, they carry an average debt load of $33,000 from federal loans alone and are paying $365 a month, according to government data.