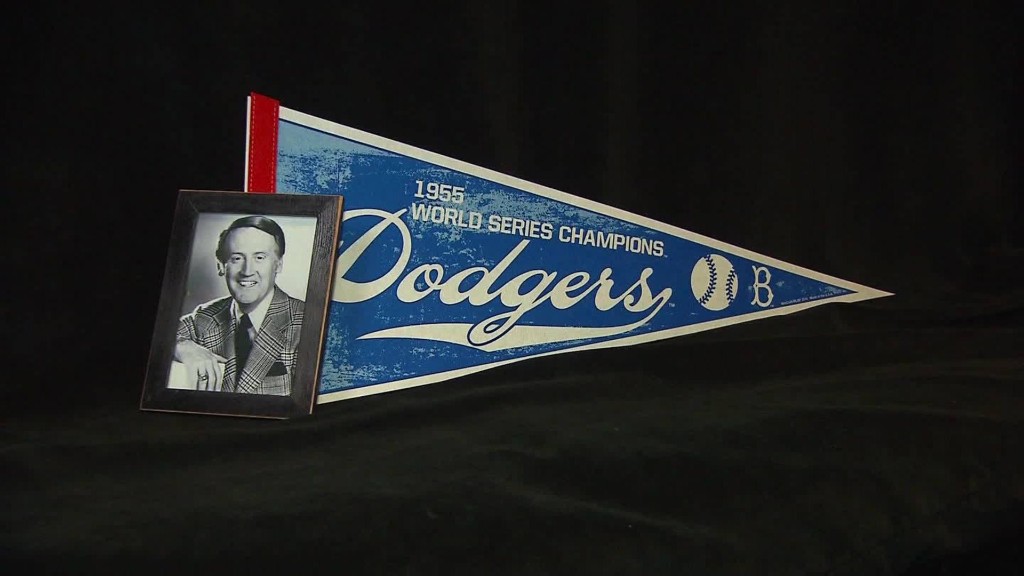 "It's time for Dodger baseball."
That's Vin Scully's usual start to Dodgers baseball games, which he's been calling for 67 years.
He's been with the team since they were in Brooklyn, and has become revered for his engaging broadcasts. Scully masterfully weaves colorful commentary -- about topics unrelated to baseball -- through his sportscasts. He'll start telling a story, seamlessly drop it to make a call and then pick up the thread when the game action dies down.
Throughout his career, he also called games during the MLB postseason and even did some football games.
Here's a list of his five most memorable calls, along with a bonus track:
Sandy Koufax's Perfect Game
Koufax pitched his fourth no-hitter on September 9th, 1965 against the Cubs. He had 14 strikeouts -- the most ever in a perfect game.
"Sandy into his windup. Here's the pitch. Swung on and missed. The perfect game!" Scully said. "Sandy Koufax whose name will always remind you of strikeouts did it with a flourish. He struck out the last six consecutive batters. So when he wrote his name in capital letters in the record books, that 'K' stands out even more than the 'o-u-f-a-x.'"
Koufax is the only Dodger to pitch a perfect game.
Hank Aaron's 715th Home Run
Aaron came up to bat on April 8, 1974. He was one home run away from breaking Babe Ruth's record of 714 career home runs. Aaron hit a ball deep into left center field.
"It is gone!" Scully said. "What a marvelous moment for baseball. What a marvelous moment for Atlanta and the state of Georgia. What a marvelous moment for the country and the world. A black man is getting a standing ovation in the Deep South for breaking a record of an all-time baseball idol."
Bill Buckner's Blunder
Mookie Wilson was at bat, and the New York Mets were tied with the Boston Red Sox 5-5 in Game 6 of the 1986 World Series.
The Mets had managed to hold on and come back from what seemed like a loss when Wilson hit a ground ball that won the game.
"Little roller up along first. Behind the bag. It gets through Buckner. Here comes [Ray] Knight and the Mets win it!" Scully said. "If one picture is worth a thousand words, you have seen about a million words, but more than that you have seen an absolutely bizarre finish to Game 6."
The Mets went on to win the World Series.
Kirk Gibson's Walk-Off Homer
Gibson came into Game 1 of the 1988 World Series near the end of the ninth and final inning.
His teammate was on first base, but the Dodgers were down against the Oakland A's 7-6.
"All year long they looked to [Gibson] to light the fire, and all year long he answered the demands until he was physically unable to start tonight with two bad legs," Scully said. "Gibson shaking his left leg, making it quiver like a horse trying to get rid of a troublesome fly."
Gibson hit a home run to win the game.
"High fly ball into right field. She is -- gone!"
The Dodgers went on to win the World Series.
Clayton Kershaw's No-Hitter
"Although we certainly do not believe in superstitions, we would advise you if you have a friend or three who might love baseball, you might give 'em a call and say, 'Hey, you better tune into the Dodger game. Kershaw is doing a gem.'"
On June 18, 2014, Kershaw went on to pitch a no-hitter with a career-high 15 strikeouts. He allowed no runs and no hits.
Bonus: A History of Beards
Noticing how popular beards have become in the MLB, Scully took it upon himself to do some research and shared what he learned with his listeners during a Padres-Dodgers game.