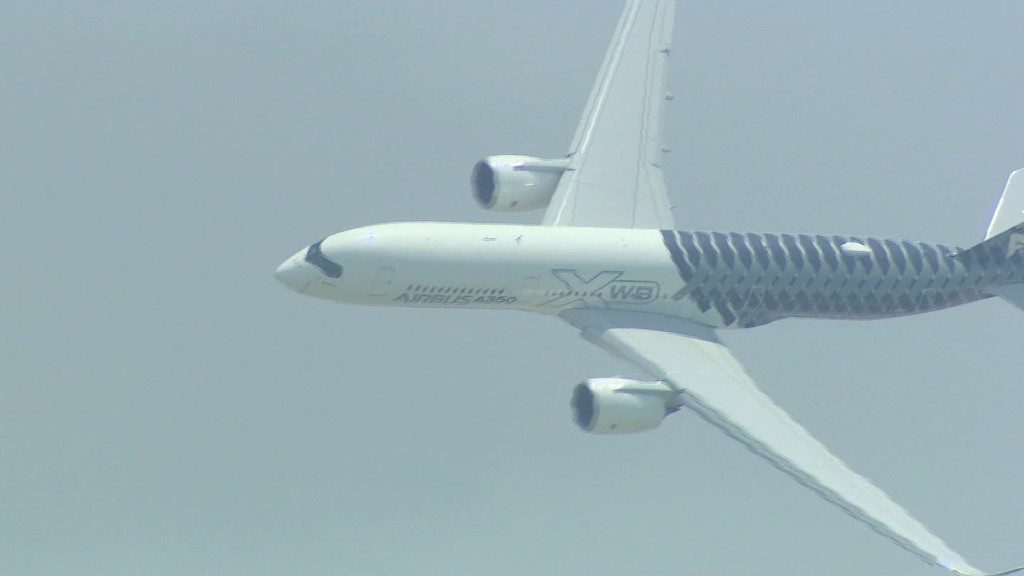 Airbus' boss believes his firm is poised to pull ahead of Boeing in the neck-and-neck race between aviation industry arch-rivals.
At stake is the title of world's largest plane maker, and no small measure of American and European industrial pride.
In recent years, Boeing (BA) has outpaced its European rival by increasing its output of twin-aisle jets like the 777 and 787 Dreamliner. But Airbus (EADSF) airliner unit chief executive Fabrice Bregier told the German newspaper Die Welt that his company will be delivering more planes than Boeing by 2020.
Airbus on Friday celebrated its 10,000th jetliner delivery -- an Airbus A350 to Singapore Airlines. It took both plane makers 42 years to reach that milestone, about 180 days apart, according to CNN's review of Boeing's delivery data.
Airbus has amassed an order backlog of 6,700 aircraft to fill the fleets of the world's airlines, while Boeing has nearly 5,700 jets on order. Airbus has built its advantage primarily in the single-aisle aircraft category, spurring Boeing to consider a new or upgraded jet that would fit between its current largest 737 and smallest long-range Dreamliner.
Related: Boeing and Airbus get US green light to sell planes to Iran
Airbus aims to deliver 10 of its new A350 aircraft each month by late 2018, and 60 single-aisle A320neo jets monthly by 2019, despite interior and engine shortages that have delayed production.
Boeing, too, plans to up its output of single-aisle 737 jets from 42 each month today, or about two every manufacturing day, to 57 monthly by 2019. Boeing currently builds 12 Dreamliners each month, and is considering increasing that output to 14 each month before 2020.
Planned increases are slated to push annual deliveries past 900 for each plane maker late in the decade.
Industry analysts have questioned the sustainability of such record production increases, and whether or not the world's airlines can maintain their growth profitability.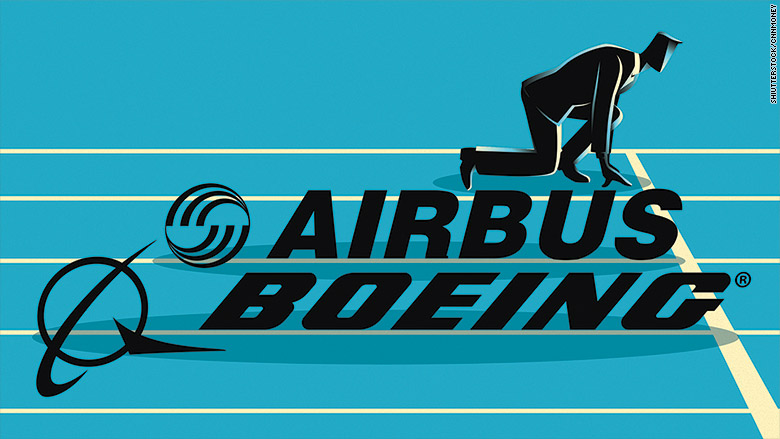 Boeing did not immediately respond to a request for comment.
But the plane makers contend that they can sustain the record output with the help of replacement demand for new fuel-efficient airliners from U.S. and European airlines, and growth in emerging markets like the Middle East and Asia.
New entrants from Canada, China and Russia have challenged both plane makers, but record orders have fortified the duopoly as they compete for deals. Airbus and Boeing have invested heavily to automate production to cut costs and speed up output as airlines demand faster deliveries for an ever-lower price tag.
For 2016, Airbus said it is on track to deliver 650 aircraft, and Boeing forecasts it will deliver between 740 and 745 aircraft. Boeing since 2012 has built more planes than Airbus annually, but the European company has won more orders in seven of the past 10 years.
Related: Boeing eyes China focus with new sales chief
Single-aisle and big-twin aisle twin-engine jets from both manufacturers dominate those order books as airlines have turned away from the largest double-decker jumbos.
Airbus announced in July it would cut down its production of A380 aircraft to just 12 per year starting in 2018, down from the 27 it delivered in 2015. Boeing halved the production of its 747-8 to just six per year this September, and cautioned it might stop building the iconic model if orders for large freighter aircraft don't come back after years of sluggish demand.