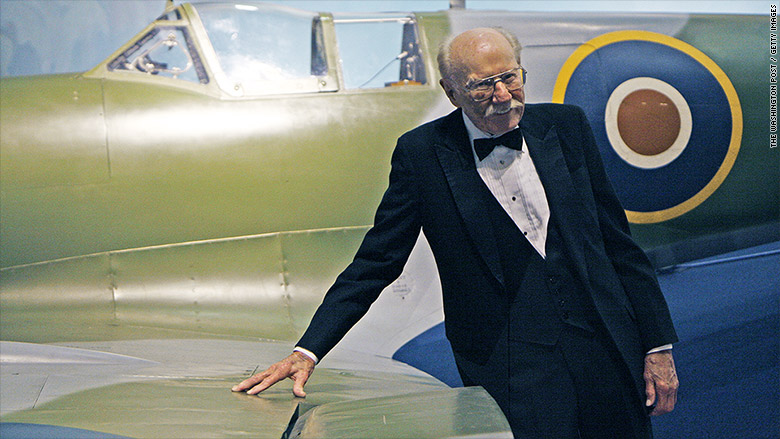 With his gravelly Tennessee drawl and his trademark straw panama hat, R.A. "Bob" Hoover was an icon of American aviation prowess and heroism.
One of his most flamboyant escapades was escaping the Nazis in World War II by stealing one of their planes.
The legendary aviator died at his home near Los Angeles on Tuesday, at age 94, according to the Aircraft Owners and Pilots Association.
Hoover was born January 24, 1922 in Nashville, Tenn., and began flying at age 15. In his early years, Hoover taught himself aerobatic flying and vanquished recurring air sickness through the force of repetition, according to a 2010 Smithsonian interview.
His precise flying and technical skill as a test pilot earned Hoover the title of the "greatest stick-and-rudder man who ever lived." That superlative was given to him by General James "Jimmy" Doolittle, his close friend and leader of the April 1942 Doolittle Raid on Tokyo.
An Army Air Corps and later Air Force veteran of both World War II and the Korean War, Hoover was awarded the Distinguished Flying Cross for rescuing a damaged B-26 from a beach in Sicily.
After being shot down in 1944, Hoover spent 16 months in a Stalag Luft I, a German prisoner of war camp on the northeastern coast of Germany, according to the National Aviation Hall of Fame. Hoover jumped a barbed wire fence while the guards were distracted by a staged fight. He stole a lightly-damaged Focke-Wulf Fw 190, flying it to freedom before ditching the plane in a field in the Netherlands.
After the war, Hoover became a test pilot and flew through a time when flying records would fall one-by-one and new aircraft were being developed to go higher, faster and farther.
In October 1947 he flew the chase plane alongside Gen. Chuck Yeager as he broke the sound barrier, traveling past Mach 1, for the first time in the skies over Southern California. As Yeager's backup, Hoover always expressed regret that he wasn't the first.
He spent the most tense days of the Cold War testing fighters at North American Aviation. Hoover served as captain of the 1966 U.S. Acrobatic Team in Moscow.
After leaving the aerospace business, Hoover became an hallmark of the air show and race circuit.
He flew in more than 2,500 civilian and military air shows in the U.S. and around the world, according to the Smithsonian, thrilling those on the ground with his trademark routine: Shutting off one or both of the engines on his North American Rockwell Shrike Commander 500S, while performing loops and dives.
A precise aviator, Hoover famously was able to pour a glass of iced tea in the middle of a barrel role. Hoover's famous green and white stunt plane sits prominently under the wing of the Concorde supersonic airliner at the National Air and Space Museum Annex in Chantilly, Va.