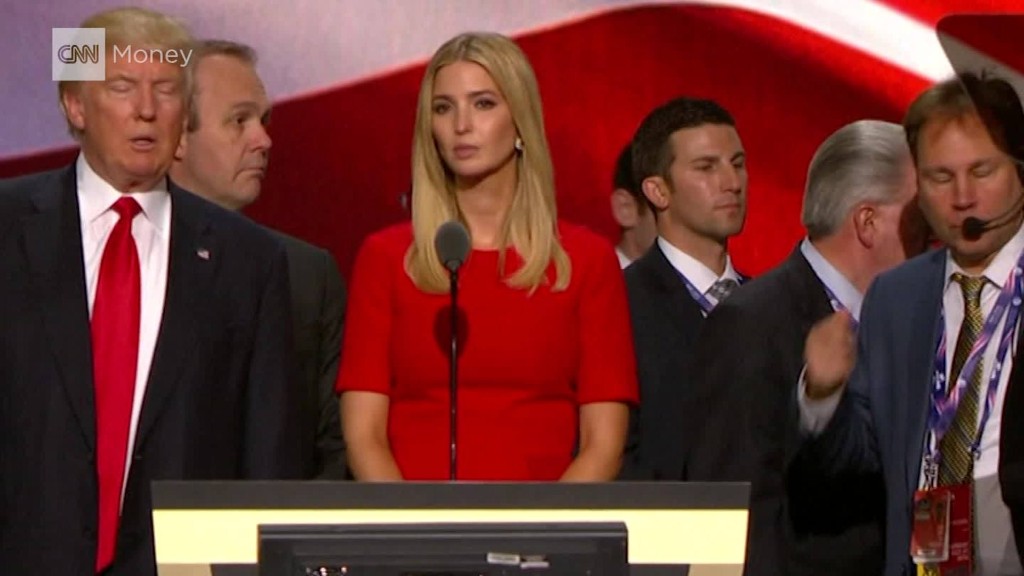 Donald Trump's scorched-earth presidential run could burn his daughter's brand.
An online campaign is calling on shoppers to boycott all the family's products, including Ivanka Trump's clothing, shoe and jewelry lines. The #GrabYourWallet movement began after tape surfaced of Trump boasting about groping women.
Since then, Trump has threatened to sue women who have accused him of sexual assault. Trump trails far behind Hillary Clinton among women, and among young women in particular -- Ivanka Trump's target customers.
The campaign has put Trump's elder daughter in a difficult spot: How can her brand continue appealing to young working women if they are so opposed to her father?
"It can't be easy," said Henry Harteveldt, a consumer analyst and founder of the Atmosphere Research Group advisory firm. "I think that she has worked reasonably hard to at least protect the retail and fashion brand from the campaign, so that it is seen as not being involved."
Ivanka Trump has spent nearly a decade building a fashion and retail empire. While revenue figures aren't available -- the company is private -- her products are stocked at more than 800 stores, including Nordstrom, Macy's and Amazon.
Ivanka's relationship with her father's political venture, meanwhile, has been complicated to say the least.
Related: Trump hotel not worth the trouble for wedding planners, travel agents
She introduced him at the Republican National Convention and has campaigned for him. She promoted his proposal for paid maternity leave, which was criticized for not including fathers, among other reasons.
But Ivanka has also objected to her characterization as a campaign surrogate. And her social media pages promote career advice, shoes and clothes, not campaign talking points. One tweet published after Ivanka's speech at the Republican National Convention invited followers not to check out her father's platform, but to "Shop Ivanka's look."
In an awkward spot, Ivanka Trump is signaling "that she is still herself and still has her own perspective," said Rajiv Menon, a cultural analyst at the brand strategy firm TruthCo.
It's not yet clear whether that's a winning gambit.
Related: Ivanka Trump: My father is the people's champion
A Fortune/Morning Consult poll released this week reported that only 23% of women surveyed would buy from Ivanka's clothing line, while more than half said they would not. Morning Consult did not have trend data, so it's not clear what those figures would have been before the campaign.
A study conducted by Brand Keys, a brand research consulting company, is more optimistic.
The firm found that more than half of millennial women surveyed were either extremely or very likely to shop for Ivanka Trump-branded items, even after the "Access Hollywood" tape, which showed the candidate making lewd comments about women. About 20% of those surveyed had purchased Ivanka Trump products.
"The numbers for her are very, very good," said Robert Passikoff, the founder and president of Brand Keys. "I think that you've got a fairly sophisticated consumer base that understands that there are familial responsibilities, and then there's business."
Ivanka herself took the rare step of criticizing her father in public after the "Access Hollywood" tape. In a statement, she called his comments "clearly inappropriate and offensive."
"I'm glad that he acknowledged this fact with an immediate apology to my family and the American people," she said at the time.
Asked about the boycott and potential fallout for her own brand, Ivanka's representatives directed CNNMoney to that statement.
Related: Ivanka Trump: The media doesn't accurately portray my father
"She's been put in one of the most difficult cultural situations that we've seen for the family member of a candidate in recent years," said Menon, the TruthCo analyst.
He added that the "Access Hollywood" statement might make things more challenging: Speaking out once could set a precedent Ivanka will be expected to keep.
"That's increasingly going to be something she has to deliver on in order to maintain her cultural position," Menon said. "Silence isn't enough."
After the election, Ivanka's brand will face a new test. A Trump presidency would raise ethical questions about whether it's appropriate for Ivanka to use her status as a first family member to capitalize on her personal business.
If Trump loses, the ongoing risk to Ivanka's brand could depend on whether her father keeps a low profile.
Harteveldt, the Atmosphere analyst, said Ivanka could take more drastic measures if the Trump name becomes too toxic. But that, too, would be a balancing act.
"Even if she drops the Trump name from the brand," he said, "she can't drop the fact that she is Ivanka Trump."
CNNMoney's Ahiza Garcia contributed to this report.