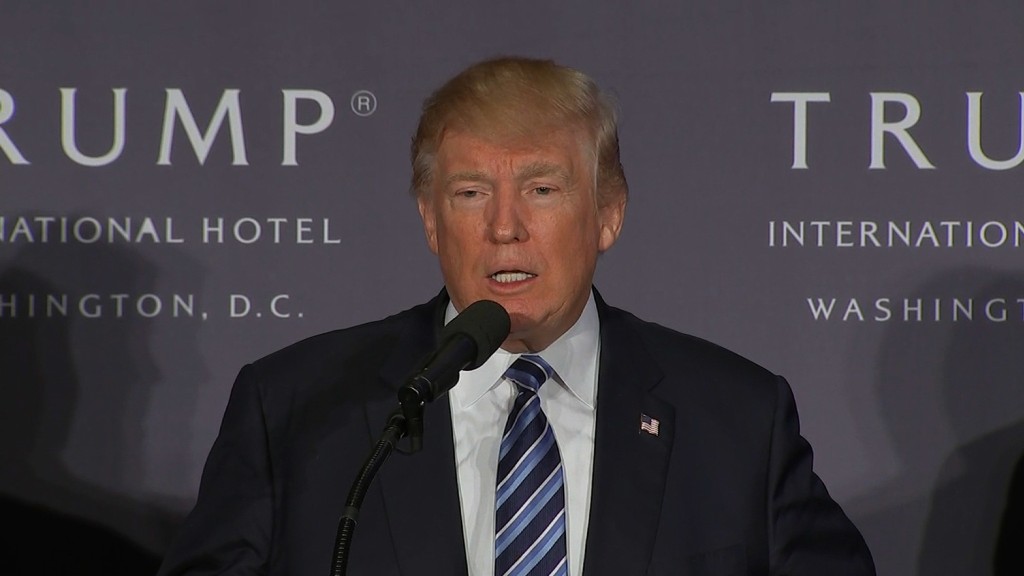 Donald Trump doesn't drink alcohol, but that didn't stop the owner of Yuengling beer from endorsing him.
Richard "Dick" Yuengling Jr. threw his support to Trump this week. He even gave Eric Trump a tour of the popular brewery in Pottsville, Pennsylvania. Yuengling Jr. is a billionaire and head of the 187-year-old beer company, which his great-great grandfather founded.
"Our guys are behind your father. We need him in there," Yuengling Jr. told Eric Trump on Monday, according to The Reading Eagle.
The company did not respond to CNNMoney's request for comment.
Reaction on social media has been swift. Eric Trump's tweet from the brewery has over 1,100 retweets, but there's also been backlash. Some Yuengling beer fans have vowed never to take another sip.
"Way to go @Yuengling_Beer! You just alienated me and tons of people who drank you. I will never drink you again. Peace," one fan tweeted.
So far, Yuengling Jr.'s support is verbal only. He isn't listed as a Trump donor. He has mostly given money to the campaigns of Pennsylvania congressmen -- both Republican and Democratic -- over the years, according to OpenSecrets.org. His last presidential donation was to George W. Bush in 2000.
Related: Donald Trump is still ahead on this...
Pennsylvania is a must-win state for Trump. The Republican candidate and his family have visited numerous times in hopes of winning blue-collar workers upset with the disappearance of a third of the state's manufacturing jobs since 2000.
But Pennsylvania has been called fool's gold for GOP presidential hopefuls. It hasn't voted Republican in a presidential election since 1988. Democrat Hillary Clinton has a solid lead in the polls.
Yuengling Jr.'s life story is somewhat similar to Trump's. He bought the struggling brewery from his father in 1985 and built it up into a half-a-billion-dollar-a-year business, making the lager cheap but fashionable. He's listed as No. 361 on Forbes' list of the 400 richest people in America.