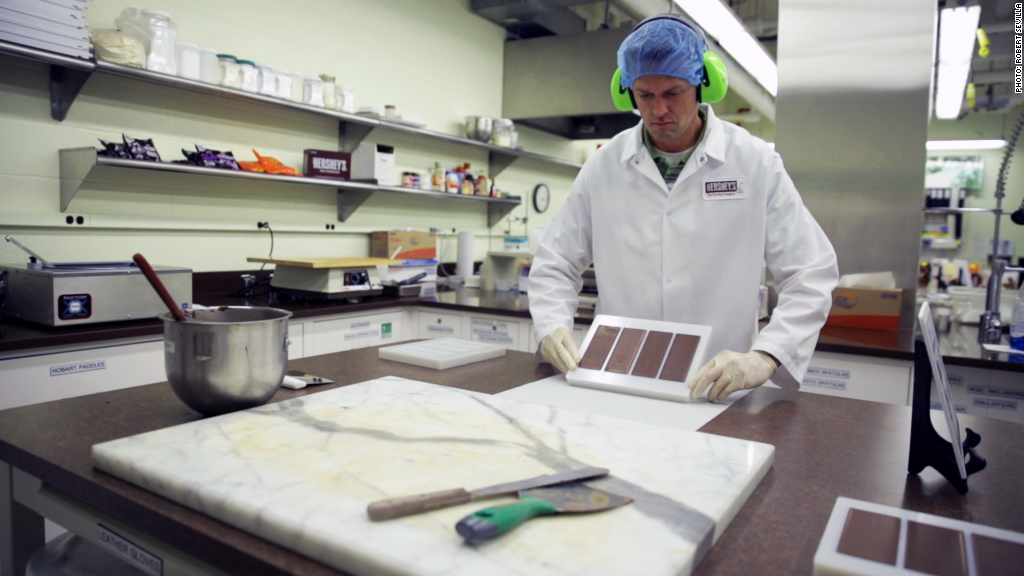 There's nothing scary about Hershey's latest earnings report. The candy king reported profits that topped Wall Street forecasts on Friday, just ahead of Halloween.
Hershey (HSY) gave another kiss to Wall Street with some sweet guidance as well. Shares of Hershey rose 5% in early trading on the news. And hey! It's also #NationalChocolateDay. (Maybe Hershey should buy Twitter (TWTR)? Heh.)
This is the first earnings report for Hershey since Cadbury owner Mondelez (MDLZ) abandoned its plan to buy Hershey for $23 billion.
Hershey rejected the bid repeatedly. And a hostile takeover of the company is virtually impossible: The Hershey Trust owns nearly all the company's special Class B shares, which have extra voting rights. The Hershey Trust owns 34% of the overall company.
So the strong results could be viewed as vindication for Hershey. The stock is up nearly 15% this year.
Still, Hershey's shares, trading around $100, remain a bit below the $107 that Mondelez offered in its takeover bid. There has been some speculation that Mondelez may eventually come back with another bid.
Related: Hershey shares crashed after Mondelez ended takeover talks
But Mondelez didn't mention Hershey once in its earnings call with analysts when it reported its latest results earlier this week. And as long as Hershey continues to prove to Wall Street that it can do fine on its own, it may not face renewed pressure to sell.
Hershey's overall revenue rose more than 2% in the quarter, to $2 billion. Sales are growing faster overseas than in its home market -- more than 5% internationally compared with just under 2% in North America.
The company also boosted its profit outlook for all of 2016.
So Hershey may be able to fend off any unwanted takeover offers if it keeps putting up numbers like this. If anything, Hershey may be looking to do more deals of its own. Hersey has expanded beyond the core candy business lately.
Related: Yuge! Expect a lot of Donald Trumps trick or treating on Halloween
Hershey acquired jerky maker Krave last year and followed that up this year with the purchase of Bark Thins, a company that makes healthier chocolate snacks that use fair trade cocoa and no GMOs, artificial flavors or preservatives.
But Hershey, famous for its namesake candy bars as well as Kit Kat bars and E.T.'s favorite snack -- Reese's Pieces -- is still looking to innovate in the world of chocolate as well.
Hershey has a big product launch that it is aggressively marketing: Hershey's Cookie Layer Crunch bars.
The company said that consumer test scores for the new bars, which come in caramel, vanilla crème and mint flavor, are among the highest in its history. Caramel is the new black for candy, apparently. Mars just introduced caramel M&M's.
But if Cookie Layer Crunch bars start flying off the shelves, that could lead to even tastier earnings and sales growth ahead.
It may be time for Wall Street to start singing some Sammy Davis Jr. -- or Gene Wilder as Willy Wonka: "Who can take a sunrise, sprinkle it with dew? The Candy Man can." And that's to the delight of both chocolate connoisseurs and Hershey investors.