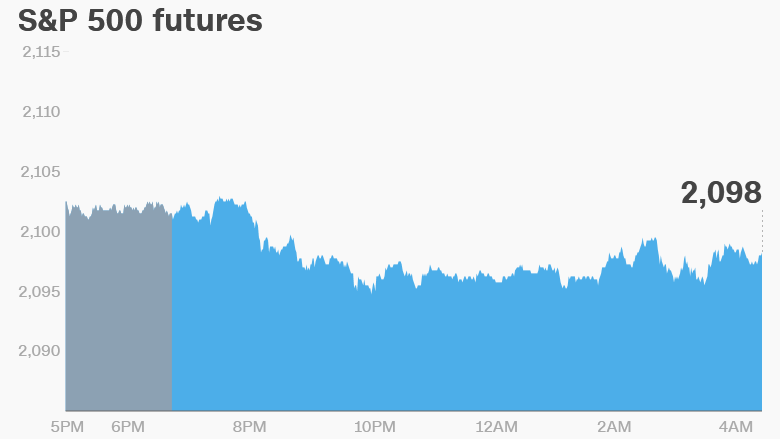 1. On a losing streak: Stock markets aren't looking so friendly right now.
Nearly every global index is dropping on Wednesday, and U.S. stock futures are all pointing down. If the S&P 500 notches another loss today, that would make it a 7-day losing streak.
In Europe, a handful of indexes have dropped by more than 1%, although losses on major markets are smaller.
And Asian markets are all closing out the day with losses.
So what's behind the current mood? Market strategists are pointing the finger at a new poll in the Washington Post that shows Hillary Clinton and Donald Trump are essentially tied in the presidential race.
If Donald Trump wins the election, U.S. stocks (and likely many other markets overseas) are forecast to tank as investors flee to the safety of gold and bonds.
That may already be happening -- global bond prices are rising.
Before the Bell newsletter: Key market news. In your inbox. Subscribe now!
2. Fed focus: The Federal Reserve is deciding Wednesday at 2 p.m. ET whether to raise its key interest rate after wrapping up a two-day meeting.
It's highly unlikely -- though still possible -- that the Fed will hike rates in reaction to a slowly improving economy.
Wednesday's meeting won't be followed by a news conference, but the Fed statement will be watched closely for clues about what the central bank may decide at its next meeting in December.
3. Earnings and economics: Alibaba (BABA), Clorox (CLX), Estee Lauder (EL), New York Times (NYT), Office Depot (ODP) and CNN's parent company, Time Warner (TWX), are just a few of the firms that are releasing earnings before the opening bell rings in New York.
Facebook (FB), 21st Century Fox (FOX), Transocean (RIG), MetLife (MET), Fitbit (FIT) and GoDaddy (GDDY) are among the companies reporting after the close.
On the economic side, the ADP Employment report for October is set to be released at 8:15 a.m.
And the U.S. Energy Information Administration is reporting weekly crude oil inventory data at 10:30 a.m. Oil prices are currently slipping to trade around $46 per barrel. They stood at $52 per barrel just two weeks ago.
Download CNN MoneyStream for up-to-the-minute market data and news
4. Stock market movers -- Electronic Arts, Square: Shares in Electronic Arts (EA) and Square (SQ) are set to jump when trading begins Wednesday after the firms reported well-received quarterly earnings on Tuesday evening.
5. Coming this week:
Wednesday - Facebook (FB), Time Warner (TWX), 21st Century Fox (FOX) and Alibaba (BABA) earnings
Thursday - Bank of England rate decision, News Corp (NWS), CBS (CBS) and Starbucks (SBUX) earnings
Friday - Jobs report, Adidas (ADDDF) earnings, International trade report