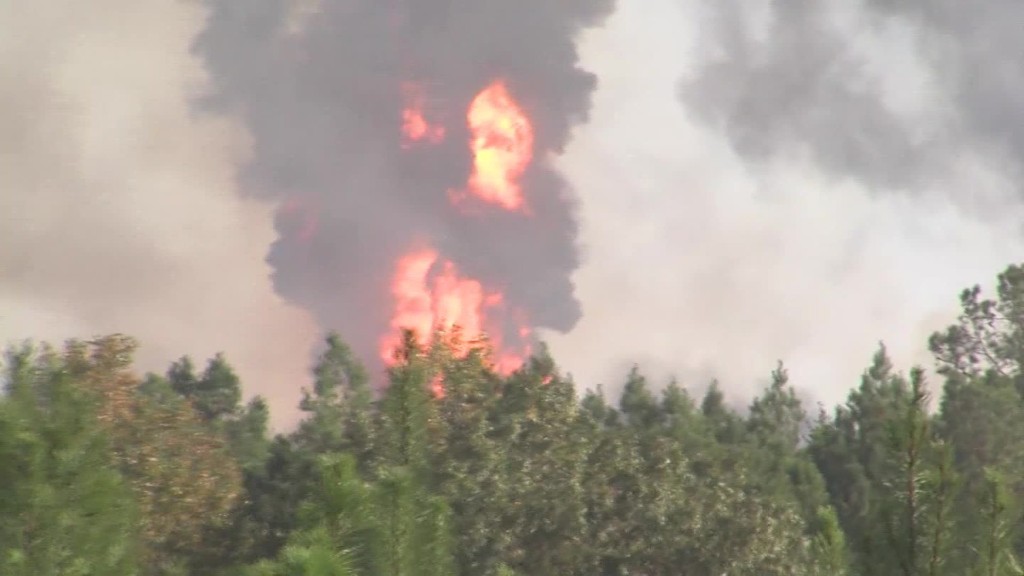 Gas prices have started to creep up in the Southeast after a fatal explosion shut down a vital pipeline earlier this week.
The average price for a gallon of regular gas was up 3 cents a gallon in Georgia and nearly 2 cents a gallon in South Carolina, according to data from AAA collected on Tuesday.
The rise came even as national prices were essentially unchanged at $2.21 a gallon, and that figure was slightly distorted by a 23-cent increase in the state gas tax that took effect in New Jersey.
Gasoline futures prices rose 6.5 cents in trading Tuesday, suggesting even higher pump prices could be on the way. But those futures were down sharply from highs earlier in the day, when traders were afraid the pipeline blast might disrupt supplies for weeks.
The Colonial Pipeline, which runs from refineries in Houston all the way to terminals in New Jersey, ruptured Monday when an Alabama construction crew hit it with a piece of heavy equipment.
The explosion killed one worker, injured five others and sent a huge plume of flames and smoke into the sky. The pipeline company said it expects to reopen the pipeline by Saturday.
But in the underground interstate system that is the nation's pipeline network, the Colonial Pipeline is I-95, providing an irreplaceable pathway for more than 100 million gallons of gasoline and other refined products a day.
And its closure is expected to cause shortages in the Southeast. When the same pipeline was shut for 11 days in September to repair a leak, hundreds of stations in the region ran out of gas and prices spiked by as much as 28 cents a gallon in Georgia.
Related: How often do pipelines blow up?
"You have basically ruptured the aorta of East Coast gasoline supplies," said Tom Kloza, chief oil analyst with the Oil Price Information Service, which tracks prices for AAA.
Governors in Alabama, Georgia and North Carolina issued orders Tuesday waiving some limits for fuel truck drivers in efforts to avoid shortages and prevent prices from skyrocketing.
Related: Spills are more common thanks to aging pipelines
Despite the pipeline rupture, Georgia Governor Nathan Deal urged the public to "maintain regular consumption levels and travel schedules."