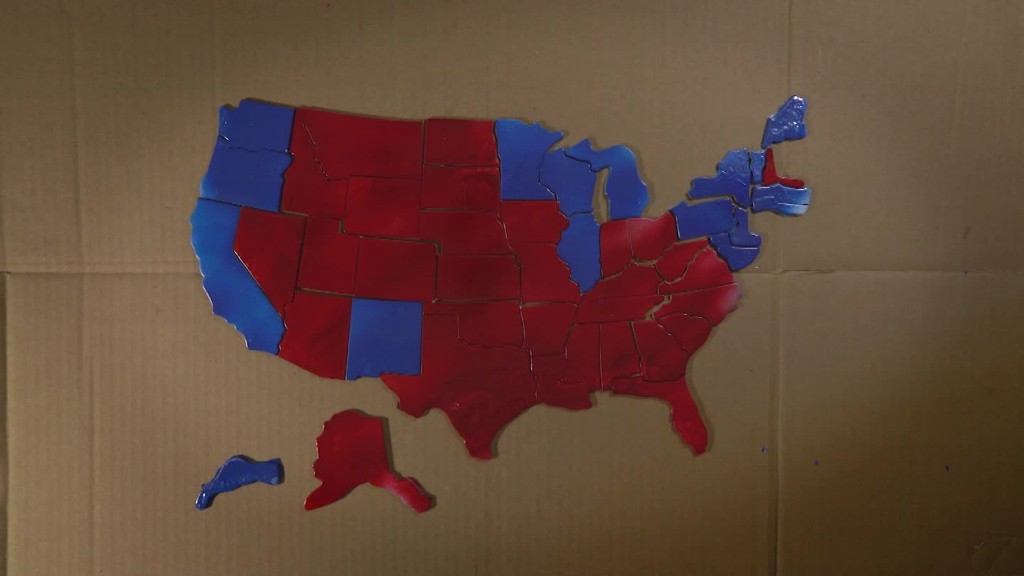 You know it's a wild election season when a letter from the FBI sparks a global stock market rally.
The Dow soared 371 points on Monday -- the biggest burst of buying since late January -- after FBI Director James Comey sent a letter to Congress on Sunday once again clearing Hillary Clinton in its email investigation.
The S&P 500 also jumped 2.2%, ending a nine-day streak of losses, the longest such slump since 1980. The Nasdaq raced 2.4% higher.
The latest FBI bombshell is clearly being interpreted on Wall Street as a boost to Clinton, the favored candidate of investors.
Investors are essentially "voting" with their money about which candidate they think would be better for the market.
And it's not that investors love Clinton. Markets just hate uncertainty -- and many believe Donald Trump's unpredictability and anti-trade stance could bring lots of uncertainty.
"There's no doubt that the day after the election, there will be less uncertainty if Hillary Clinton wins than if Donald Trump does," said David Kelly, chief global strategist at JPMorgan Funds.
Monday's rally allowed the S&P 500 to recover nearly three-quarters of the ground the market lost during the previous nine-day losing streak, according to Howard Silverblatt of S&P Dow Jones Indices.
Related: These stocks may be in trouble if Clinton wins
U.S. markets weren't the only ones in rally mode. Asian markets began rising Sunday evening in the hours after the FBI letter was released. European markets closed up by nearly 2% across the board.
In fact, there's a new Deutsche Bank research that predicts the opposite -- a 10% plunge for European stocks if Trump wins on Tuesday.
The Mexican peso, a key proxy for Trump's odds of winning, soared 2% against the U.S. dollar. A Trump win is expected to throw a wrench into U.S.-Mexico trade relations. The candidate has promised to impose tariffs on goods coming in from Mexico and also renegotiate NAFTA, the free trade deal between the two countries and Canada.
Related: How good were the 10.9 million jobs created under Obama
On the other hand, the latest political turbulence was bad news for gold, which tends to rise when investors are fearful. Gold tumbled 1.8% to $1,279 an ounce, giving back some of its recent Trump-fueled gains. Newmont Mining (NEM), a major gold miner, fell 3% and was one of just 14 stocks in the S&P 500 that lost ground on Monday.
The better mood on Wall Street also caused the closely-watched VIX volatility index to plunge 17% on Monday, its biggest decline since late June.
All of this is a reverse from last week, when nervousness crept back onto Wall Street due to polls suggesting Trump's chances of winning had improved.
"Markets have clearly favored Clinton and feared Trump," Jason Pride, director of investment strategy at Glenmede, wrote in a note to clients.
Sign up for CNNMoney's morning market newsletter: Before The Bell
So why are markets rooting for Clinton?
One big concern is that Trump's anti-trade rhetoric with China, Mexico and others could spark a tit-for-tat rise in tariffs that would rock the fragile global economy.
"If Trump wins and really starts a trade war, even attacking U.S. companies that import goods they manufacture abroad, the consequence could be a recession," Ed Yardeni, president of investment advisory Yardeni Research, wrote in a note on Monday.
That's one reason Citigroup warned clients last week the S&P 500 could plunge 3% to 5% immediately if Trump is elected.
Another big fear: the wildcard nature of Trump himself. Trump's unpredictability may have helped fuel his rise as a politician, but investors worry what it would translate to if he becomes president.
"When push comes to shove, the devil that we know (Clinton) is still preferable to the devil we can't begin to fathom," Michael Block, chief market strategist at Rhino Trading, explained recently.
Of course, Brexit showed that investors don't always read the political tea leaves correctly. Global markets rallied in the days before the U.K. referendum in June amid polls that suggested Britain would vote to remain in the European Union. Yet stocks plummeted around the world after the shocking U.K. vote to leave.
"A lot of assumptions were made going into Brexit -- and they all turned out to be wrong," said Kelly.