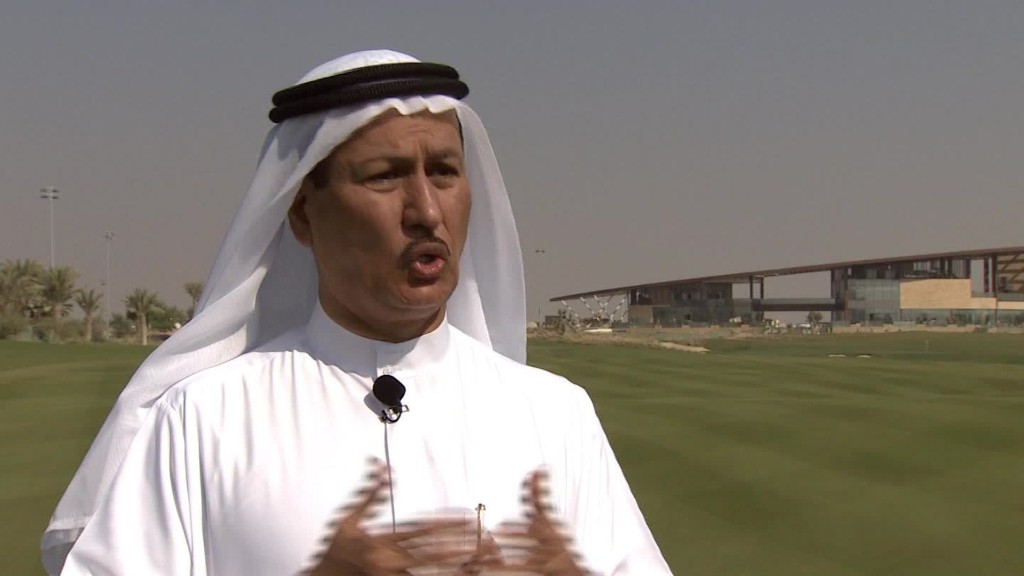 When Donald Trump dropped his bombshell call for a ban on all Muslims entering the United States, a property developer in Dubai found himself in a difficult spot.
Hussain Sajwani had partnered with Trump to build an 18-hole golf course at the heart of a huge real estate development that was being billed as the "Beverly Hills of Dubai."
Trump's shocking comments -- made in the aftermath of December's deadly terrorist attack in San Bernardino, California -- caused outrage around the globe.
"We saw the pressure. We we're in the middle of the pressure," Sajwani told CNNMoney. "We had a number of meetings with board and management and we took a decision that we are going to stick to our legal agreements."
It was a move that Sajwani, chairman of Damac Properties, now looks back on with pride.
"It was a wise decision," he said. "All our business partners respect us for that. We stick to our commitments, regardless of the political, geographical or any other issues."
Related: Middle East execs hope Trump will forget anti-Muslim talk
Other top executives and investors in the Middle East have suggested they're ready to forget Trump's anti-Muslim rhetoric in the hope he'll do the same. And Sajwani says the president-elect's name is good for business.
"He had a strong brand -- and no question in the last 12 months, his brand became stronger and more global. I think it will have a positive impact on sales," he said. "He's in no way discriminative. He doesn't discriminate against sex, religion or anything else."
Trump has since walked back his comments on the Muslim ban, most recently saying he will pursue a policy similar to the one introduced after the attacks of September 11, 2001, that required immigrants from high-risk countries -- most of which are Muslim-majority nations -- to register in a tracking system.
But his choices for key national security posts include people who have taken a hard line on Islam.
Related: Donald Trump taps hardliners for national security team
The $6 billion Dubai development, named Akoya, sprawls over 42 million square feet. It boasts a clubhouse, apartment buildings and villas selling for as much as $9.5 million dollars.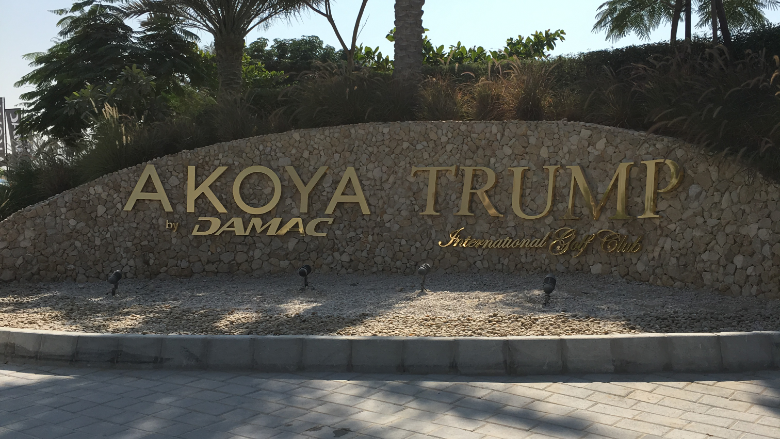 Days after Trump's call for a ban on Muslims, his name disappeared from a wall at the entrance to Akoya.
Sajwani insists the removal wasn't down to Trump's incendiary comments but simply unfortunate timing.
"No one will believe us," he said. "That week, we had to do maintenance on the stone work. We brought it down, and brought it back in less than 48 hours."
Elsewhere in the world, some real estate sites have permanently removed the Trump brand. Three upscale apartment buildings in New York recently ditched the president-elect's name following a petition from residents.
Related: 3 NYC luxury buildings to drop Trump name
Trump and Sajwani met in 2005. They had plans to build twin Trump towers in Dubai, but the global financial crisis killed that idea.
When a huge swath of land in the middle of the desert captured Sajwani's eye a few years later, he struck a deal with Trump to build the golf course for the development.
That project will soon come to fruition. Sajwani expects the Trump International Golf Club at Akoya to open in the first quarter of next year.
"We would love for Mr. Trump to come, but I understand being the president of the United States, it will be difficult for him," he said.
The Trump-Sajwani partnership doesn't end there. A second golf course -- The Trump World Golf Club Dubai, designed by Tiger Woods -- is in the works and is set to be completed in 2018.
Sajwani considers himself lucky to have two projects bearing the name of the next U.S. president.
"I always say sometimes in life you work hard, but you need some luck," he said.