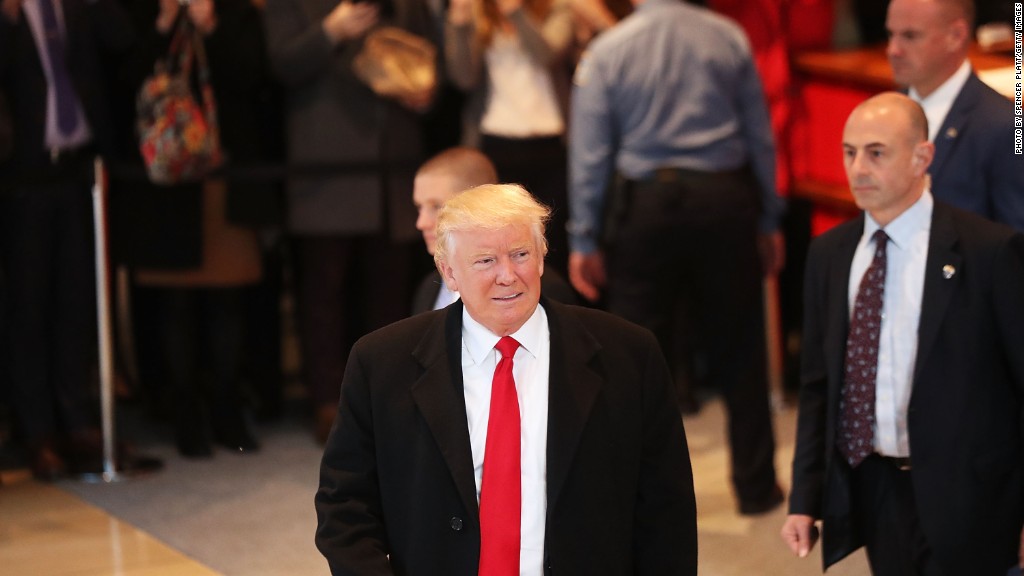 President-elect Donald Trump says selling his companies to avoid a conflict of interest is "a really hard thing to do because I have real estate."
In a meeting with reporters and editors of The New York Times, he spoke at length for the first time about what ethics experts say is an unprecedented clash between his responsibility as president and his business holdings.
"In theory I could run my business perfectly and then run the country perfectly," Trump said, according to accounts tweeted by Times reporters. "There's never been a case like this."
Trump owns or has a position in more than 500 companies, according to a CNN analysis. That includes about 150 that have done business in at least 25 foreign countries, including Turkey, Qatar and Saudi Arabia.
Related: Trump disavows 'alt-right'
Ethics experts say the conflict remains even if Trump hands control of the business to his children, as he has said he will.
Trump appeared to take a shot at those who have derided the idea: "If it were up to some people, I would never, ever see my daughter Ivanka again," he said.
Unlike for other officials of the executive branch, federal law does not prohibit the president from holding assets that clash with his or her official duties. Trump will be required only to disclose financial interests, including assets and liabilities.
"I'd assumed that you'd have to set up some type of trust or whatever and you don't," Trump told The Times. "The law's totally on my side, the president can't have a conflict of interest."
Related: Unprecedented potential conflicts for President-elect Trump
Past presidents have put their assets into blind trusts, managed without their consent or knowledge. But ethics experts have said even that arrangement might not work for Trump because it would be impossible for him to forget where his physical properties are.
The Wall Street Journal editorial page, among others, has called for him to liquidate his holdings.
Related: Trump's family plan to cut business conflicts falls short
The president-elect scheduled the meeting with The Times, then canceled it Tuesday morning during a Twitter tirade about its "nasty" coverage, then reversed course less than four hours later.
Trump also made reference to his new Trump International Hotel in Washington, which recently opened blocks from the White House.
He said the hotel is "probably a more valuable asset than it was before," and that the brand is "hotter."
But ethicists have said that hotel, which he leases from the federal government, could become an issue too. Starting January 20, Trump will be the landlord and tenant at the same time.