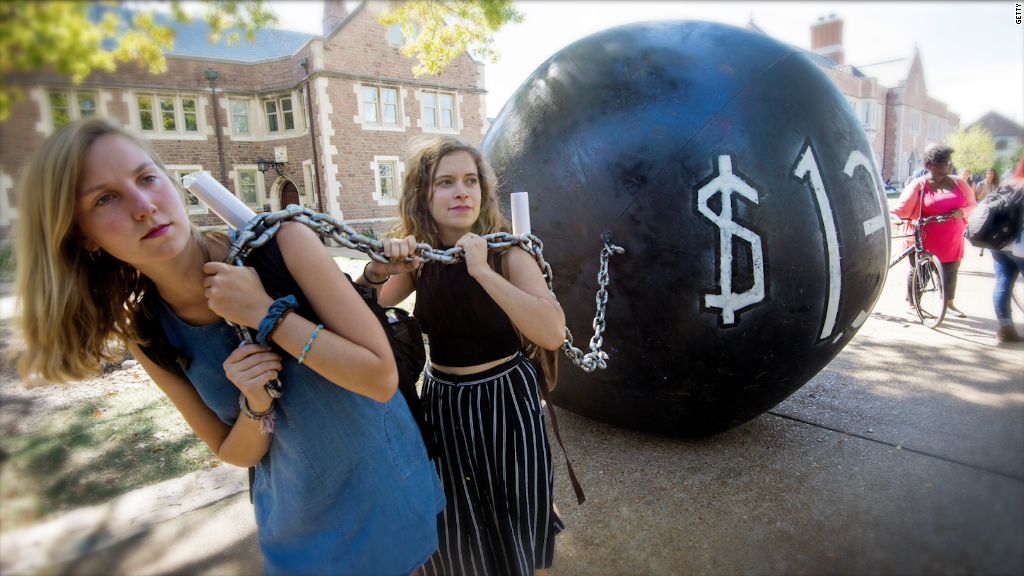 There ought to be a better way to pay for college, says former Indiana Governor Mitch Daniels.
"We think we've found one," he told CNNMoney.
Daniels is now President of Purdue University, which is offering students an alternative to high-interest loans. Instead, they can promise to pay private investors a share of their future income in exchange for funding.
How much they pay and for how long will vary based on the terms agreed upon by the student and their investor. The repayment time can be up to nine years long, and the income share will be between 0.75% and 10%, according to the rules of Purdue's program.
It launched this year, and more than 140 Purdue students have received funding this way.
"Think of it as equity as opposed to debt, so the risk shifts entirely to the investor. If things don't work out for the student then the investor is on the hook, not the young person -- as is the case with student loans," Daniels said.
Related: Trump's student loan payment plan looks a lot like Obama's
It won't solve America's student debt problem on its own. But it does offer a new way to finance a college education, especially for students who don't have a lot of options.
"It may well be a much better alternative than a lot of the private loans, which are rather expensive," Daniels said.
He calls the student debt problem "enormous, by any measure." Total outstanding student debt across the country has surpassed that of credit cards and auto loans.
Nearly 70% of undergraduate students in the U.S. leave school with debt, which on average tops $30,000. Someone carrying that kind of debt load could be paying $300 a month for the next decade.
If students must borrow money for college, experts say it's best to take out direct federal loans first. They come with lower interest rates and most students automatically qualify.
But students are limited to how much they can borrow and it sometimes doesn't cover their remaining college cost, even after using savings or getting a scholarship. That's when they turn to Parent PLUS loans from the federal government or private loans -- both of which come with higher interest rates.
Today's federal undergraduate loans carry a 3.76% interest rate, while a Parent PLUS loan has a 6.31% interest rate. Private loans can come with rates as high as 13.7%, according to The Institute for College Access and Success.
Related: Too poor to pay for college, too rich for financial aid
For many students, there aren't any other options. (And they usually need a parent with good credit to cosign.) But the income share agreement at Purdue gives students in this situation a new alternative.
It could be a good deal for those who don't land a great-paying job upon graduation. They'll never pay more than their agreed upon percentage of their income, no matter how much or little it is.
And in Purdue's program, you won't pay anything if you're unemployed or earning less than $1,667 a month. You won't owe any more at the end of the agreed upon term, even if you haven't paid back the full amount you've borrowed.
On the other hand, it's also possible you'll end up paying back more than you originally received. The Purdue program limits that at two and a half times the original funding amount.
The idea of an income share agreement has been talked about for years by experts in higher education, but Purdue is the first major university to try it out on this kind of scale.
"It's an attempt to learn whether this concept is a viable new choice on the menu of financing possibilities for students. We hope to learn that it works out well for both sides of the transaction," Daniels said.
Related: How to pay off your student loans faster
At the root of the problem is the rising cost of college. For years, it has been growing faster than anything else in the economy, including health care and income, Daniels said. And he blames the flood of federal aid program dollars to colleges for contributing to the problem.
He thinks students and their families need to be more cost conscious when choosing a university, Daniels said. They can't assume that the most expensive college provides the best education.
He also said that schools should be held accountable when students struggle after graduating and can't pay down their debt, suggesting that colleges shoulder some of the cost.