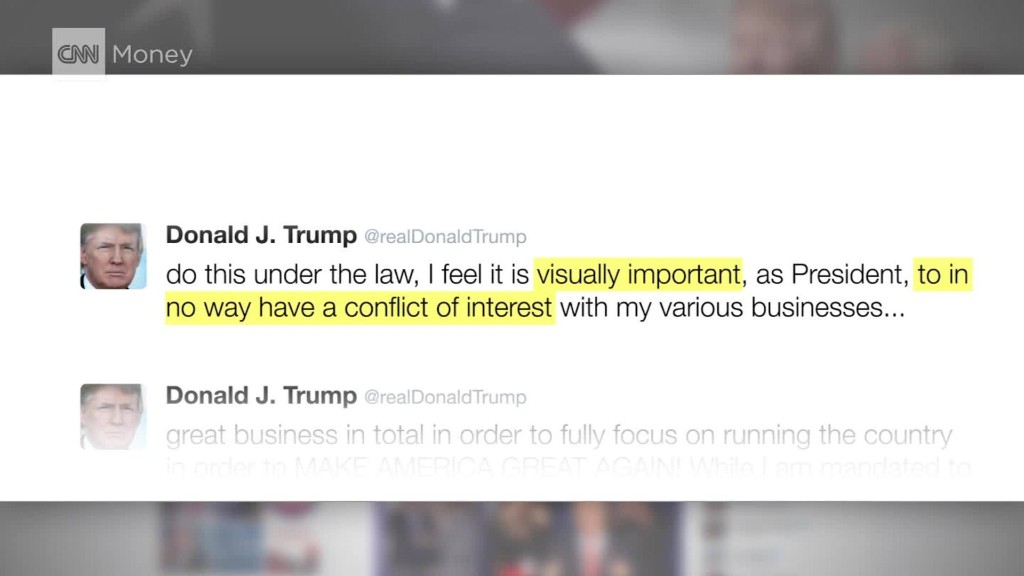 President-elect Donald Trump is holding a press conference Thursday to explain his plan to avoid conflicts of interest posed by his businesses.
Experts in government ethics have put forth a number of ways Trump could relinquish control of his business empire, from carefully constructed arrangements involving his children to full liquidation of his assets.
The most vocal of these experts recommend full divestiture -- selling his stake entirely, and turning the cash over to a money manager who can handle it without his knowledge, in what's known as a blind trust.
That is the only sure way for the public to know that Trump's personal profit interest is not influencing his policy decisions, they say.
While Trump has said he will take himself "completely out of business operations," full divestiture seems unlikely. Nothing the president-elect has said so far suggests he wants to sell his holdings, which would go further than leaving management.
Related: Trump vows to remove himself from business
Giving it to the children
A likelier solution involves some of his adult children. A source tells CNN that Trump's two adult sons, Don Jr. and Eric, are expected to be involved at a leadership level, perhaps with a non-relative appointed by Trump.
Trump entertained a similar idea in an interview with Chris Wallace of "Fox News Sunday" this weekend.
"My executives will run it with my children. It's a big company, it's a great company. But I'm going to have nothing to do with management," the president-elect said.
It's unclear whether Ivanka Trump, who has been deeply involved in her father's transition along with her husband, Jared Kushner, would continue to be a major part of the Trump Organization.
Should Trump involve any of his children, however, questions of conflicts will persist. Ivanka, Eric, Don Jr. and Kushner are all part of Trump's political transition team.
To address the problem, Trump could take certain steps.
David Rivkin Jr., an attorney who worked in the Justice Department under Presidents Ronald Reagan and George H.W. Bush, told CNNMoney last month that Trump and his children would have to agree not to discuss the business.
Such an arrangement would be impossible to verify.
Rivkin said White House lawyers could also step in to review potential problems -- meaning the responsibility to navigate conflict minefields could fall to Donald McGahn, whom Trump has named White House counsel.
McGahn is a Washington lawyer and former Federal Election Commission chairman who served as Trump's general counsel during the campaign.
Related: Unprecedented potential conflicts for President-elect Trump
Independent management
If Trump wanted to go a step further, he could turn over operational responsibility of his company to an independent manager. The person would have to be someone who did not already have a relationship with Trump who would be willing to step in and take control of business decisions.
"It's a thought. It's an option that would distance him from the company," said Kenneth Gross, a partner at the law firm Skadden, Arps, Slate, Meagher & Flom who has provided legal assistance to several presidential campaigns.
Gross noted that such an arrangement would not be equivalent to having an independent trustee managing a blind trust of Trump's assets.
"You're talking about a business that Trump knows about," Gross said. In other words, Trump wouldn't magically forget where he owns golf courses and hotels. He would know when certainly U.S. policy decisions would be profitable for him and his family.
Selling it all
A true blind trust would require a more drastic step, such as if Trump liquidated his holdings by taking his company public or selling the assets.
That solution is strongly advocated by experts like Richard Painter, a former ethics lawyer for President George W. Bush.
"I just think he's got to cash out," Painter told CNNMoney last month. "He may give up some of the value of his name by taking the name off the building and off the organization, but that was his decision when he decided to run for president."
--CNN's Sara Murray contributed to this report.