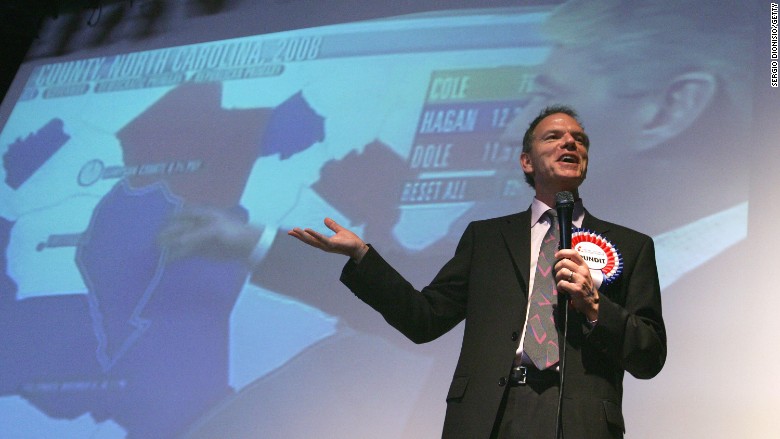 This week, the guest curator for "The Big Idea" on the CNN MoneyStream app is Geoffrey Garrett. You can follow him on Twitter @garrett_geoff.

Occupation: Dean of The Wharton School at the University of Pennsylvania
Best known for: Being an international political economist and business commentator
The 13th dean of Wharton has taught on three continents and held teaching assignments at some of the world's top universities, including Penn, Oxford, Stanford and Yale.
An active social media user, Garrett can often be found blogging on LinkedIn or tweeting. He is a trustee of the Asia Foundation in San Francisco and a member of the Council on Foreign Relations. He also serves on the Advisory Board of Global Policy.
Garrett was appointed dean of the Wharton School in 2014 after being dean of the business schools at both the University of Sydney and University of New South Wales in Australia.
Here's a sample of what Geoffrey Garrett is reading this week (to see more, add "The Big Idea" stream on the CNN MoneyStream app)
- Arianna Huffington: Why it's time to change the way we work (Thrive Global)
- Taiwan is worried about becoming Trump's bargaining chip (The Economist)
- Here are LinkedIn's most influential voices of 2016 (Linkedin)
- Remembering 50 years of Jimi Hendrix (The Economist)
- Nine new findings about inequality in the United States (New York Times)
- India's botched war on cash (Harvard Business Review)
- This trucker transformed the shipping industry, proving innovation can come from unexpected places (Business Insider)
- Switzerland retreats from migration quotas, in lesson for Brexit (Politico)
- Free cash in Finland. Must be jobless (New York Times)
- These are the world's 15 most admired cities (World Economic Forum)
- The 5 skills that innovative leaders have in common (Harvard Business Review)
- To let the yuan fall or not? Beijing's big burning currency question (CNBC)
- India wants to go cashless. But it's easier said than done (NPR)
- Here are the most innovative states in America in 2016 (Bloomberg)
- Twitter executive exodus put pressure on Dorsey (CNNMoney)
- Ten elections to watch in 2017 (Council on Foreign Relations)
- U.S. companies want to play China's game. They just can't win it (Washington Post)
- Why driverless trucks will cruise the slow lane (LinkedIn)
- Is now the best time to have a baby in corporate America? (Knowledge at Wharton)
"The Big Idea" lets you peek into the minds of leading people in business.
Every day, you will see multiple stories appear in your stream that are hand-picked by the guest curator of the week. "The Big Idea" was curated last week by former NASA astronaut Jose Hernandez.
Reading this article on your Apple device, click here to download CNN MoneyStream. Or if you are on Android, download it here.