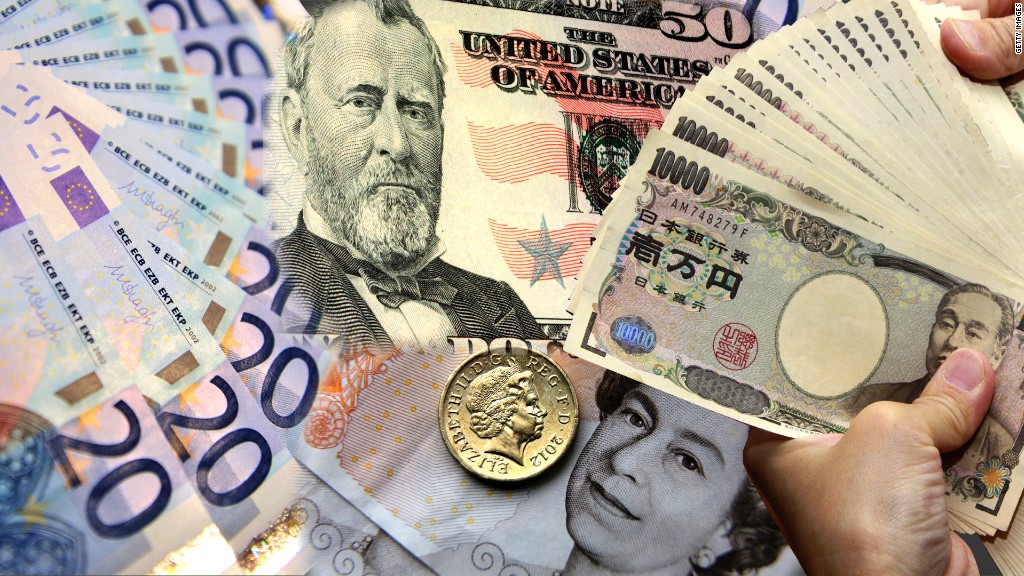 Congrats Americans! Your stock markets rallied to record levels this year.
The Dow Jones industrial average was a standout performer, shooting up 13.4% and approaching the 20,000 point level right at the end of 2016.
But you're not the only ones reveling in sweet stock market gains.
Here's an overview of some of the best performing global markets of the year:
Russia
Russia's RTS index has rallied by 52% in dollar terms since the start of the year. The country's other main index -- Micex -- has shot up by 27%. It's denominated in rubles.
Global investors rushed into Russia following the U.S. election because they expect President-elect Donald Trump to help thaw frosty relations between the two nations.
Russia is also heavily reliant on oil revenue, and it's benefited from the recent surge in oil prices.
"The bounce in the oil price has supported the Russian economy and saved it from disaster," said Naeem Aslam, chief analyst at Think Markets in London.
Argentina
Argentina's Merval index surged 45% this year and hit a record high in October on the back of major political shifts in the country and an 18% crash in the currency.
The election of President Mauricio Macri in late 2015 was a turning point for Argentina. Investors hope he'll revive the country's stagnant economy after the previous government left the nation's finances in tatters.
His government lifted currency controls, ended a 15-year battle with U.S. hedge funds and brought Argentina back to international bond markets for the first time since 2001.
Brazil
Brazil's Bovespa index hit a low in January that hadn't been seen since the 2008 global financial crisis. But then investor sentiment turned around and the market caught fire, rallying 39%.
"Brazil's markets were at remarkably low valuations at that point [because] of the emerging Petrobras scandal," noted Tim Edwards, a senior director at S&P Dow Jones Indices. "A lack of descent into anarchy as well as rising commodity prices ... saw both [the] currency and stock market recover."
Brazil's main exports -- iron ore, oil and soy beans -- also saw major price increases over the course of the year.
Canada
Like many global stock markets, the TSX Composite index in Toronto rallied from a January low and benefited from the so-called Trump bump. It's up 17.5% this year.
Canadian equity strategist Matthew Barasch from RBC Dominion Securities said in November that "the sum total of President-elect Trump's policy proposals would be positive for Canada and Canadian stocks, at least for a time."
He predicted that Trump's pro-oil policies would be a major boost for the energy exporter.
Norway
Oslo's All-Share index has been on a steady climb since the 2008 financial crisis, though it experienced a major pullback in early 2016 as oil prices crashed. It since rebounded and made a 18% gain this year.
Norway's economy and markets are heavily reliant on oil, so the fact that crude prices have more than doubled from their February lows has helped energy stocks surge.
Specifically, Norway's biggest publicly traded company -- Statoil (STO) -- saw shares increase 29% this year. A smaller peer in the sector -- Aker BP -- saw shares soar by about 185%.
Indonesia
Indonesia's stock market posted a lot of bumps and jumps in 2016 but ultimately closed with a 15% gain.
Indonesia's largest publicly traded firms saw their shares rise this year, with most posting double-digit percentage increases.
The country's growing economy is powered predominantly by consumer spending, which means it's relatively insulated from a further slowdown in global trade.
The International Monetary Fund predicts economic growth of 5.3% next year, even faster than 2016.
U.K.
London's benchmark FTSE 100 index defied expectations and hit an all time high this year after Britain voted to leave the European Union. It's up 14.4% since the start of 2016.
The vote for Brexit caused the currency to drop to a 31-year low against the U.S. dollar, which provided a "stimulus boost" for the stock market, said Aslam from Think Markets.
The Bank of England's move to support the economy, combined with better-than-expected economic data, has also helped the stock market, said Aslam.
"A combination of these elements kept investors interested, hence we have seen such a stellar rally," he said.
Related: These currencies got crushed in 2016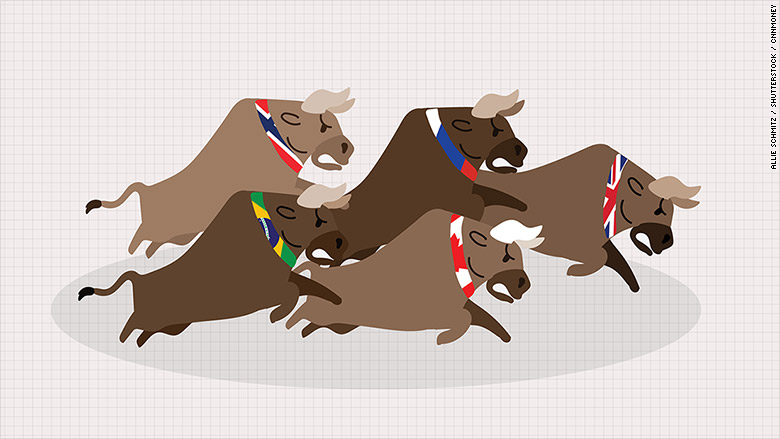 The biggest losers
While most global stock markets rallied, a handful closed the year with deep losses: Italy and China were the biggest losers by far.
Italy's main index -- the FTSE MIB -- dropped 10% as investors worried about the troubled banking sector. Shares in all the major banks dropped sharply and Monte dei Paschi was forced to seek a bailout after its shares fell by 88%.
Chinese stock markets also closed the year with double-digit losses following a gut-wrenching fall in early 2016 when key indexes lost between 25% to 30% of their value in a matter of weeks.
The benchmark Shanghai Composite closed the year with a 12% loss. The Shenzhen market, which is traditionally more volatile, closed 15% down.