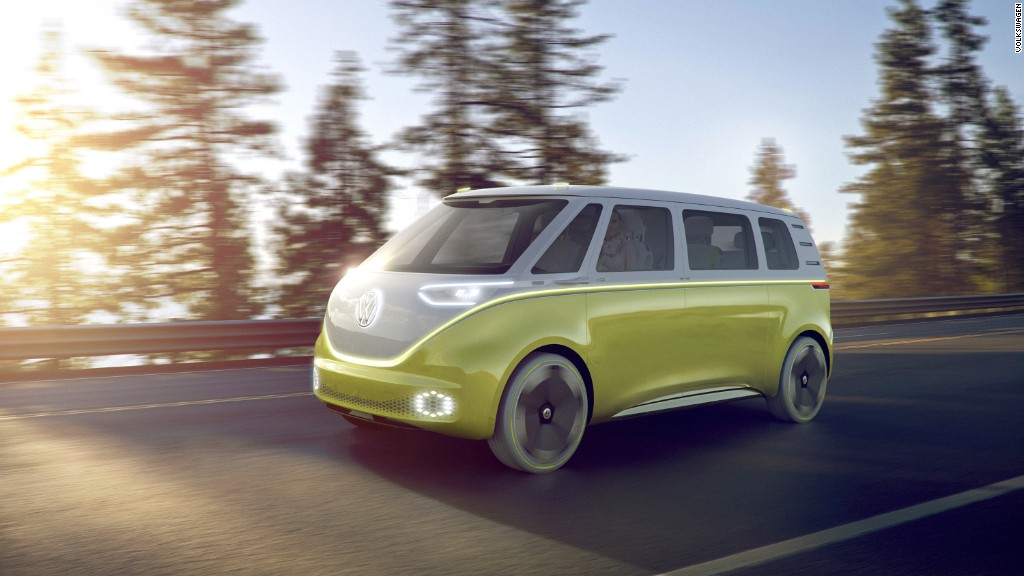 Volkswagen revealed an extremely groovy new concept car during the Detroit Auto Show Sunday night. The VW ID Buzz is an all-electric rebirth of the classic microbus.
VW didn't say for certain that it would be produced for sale but, in introducing the ID Buzz, the automaker talked about a "big electric offensive" to begin in 2020. By 2025 the German automaker hopes to be selling 1 million electric vehicles per year.
"We are making electric mobility the new trademark of Volkswagen," the automaker said in a statement.
The ID Buzz follows on the VW ID electric concept car unveiled at the Paris Motor Show in late September.
The ID boasts a 270 mile driving range, according to VW, and a total of 369 horsepower from two electric motors. However, VW did not say how that driving range was calculated.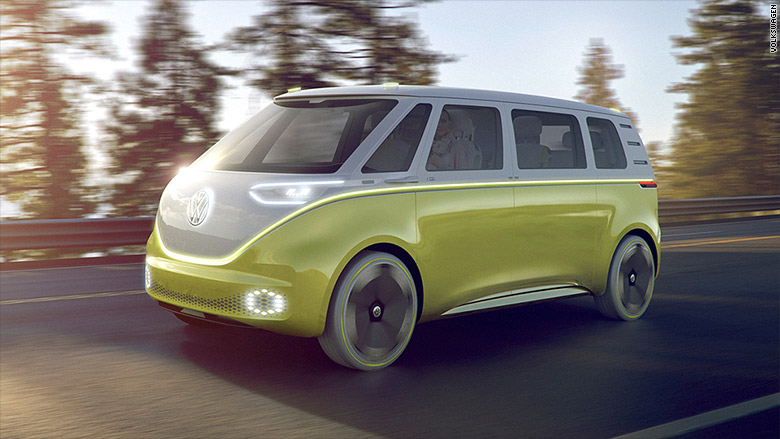 With one electric motor in front and one in back, the ID Buzz has all-wheel drive. It is also capable of fully autonomous driving, according to VW. The driver's seat can even be turned around 180 degrees to face backward and the steering wheel can also retract into the dashboard.
Related: Kia unveils its own European sports sedan
While the original VW Microbus was famously underpowered and slow, this one will be able to jump from zero to 60 miles an hour in just five seconds, VW says. Top speed will be limited to 99 miles an hour.
The name Buzz plays off the word "Bus," VW said, while ID stands for -- take your pick -- "Idea," "Identity," or "Intelligent Design," among other things.
Related: Car sales set another U.S. record
VW's big push on electric vehicles follows the automaker's recent diesel emissions scandal. Volkswagen was found to have installed software that reduced harmful emissions from many of the automaker's diesel-powered vehicles only during testing. As part of a plan to make up for that, VW has agreed to promote electric cars.
This is not VW's first electric bus concept. Volkswagen showed off the BUDD-e electric concept bus almost exactly one year ago at the Consumer Electronics Show in Las Vegas. At that time VW said the electric VW bus could be in production by the end of the decade.