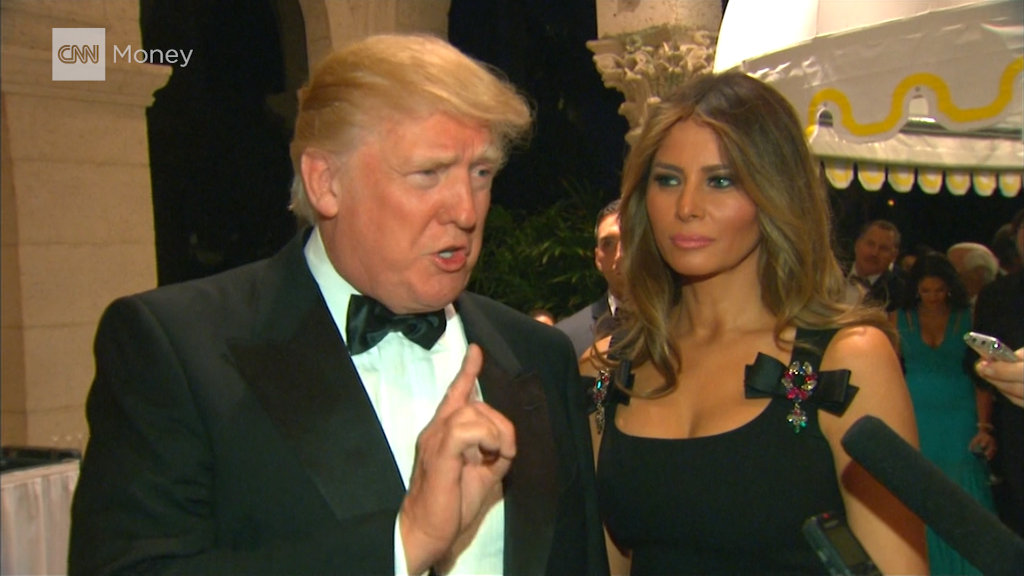 As President-elect Trump prepares to explain how he will prevent conflicts of interest posed by his global businesses, a growing chorus of ethics experts say the sheer complexity of his empire requires a full and complete separation from the White House.
But the extent to which he will distance himself from his companies remains unclear, and the complicated layers of his organization would make it difficult to carry out a true separation.
Few people have a full grasp of Trump's finances. He has never released his tax returns, and the only information available to the public comes from the company's website and his financial disclosure forms filed as part of his candidacy.
"There has never been anything close to this level of complexity in businesses," in the history of President-elects, said Kenneth Gross, a D.C. attorney who has advised businessmen and political appointees on finances and ethics.
Trump will discuss these issues at his first press conference as President-elect on Wednesday.
On Monday, a group of leading Democratic Senate and House members introduced a new law to force Trump to actually divest his financial conflicts. The Presidential Conflicts of Interest Act of 2017 would require the future President and Vice President to disclose and divest any potential financial conflicts of interest.
Trump has said he doesn't plan to go that far, also emphasizing that he's not required to do so. On Twitter on December 13, Trump said: "Even though I am not mandated by law to do so, I will be leaving my businesses before January 20th, so that I can focus full time on the Presidency."
A quick look at some of Trump's sprawling business interests illustrates how tough it will be to satisfy critics.
Trump's stake in the 1290 Avenue of the Americas commercial property in New York City, for example, is held within a web of at least a dozen companies, including three limited liability companies, three corporations and six limited partnerships.
The Trump World Tower on the east side of Manhattan is held within a limited partnership jointly owned by two other companies -- Trump 845 LP LLC, which Trump directly owns, and Trump 845 UN GP LLC, which is jointly owned by Trump and an additional Trump management corporation.
It's a similar story with almost all of Trump's real estate holdings: Each one is made up of multiple companies and interconnected layers.
There are at least 564 unique businesses, corporations, limited partnerships, or limited liability companies (LLC's) with some stake by Donald Trump, according to his most recent financial report filed in May 2016.
"We're talking about over 560 business entities, some of which are owned outright, some of which show a percentage of ownership, some have sub ownerships," said Gross, who is head of political law at the firm Skadden, Arps, Slate, Meagher & Flom. "All these businesses are opaque in many instances," he said. "And it's really hard to get a very clear picture of it all."
Related: Trump Inc. and conflicts: What you need to know
Of those business interests, some 152 are assets that produce income or have financial value.
They range in size from the massive property at 40 Wall Street, valued at more than $50 million and providing more than $5 million in annual income, to the much smaller "DJT Operations EX LLC," located in Palm Beach, FL., with a value between $1,000 to $15,000, according to Trump's financial disclosure.
They also range in structure, from real estate ownership, property management and licensing deals, to book sales, speaking fees and his model management company.
Trump has full or partial ownership of 52 pieces of real estate worth at least $1.2 billion, including a variety of hotels, golf courses, homes and commercial properties. Those 52 properties are held within a web of at least 128 separate companies, some of which are registered in multiple states.
For example, Trump's swanky estate in Palm Beach, Florida -- the Mar-a-Lago Club -- is held within an LLC registered in both Florida and Delaware. That LLC is jointly owned by Trump and another company he owns, "Mar-a-Lago Club Inc.," which is also registered in both Florida and Delaware.
In fact, as with most businesses, most of Trump's are registered in Delaware, known for its business-friendly courts and tax policies, but also the lack of disclosure requirements, according to Matthew Gardner, a fellow at the Institute on Taxation and Economic Policy.
In addition to the property Trump owns, he disclosed at least 18 licensing deals with other real-estate developers in the U.S. and abroad who pay Trump for the use of his name.
And he disclosed at least 14 property management deals from which he derives income, which are similarly structured in complex networks of companies. Trump earned at least $19.6 million from property licensing and management income in the 16 months preceding his most recent disclosure in May 2016.
Can Trump avoid conflicts?
Trump's team has in recent days indicated that a few overseas business deals have come to a stop. Trump's attorney, Alan Garten, told CNN that the organization had stopped pursuing deals in Brazil and India.
And he has suggested he will have his children, most likely his sons, run the businesses, and that this would eliminate potential conflicts of interest.
But critics want more.
Republican Representative Sean Duffy said Trump's businesses need to be truly separated from the White House. "You can't have a scenario where the Trump Organization goes to the kids but the kids are also part of the administration. You have to make sure you're truly walled off and Mr. Trump is focusing on America and there's no self-interest or self-profit in what he does as the President," Duffy said recently to CNN's Wolf Blitzer on "The Situation Room."
Putting the businesses aside to be controlled by Trump's children "simply will not work from a conflict of interest vantage point -- every time his administration does anything that appears to help one of these businesses, Trump will be accused of enriching himself at the expense of the public," wrote Richard W. Painter, the S. Walter Richey Professor of Corporate Law at the University of Minnesota, in a CNN Op-Ed last month. Painter was the chief White House ethics lawyer for President George W. Bush from February 2005 to July 2007.
Last month, 23 Democratic U.S. Senators sent Trump a letter urging him to totally divest his business holdings to resolve conflicts of interest.
"As a businessman with interests in the United States and around the world, your holdings have the potential for serious conflicts between the national interest and your personal financial interests," the lawmakers wrote.
Nelli Black, David Fitzpatrick, David Shortell, Ziyuan Cen contributed to this report.