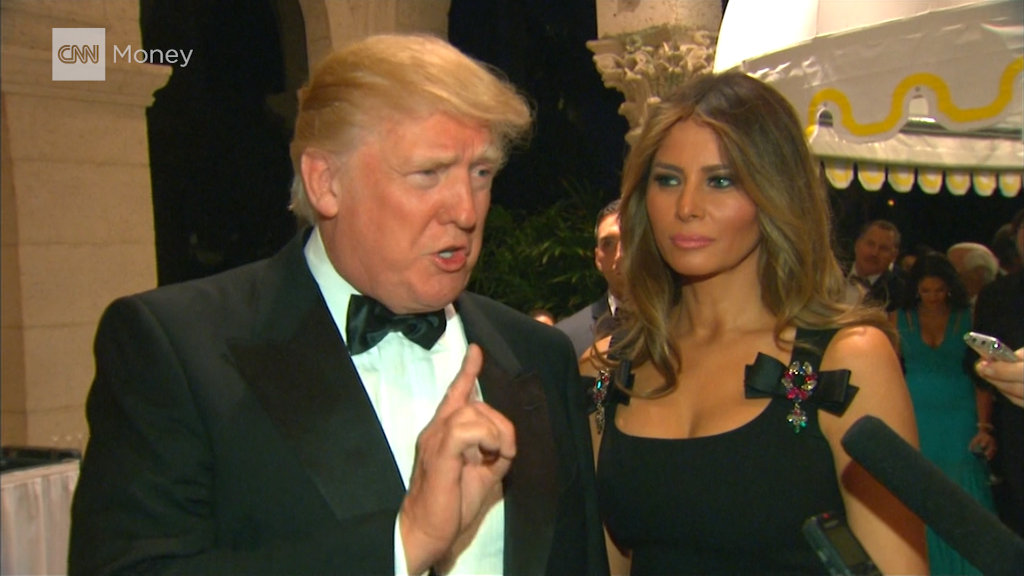 Donald Trump is promising to finally hold a press conference on Wednesday to talk about a problem that looms over his presidency -- what to do about the conflicts of interest posed by his business holdings around the world.
In the two months since the election, Trump has taken only limited steps toward disentangling himself from the business. He shuttered his foundation and pledged that the Trump Organization would make "no new deals" during his term.
But he has given no indication that he will sell his stake in the company. Experts in government ethics say that virtually guarantees a conflict and could allow Trump and his family to profit from the decisions he makes on behalf of the federal government.
Trump owns or has a position in at least 564 businesses and partnerships that have done business in at least 25 foreign countries, according to a CNN analysis.
The company took in $9.5 billion in revenue last year, according to one estimate. By comparison, the steps he has taken to avoid potential conflicts are small.
A Trump Organization attorney has told CNN that the company ended overseas deals in Azerbaijan and Brazil as a "housecleaning measure" and isn't moving forward on projects in India.
The company also resolved a battle with workers at a hotel in Las Vegas, and agreed to allow a union organizing vote at a Trump hotel in Washington. Trump will oversee the National Labor Relations Board as president.
And Trump recently said he would dissolve the Trump Foundation "to avoid even the appearance of any conflict" with his presidency.
A litany of controversies still loom over Trump's businesses, even before he takes office on Jan. 20.
House Democrats have seized in particular on the luxury Trump hotel in Washington, three blocks from the White House, as an opportunity for foreign governments to curry favor with the new president by booking rooms and holding events there.
Trump's ownership stake in the property, which he leased from the federal government in 2013, also appears to be a contract violation by itself. The paperwork says no elected official can be party to the lease. And in any case, Trump, the tenant, will oversee the General Services Administration, the landlord.
Trump's international business partnerships have also been heavily scrutinized. He praised one of his billionaire business partners from Dubai at a New Year's Eve celebration event at his Mar-a-Lago estate.
Related: Trump Inc. and conflicts: What you need to know
The president isn't restricted by federal conflict of interest rules that prohibit most executive branch officials from holding assets that interfere with their government jobs.
But numerous experts have raised concerns about whether Trump could act as president without considering how his official decisions would affect his personal bank account.
And the Constitution's Emoluments Clause prohibits the president from accepting payments from a foreign government. Some ethics experts have said Trump will be in violation the moment he takes office because of the hotel alone.
Trump's two adult sons will most likely have some role managing the Trump Organization, though experts on both ends of the political spectrum say that's not enough.
Related: What Trump can learn from Rex Tillerson, his secretary of state pick
Their solution is for Trump to hand his business over to an independent money manager who has no ties to his family, and who can sell the assets and reinvest the proceeds. There is no indication he will do that.
It's not even clear how much information Trump will divulge at the press conference, scheduled for Wednesday.
He first scheduled it for Dec. 15, but the transition team postponed it. Transition sources told CNN the postponement was in part because of the complexities Trump's lawyers face as they try to resolve potential conflicts.
Sean Spicer, Trump's incoming White House press secretary, told reporters last week that while Trump will "obviously" talk about the business, he will not "limit the discussion." Trump tweeted last week that he would have a "general" press event.
--CNNMoney's Cristina Alesci and Jon Sarlin and CNN's Jeremy Diamond, Drew Griffin and Phil Mattingly contributed to this story.