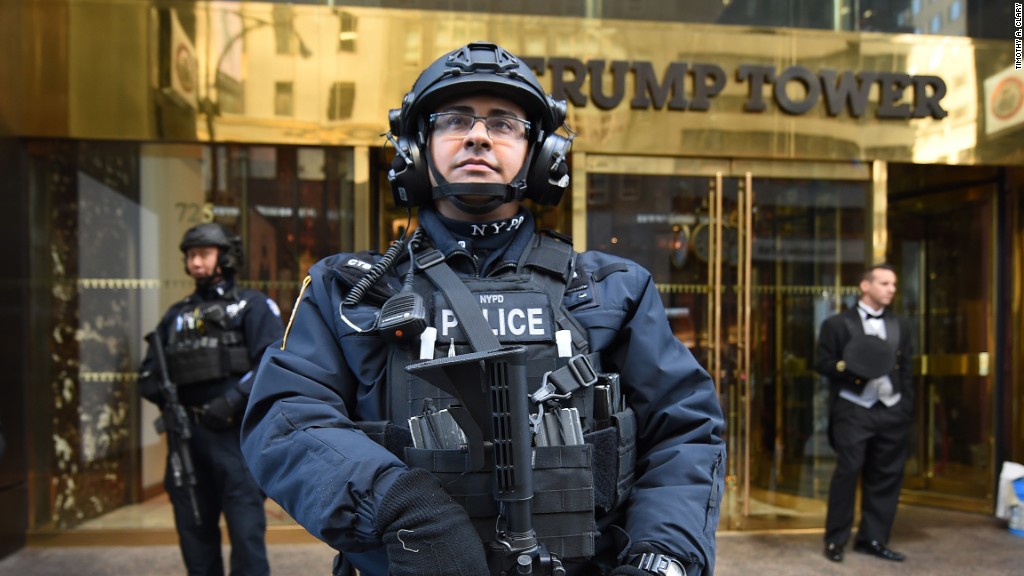 In the days after Donald Trump's election, stores in midtown Manhattan watched a stream of foot traffic slow to a trickle as gates went up and police officers fanned out.
Security restrictions near Fifth Avenue's gilded Trump Tower have eased somewhat since then, but small businesses and people who live nearby are still worried about four years of inconvenient detours.
On Tuesday, they had a chance to sound off. A New York City Council committee met to discuss what securing Trump Tower means for the neighborhood.
"November 9 was a bit of a nightmare on Fifth Avenue," Tom Cusick, president of the Fifth Avenue Association Business Improvement District, said about the day Trump became president-elect. "The rest of November was almost as bad."
"As of today," Cusick said during the hearing, "informal estimates indicate that more than $40 million may have been lost."
Derek Walsh, co-owner of the Judge Roy Bean Public House on West 56th Street, said he has no notice before the street is closed, and finds it hard to plan. He might be overstaffed on a day when streets are closed, but understaffed when they open unexpectedly.
The street runs along the south side of Trump Tower.
Revenue at Judge Roy Bean fell 30% as a result of street closures, New York City Councilman Daniel R. Garodnick told CNNMoney. "That block felt like a ghost town."
Manhattan Borough President Gale Brewer said there are at least 105 businesses on 56th Street between Fifth and Sixth avenues -- businesses that are harmed when the street is shut down to vehicular or pedestrian traffic.
"This could mean in the neighborhood of 1,000 jobs," she said. "The collective danger to all of these small businesses could significantly damage the entire neighborhood."
Jessica Walker, president and CEO of the Manhattan Chamber of Commerce, offered construction around the recently-opened Second Avenue subway as a cautionary tale. She said that some businesses could not survive the strain of years-long construction coupled with spiking rent.
"We fear that businesses near Trump Tower could be similarly threatened if this goes on for years," she said.
Trump has conducted his presidential transition almost exclusively from the skyscraper he calls home. Business owners were especially hurt because the security apparatus descended during the busy holiday season, Garodnick said.
"They are struggling, and they worry about how the security will change once he becomes the president," he said.
Related: Trump security circus is hurting business at Tiffany
Garodnick, who represents parts of the East Side and midtown, says he's fielded complaints over street closures.
"You have a hotel on that block [that saw] a real bump in cancellations because people felt they couldn't access it, and for the people who did come, they had to navigate police and walk a quarter mile to hail a taxi," Garodnick said. "You also have showrooms where people can make appointments to buy clothes in the area, and they reported that their clients did not want to go anywhere near midtown."
Related: Trump Tower security is costing nearby businesses
Since the election, some streets that were inaccessible to cars have opened, and shoppers can visit retailers that were cordoned off before.
But the disturbance hit hard. In a December survey of 50 businesses around the tower, 80% reported a drop in foot traffic. Half of those said the impact was severe.