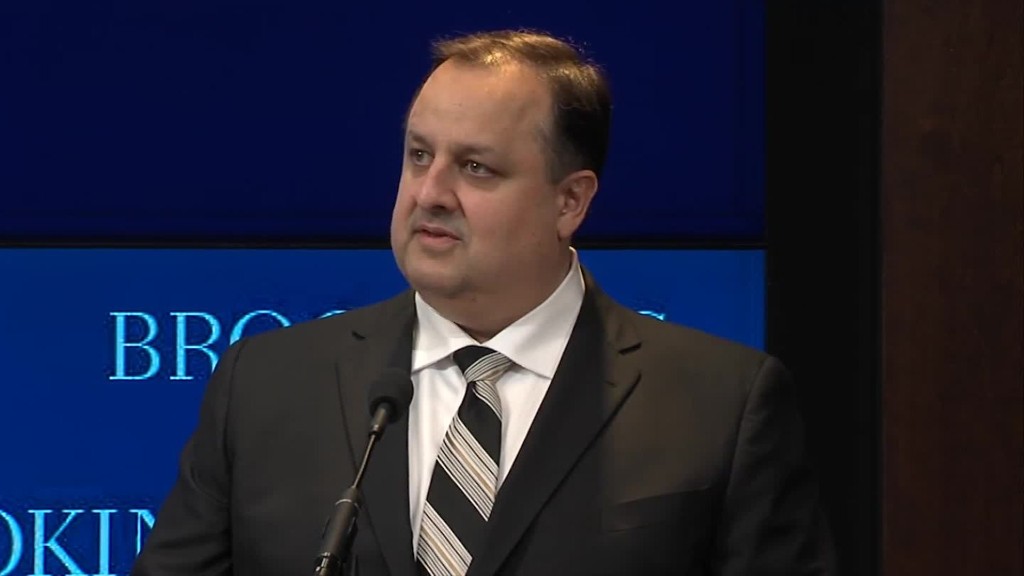 The director of the Office of Government Ethics is blasting President-elect Donald Trump's plan to avoid conflicts of interest as "wholly inadequate."
Speaking at the Brookings Institution in Washington, Walter M. Shaub said Trump's plan to separate himself from his business interests doesn't follow the tradition of presidents from the past four decades.
"This is not a blind trust," he said. "It's not even close."
Shaub's office is not an enforcement agency, but it advises executive branch officials about how to avoid conflicts. It's the office combing through the financial holdings of Trump's Cabinet nominees to look for problems.
Earlier Wednesday, Trump announced that he would place his vast business holdings in a trust controlled by his adult sons, Don Jr. and Eric, and that he would relinquish his leadership of the Trump Organization.
Related: What Trump is really doing about his business
Trump will not sell his stake in the business, however. Under a blind trust, Trump would sell his holdings and let an independent manager invest the proceeds. That way, he could not profit directly from decisions he makes as president.
Shaub said the Trump plan "adds nothing to the equation."
"We can't risk creating the perception that government leaders would use their official positions for profit," he said.
Trump's transition team did not immediately respond to a request for comment.
While federal conflict of interest rules prohibit executive branch officials from holding assets that could clash with their official duties, the president and vice president are exempt. Trump has seized on this point while discussing his business, saying the president "can't have a conflict of interest."
Shaub, who was appointed by President Obama in January 2013, said Trump should act as though the rules applied to him, too.
"Common sense dictates that a president can, of course, have very real conflicts of interest," he said, adding that "potential for corruption only grows with the increase of power."
Shaub praised Rex Tillerson, Trump's pick for secretary of state, for an ethics plan he called a "sterling model" for other Cabinet picks, as well as for Trump.
Tillerson was most recently CEO of ExxonMobil. If he is confirmed for secretary of state, his $181 million retirement package will be put into an independently managed trust that cannot invest in the oil company.
Trump's plan "does not achieve anything like the clean break Rex Tillerson is making from Exxon," Shaub said. He added that for Trump, merely stepping away from running the business, rather than selling it, is "meaningless" from a conflicts perspective.
The ethics director also shed light on a strange string of enthusiastic tweets his office sent in November that pre-emptively congratulated Trump for divesting himself of his business holdings -- a move Trump never promised to make.
The tweets used words like "Bravo!" and "Brilliant!" to describe such a plan. Reporters wondered whether the ethics office's Twitter feed had been hacked.
Government ethics office cheers Trump in unusual string of tweets
"I was trying to use the vernacular of the president-elect's favorite social media platform to encourage him to divest," Shaub said on Wednesday. "This has been my view from that start."
Shaub said there was "still time" for Trump to build on what he has announced so far to resolve potential conflicts. He said he's previously had to ask nominees and appointees to take "painful steps" to avoid problems.
"I don't think divestiture is too high a price to pay to be the president of the United States of America," he said.
--CNNMoney's Jon Sarlin contributed to this story.