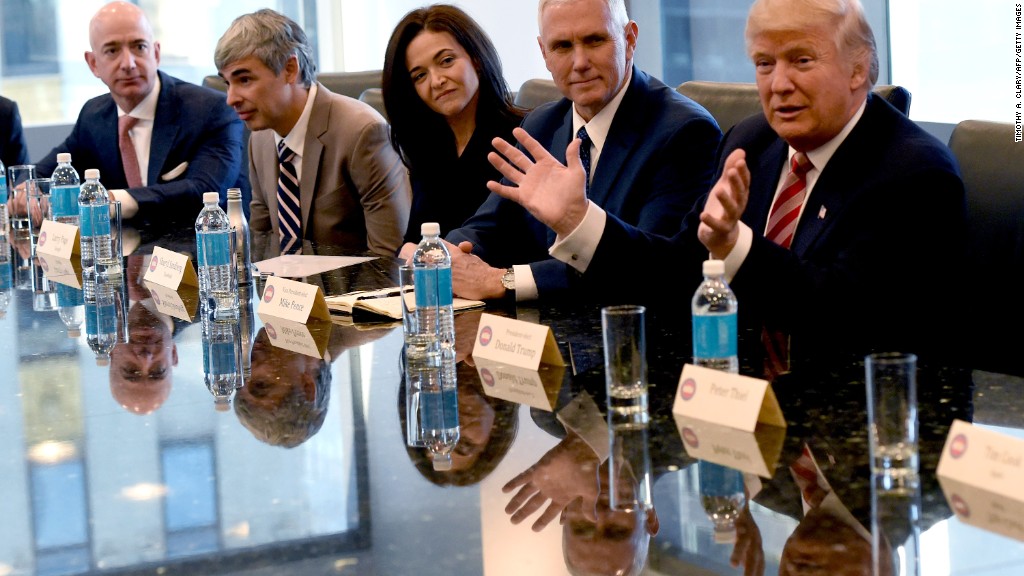 So much for fears of Donald Trump's presidency hurting tech stocks.
While the Dow continues its flirtation with 20,000 (will it EVER get there?) the Nasdaq keeps hitting new record highs. And it's being led by four prominent tech companies that collectively are known by the acronym of FANG.
Facebook. Amazon. Netflix. Google -- whose parent company is now technically Alphabet, but its ticker symbol still starts with a G.
Facebook (FB) is the hottest of these Fab Four stocks. Shares of the social network are already up nearly 12% in just the first two weeks of the year. Amazon (AMZN) and Netflix (NFLX) are each up more than 8%. Google's (GOOGL) shares have gained 5%.
What makes Facebook's performance even more astonishing is that it has come despite criticism about fake news proliferating on Facebook, concerns about some of its metrics being wrong and speculation that CEO Mark Zuckerberg may seek public office.
But investors are looking past that and focusing on the fact that Facebook is expected to keep posting impressive levels of growth.
Analysts are predicting that Facebook will report a year-over-year revenue increase of 45% for the fourth quarter and 65% surge in earnings per share. Facebook will report its results on February 1.
Wall Street is bullish about the earnings prospects for the other FANG stocks too. Netflix, which will kick off tech earnings season when it reports its results Wednesday, is expected to post sales and earnings increases of more than 30% from a year ago.
Related: Netflix at all-time high? Stranger things have happened
Analysts are forecasting a 25% jump in sales for Amazon and more than 35% increase in profits. And Google is expected to report earnings growth of 11% and a revenue increase of nearly 20%.
It seems that these strong fundamentals are trumping Trump fears. Tech investors were worried in the immediate aftermath of Trump's win over Hillary Clinton for several reasons.
Concerns about a crackdown on immigration, most notably on H1-B visas that allow many foreign workers to come to Silicon Valley, hurt the stocks of big tech companies.
Trump's protectionist rhetoric wasn't helping either since most large tech companies do big business overseas.
But sentiment has shifted in the past few weeks. Investors are focusing more on some of the potential positives of a Trump administration.
The meeting that Trump held with leaders of several big tech companies in New York last month seemed to help allay some of the concerns investors had about Trump.
Investors also seem to recognize that corporate tax reform, particularly changes that could allow companies to bring back cash being held overseas at lower rates, could be good for the tech sector.
Google said in its most recent earnings report in October that it had $50 billion in cash and investments, 60% of its overall cash hoard, outside of the U.S. Apple (AAPL) and Microsoft (MSFT) hold an even bigger percentage of their cash overseas.
Related: Apple gets bump from Trump and profits from Samsung's woes
Eric Ervin, CEO of Reality Shares, an investment firm that runs several ETFs focused on dividends, said Monday that assuming Trump follows through on his tax reform promise, more tech companies may consider paying dividends.
Ervin highlighted Google, Amazon and Facebook as three that have enough cash to easily afford a dividend.
"It's reasonable to assume most of those companies will want to put that cash to work," he said.
Tech stocks are also rallying on the hopes of broader economic stimulus from Trump and the Republican Congress.
It stands to reason that if $1 trillion is spent on the nation's roads, bridges and other physical infrastructure, that could boost overall economic growth. That would be good for tech companies too, especially if stimulus lifts consumer spending.
But are investors too optimistic?
Terri Spath, chief investment officer of Sierra Investment Management, wrote in a recent report to clients that she's worried that the market rally is about to stall.
"Stimulative policy should turbocharge growth and boost corporate profits, but stocks are ahead of themselves," she wrote.
"The anticipation of changes in tax and regulatory policy are ahead of the reality right now. We like the improved optimism in corporations and consumers," she added. "We are just saying, proceed with caution. The sugar high is wearing off."