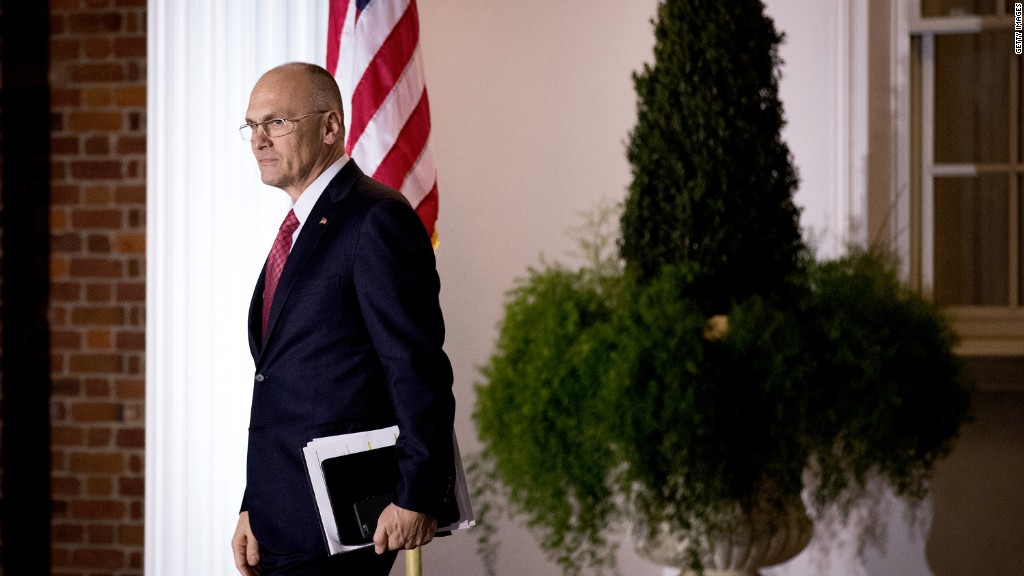 In two speeches in 2011, Donald Trump's nominee for secretary of labor, fast-food executive Andrew Puzder, described the employees hired at his restaurants as the "best of the worst" available in the employment pool.
Puzder, who is the CEO of CKE Restaurants, the company that operates the fast-food chains Hardee's and Carl's Jr., is scheduled to appear before a Senate committee on Feb. 2 for his confirmation hearing. Puzder has drawn criticism from Democrats and organized labor for his opposition to several of their key policy priorities, including a $15 federal minimum wage and the Labor department's overtime rule.
Speaking to a students of Westmont College in February 2011, Puzder discussed the changes he made at CKE when he initially took over as its chief executive.
"Our turnover was about 300% a year. Which means everybody quit. There were some people that stayed that were lifers at Hardee's," Puzder can be heard saying in an audio recording of the speech archived on iTunes and reviewed by CNN's KFile. "But most people were coming and working three months and then going somewhere else. It's not like if you run a fast food company you're hiring graduates of MIT or people that were gonna go work for Microsoft, you know.
"In the employment pool, you're hiring the best of the worst. You know, it's kind of the bottom of the pool. And at Hardee's it was so bad, we were hiring the worst of the worst and hoping they would stay."
Puzder echoed these comments later that year in a speech to California State University, a recording of which is available on UStream.
"In fast food, you sort of compete for the best of the worst," Puzder said. "In other words, you're not getting the Microsoft guys. At Hardee's we were getting the worst of the worst. Nobody wanted to work at Hardee's. It was complicated to work there, we had to change our network systems, our menu was too complicated we had to simplify it."
A Trump administration official pointed CNN's KFile to CKE for comment. A request for comment from the restaurant group has not been returned.
As Labor secretary, Puzder would oversee workplace issues and enforce current laws and regulations related to employer-employee relations. Democrats have voiced their opposition to Puzder, who has been critical of regulations passed under President Obama, including provisions in the Affordable Care Act.
Puzder's blunt assessment of his workforce differs from other, more aspirational comments he has made in public on the same subject.
In a May 2011 radio interview, Puzder described the jobs at his restaurant as meaningful and important. He also noted that he was able to hire college graduates in California because of the state's high unemployment rate.
"In California, 86% of our employees are minorities and 63% are female. You talk about McJobs, you kind of don't hear that anymore," he said. "These are very, very meaningful jobs and important jobs, and we're now getting college grads applying for some of these jobs, particularly in California, where the unemployment is so high. I can actually now hire people where English is a first language, a few years ago that wasn't the case."
In testimony before the Senate in 2014, Puzder described the pride and fulfillment he saw in CKE workers.
"As CEO, I've watched young men and women enter the labor force in our restaurants for over 14 years," he said. "I've seen the pride and determination that leads to success in their careers and lives. Some move on to other jobs and challenges equipped with the experience you can only get from a paying job. Others stay, aspiring to move up to managerial positions. There's nothing more fulfilling than seeing new and unskilled employees work their way up to managing a restaurant."