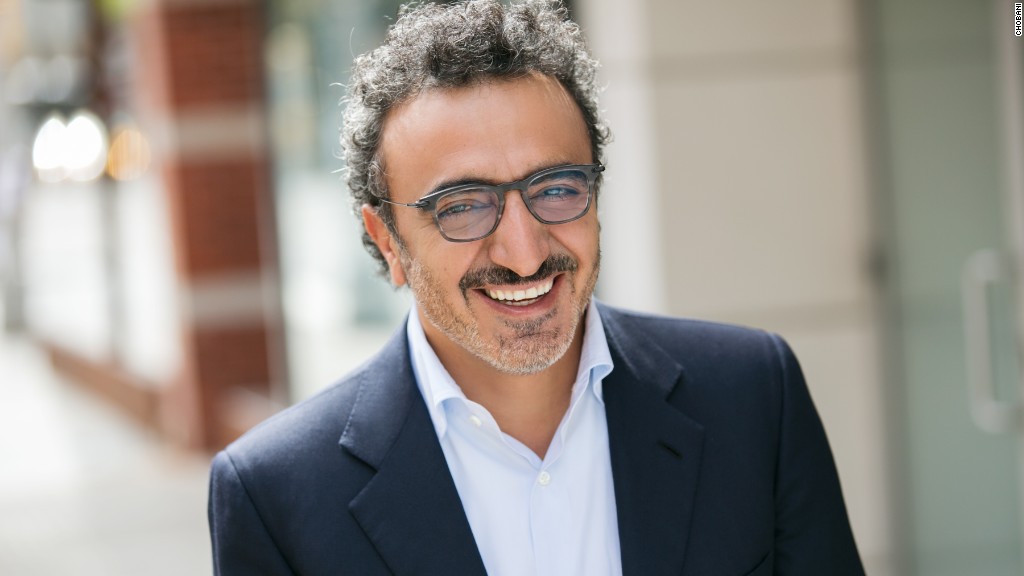 President Trump's travel ban hit the founder of the Chobani yogurt company close to home.
"This is very personal for me," Hamdi Ulukaya wrote in internal memo obtained by CNN. "As an immigrant who came to this country looking for opportunity, it's very difficult to think about and imagine what millions of people around the world must be feeling right now."
"America has always been a symbol of hope, tolerance and diversity —and these are values we must work very hard to uphold," he wrote.
Ulukaya, 44, a Kurd from Turkey, started his company back in 2007. At the time, he had just five employees. Now, the New York-based yogurt maker employs more than 2,000 people in his two factories, and makes more than $1 billion in revenue annually.
In the memo, Ulukaya promised to help those employees impacted by the executive order. "I've directed our Legal and HR teams to explore whether any member of our company or their family members are affected and provide whatever assistance they need," he wrote on Monday. "We'll have their backs every day and every step of the way."
"And if anyone has any questions, issues or concerns, please call me directly," he wrote.
Trump's ban prevents nationals from seven Muslim-majority countries — Iraq, Syria, Iran, Libya, Somalia, Sudan and Yemen — from entering the United States for at least 90 days.
The order also bans all refugees from coming into the U.S. for four months, and bars those attempting entry from war-torn Syria indefinitely.
The yogurt magnate has reason to identify with those looking for a better life overseas. "I left Turkey because I was Kurdish and I was very serious about Kurdish rights," he told CNNMoney in 2015. "A lot of Kurds in Turkey flee the country. Villages were bombed."
Related: Companies and executives speak out on Trump's travel ban
Last year, Ulukaya wrote in a piece for CNNMoney stating that Chobani has "hired hundreds of refugees in the past five years, and they are some of the most talented, dedicated people I've ever met."
He wrote that 19 countries are represented among Chobani's employees. "We are a microcosm of America at its best," he wrote.
Related: The tech firms fighting Trump's travel ban with cash
The travel ban has inspired an outpouring of support for refugees from American companies and executives.
"Respect for all people is a core value of Ford Motor Company (F), and we are proud of the rich diversity of our company here at home and around the world," Ford Executive Chairman Bill Ford and CEO Mark Fields wrote in a statement. Apple (AAPL) CEO Tim Cook said the tech company "would not exist without immigration, let alone thrive and innovate the way we do."