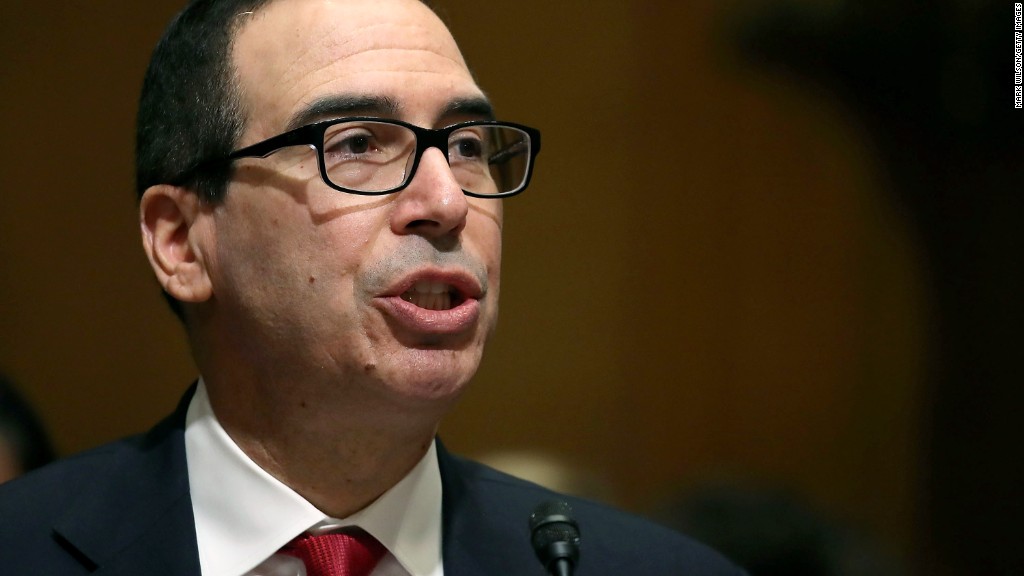 Senate Democrats are boycotting a committee vote on Steven Mnuchin, President Trump's nominee for Treasury secretary.
The Democrats didn't show up Tuesday for Senate Finance Committee votes on Mnuchin and Tom Price, Trump's pick to lead the Department of Health and Human Services.
Senator Ron Wyden, the top Democrat on the committee, said that Mnuchin had given "indisputably false" testimony to the committee when he denied that his former bank, One West, engaged in an aggressive foreclosure tactic known as robo-signing.
"This is about getting answers to questions, plain and simple," Wyden said in a statement. "Ethics laws are not optional, and nominees do not have a right to treat disclosure like a shell game."
Related: Senate Democrats boycotting HHS, Treasury nominees
The committee vote on Mnuchin, a former Goldman Sachs banker and Hollywood movie producer, was first scheduled for Monday. Democrats delayed it to attend a candlelight vigil protesting Trump's ban on travel from seven Muslim-majority countries.
Republicans are in the majority on the Senate Finance Committee, but the rules say one Democrat has to be there for the take to take place.
On Tuesday, Senator Orrin Hatch of Utah, the Republican committee chairman, said he was "really disappointed" in the Democrats.
"This is the most pathetic thing I've seen in my whole time in the United States Senate," Hatch said.
In a written questionnaire from the committee, Mnuchin was asked whether OneWest engaged in robo-signing.
"OneWest Bank did not 'robo-sign' documents," he responded, according to a copy of his answers obtained by CNNMoney.
A report in The Columbus Dispatch this week showed OneWest used loan servicers who quickly signed foreclosure documents without reading them.
Robo-signing is a term used by critics to collectively describe shortcuts in the mortgage and foreclosure processes. But the term is not a legal definition and can be interpreted to mean different things by different people.
At a hearing Jan. 19, Democrats challenged Mnuchin about OneWest, which has also been accused of discriminating against minority borrowers.
Related: Trump Treasury pick: 'I have been maligned'
Mnuchin defended the bank, saying regulators were at fault for foreclosures on widows, military families and other homeowners during the Great Recession.
"Since I was first nominated to serve as Treasury secretary, I have been maligned as taking advantage of others' hardships in order to earn a buck," Mnuchin said. "Nothing could be further from the truth."
He also said Congress should raise the federal government's borrowing limit, known as the debt ceiling, "sooner rather than later."
Related: Trump taps ex-Goldman banker Mnuchin for Treasury post
If he's confirmed, Mnuchin will join four Cabinet nominees who have cleared committee and are awaiting full votes in the Senate: Rex Tillerson for secretary of state, Ben Carson for housing secretary, Wilbur Ross for commerce secretary and Betsy DeVos for education secretary.
Defense Secretary James Mattis, Homeland Security Secretary John Kelly, U.N. Ambassador Nikki Haley and Transportation Secretary Elaine Chao have all been confirmed.
--CNNMoney's Chris Isidore contributed to this report.