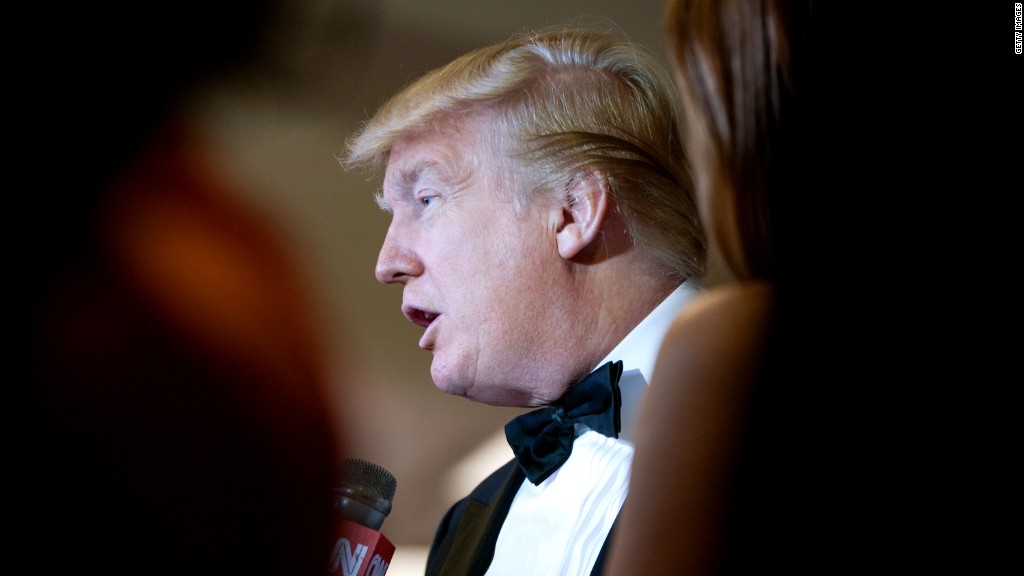 A federal agency has told House Democrats that it is still trying to figure out whether Donald Trump's presidency triggered a violation of the lease for his luxury Washington hotel, the Democrats say.
Democrats on the House Oversight Committee had asked the General Services Administration, the federal agency that oversees the lease, to decide whether the Trump Organization is in breach.
The Trump International Hotel is housed in a historic post office three blocks from the White House. Trump signed a 60-year lease with the federal government two years before he began his presidential campaign.
As president, he now oversees the GSA, and is effectively both landlord and tenant. A clause appears to prohibit elected officials from benefiting from the lease.
Related: Donald Trump could violate own lease at Washington hotel
Democrats and outside ethics lawyers say the hotel allows Trump to profit off the presidency because foreign government officials and business leaders have a clear incentive to do business there.
The GSA faced a Monday deadline to answer questions from the Democrats about the matter.
In response, the agency reported that it was still evaluating whether Trump was in violation of the lease, said Jennifer Werner, an aide to Representative Elijah Cummings, the top Democrat on the Oversight Committee.
In addition, the GSA did not give the Democrats unredacted reports on the hotel's revenue and expenses, as they had requested, Werner said.
The GSA did not immediately respond to a request from CNNMoney for comment.
The Republican chairman of the Oversight Committee is Representative Jason Chaffetz of Utah. He was scheduled to meet privately on Tuesday with Trump.
A document made public by ProPublica last week shows that Trump placed his stake in the hotel into a trust controlled by his son Donald Trump Jr. and a Trump Organization executive.
Related: Trump will leave business, but won't sell
That was part of what Trump called a plan to avoid conflicts of interest. But Trump declined to sell anything, which means he still stands to profit.
An ethics watchdog organization is arguing in a lawsuit that Trump, by accepting foreign government payments, is in violation of the Emoluments Clause of the Constitution. Trump's lawyers have said settling a hotel bill does not constitute an emolument.
The White House, the Trump Organization and Chaffetz's office also did not immediately respond to requests for comment.