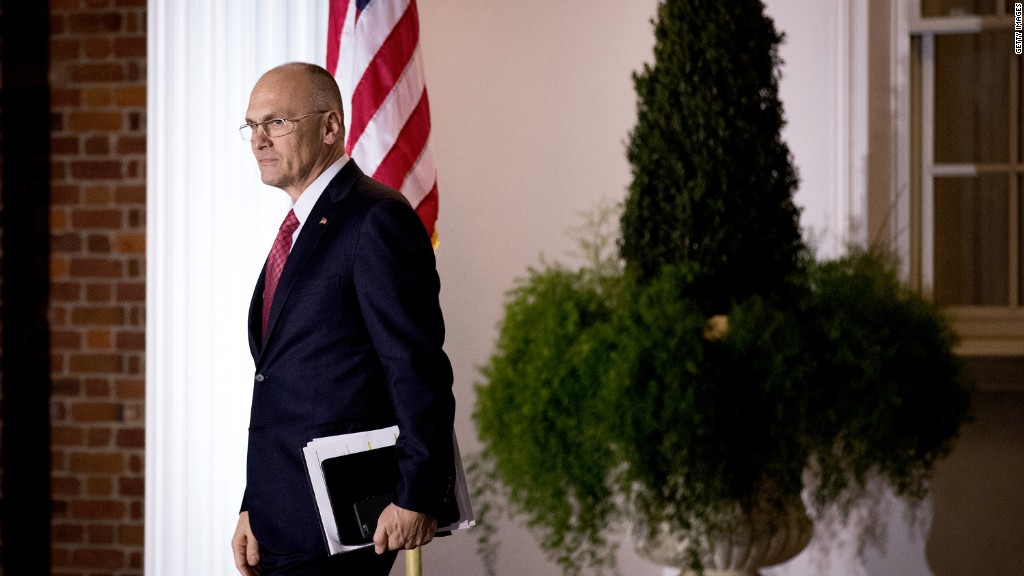 Andrew Puzder, President Trump's nominee to lead the Labor Department, says he will step down as chief executive of CKE Restaurants and might give up his 2016 bonus if the Senate confirms his nomination.
The fast food exec, who currently runs Carl's Jr. and Hardee's restaurants, explained how he would avoid financial conflicts of interest in a letter to government ethics officials. It was dated Tuesday.
"I will not participate personally and substantially in any particular matter in which I know that I have a financial interest directly and predictably affected by the matter," Puzder said in the letter, which was obtained by CNNMoney.
In the letter, Puzder said he would sell holdings in more than 200 companies and funds within 90 days of his confirmation. He also agreed to divest from 13 "illiquid" investment funds within 180 days and said he would sell his stock in CKE Restaurants back to the company.
Related: 8 reasons Andrew Puzder's nomination is a mess
Puzder said he'll return a pending 2016 bonus from CKE, as well as outstanding relocation benefits for his 2016 move to Tennessee -- if the payments are sent after he's sworn in.
The pending bonus is worth up to $5 million and the relocation benefits are worth up to $500,000, according to a public financial disclosure report.
Puzder's hearing before the Senate Committee on Health, Education, Labor & Pensions, which has been delayed four times, has been rescheduled for Thursday, Feb. 16, according to an aide to committee chair Sen. Lamar Alexander.
Related: Trump labor nominee said 40% of his workers were once undocumented
The aide confirmed the committee has received Puzder's plan to deal with potential conflicts from the Office of Government Ethics, which is required to work with cabinet nominees during the nomination process.
Puzder's ethics agreement does not include a provision for a blind trust, under which he would sell his assets and let an independent manager reinvest the proceeds.