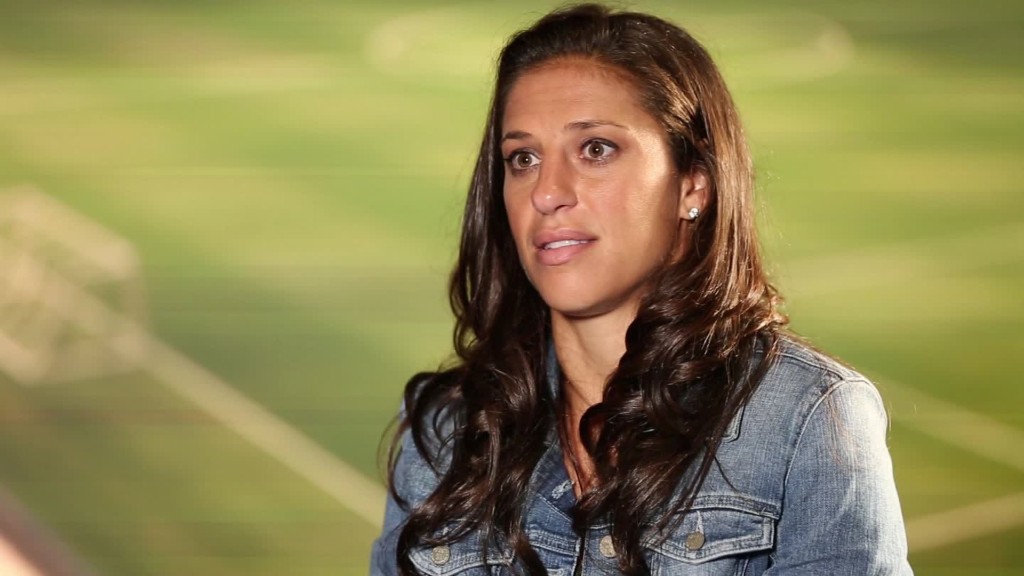 Two star women's soccer players are leaving the U.S. to compete overseas at a crucial moment in their fight for equal pay.
Carli Lloyd signed with Manchester City Women this week, while Alex Morgan signed with the Olympique Lyon women's team in December.
Both Lloyd and Morgan have helped lead the U.S. Women's National team's "Equal Play, Equal Pay" fight with U.S. Soccer.
The national team contends that its members are paid less than players on the men's national team. In March 2016, the women filed a complaint against U.S. Soccer with the Equal Employment Opportunity Commission.
As Morgan said in a letter for the Player's Tribune, "it will be more difficult for me to help lead from abroad."
She said leaving was difficult because the "U.S. Women's National Team is in a critical place at the moment." She added that the treatment of female players overseas influenced her decision.
Morgan said the team in Lyon is "committed to growing women's soccer, and provides "the women with first-class facilities and an unparalleled training environment on par with the men's team."
Lloyd and Morgan will both remain on the national team, which competes in events like the FIFA World Cup and the Olympics.
The moves by Lloyd and Morgan suggest that if players can't get equal pay on the U.S. national team, they may not stick around and play in the U.S. pro league.
Related: Hope Solo on 'Equal Play Equal Pay' t-shirts: We'll keep pushing
The current pro league has only been around since 2012, and two prior attempts to launch a pro women's league in the U.S. failed. It relies heavily on the national team's star talent and success.
Both Lloyd and Morgan are World Cup champions and Olympic gold medalists, and Lloyd was named the female FIFA player of the year in 2015 and 2016.
Now that they've signed overseas, Lloyd and Morgan will miss the remainder of the pro season -- Lloyd played for the Houston Dash and Morgan was with the Orlando Pride.
Lloyd and Morgan have only agreed to short-term contracts, and say they plan to return to their U.S. pro teams after this season abroad. However, there's no guarantee they will.
The pro league's commissioner, Jeff Plush, said that it would be better if Lloyd and Morgan stayed, but noted that "it's a two-way street. We're part of the global football business — people come in, and others go out."
The U.S. has long been a powerhouse in women's soccer and top talent is extremely marketable. That raises the threat of a talent drain overseas -- similar to what's happened with top male soccer players.
Women players from other countries have often left their home countries to play with pro teams elsewhere in Europe, but most top U.S. players stick around and play in the pro league here.
These signings are a reminder that if the U.S. won't pay women players, foreign teams can and will.