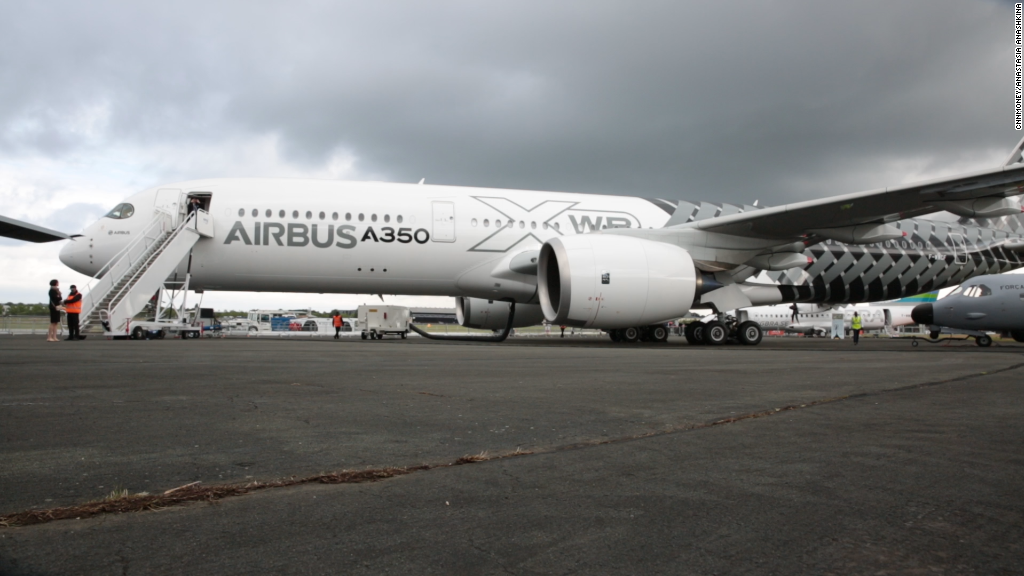 European planemaker Airbus has been given "oral assurances" by the U.K. government regarding the impact of Brexit on its business.
"I think we've received some oral assurances, but all this obviously is preliminary because nobody knows exactly how this all plays out," CEO Tom Enders told CNNMoney's Nina dos Santos on Wednesday.
U.K. Prime Minister Theresa May has said Britain is seeking a complete break with the European Union in Brexit negotiations that are expected to begin next month. That is almost certain to mean trade barriers being erected between the EU and the U.K.
Enders would not comment in detail on the assurances. A spokesman for the government said he wasn't aware of any discussion with Airbus.
With more than 15,000 employees in Britain, Enders said "any" U.K. government would want to keep Airbus on side.
The aviation giant is headquartered in Toulouse, France, but has significant engineering and productions facilities in the U.K. One large production center in Wales manufacturers the wings used on all Airbus civil aircraft.
In order to protect the company's supply chain, Enders said he would be lobbying the U.K. and governments in Europe in the hope of limiting any new barriers that might result from the U.K.'s departure from the EU.
"We will not stay passive ... we know our interests," Enders said. "We need to keep our manufacturing, our engineering in the U.K. competitive, and we will try to make an input into these discussions as much as we can."
Airbus (EADSY) is not the only major employer to hold talks with the British government following the referendum.
In October, Nissan (NSANY) said it had been convinced to invest in its massive production facility in Sunderland after getting reassurances from the British government, though it wouldn't provide details.
Boeing first?
Enders said that Airbus is "well positioned" in the U.S. despite suggestions that the Trump administration could favor its rival Boeing (BA) as part of an "American first" strategy.
"It's not that easy," Enders said of Trump's rhetoric. "The aerospace industry is very much intertwined globally, internationally."
The Airbus boss said that the company's large commercial aircraft, for example, use many parts manufactured in the U.S.
The European firm has a production facility in Alabama, and it builds helicopters for the U.S. military in Mississippi.
But Enders did say that Trump was right on another subject: the need for more NATO countries to spend more on defense.
"I've always been amazed by America's patience with the Europeans when it comes to defense spending," he said.
"That's something the news administration is right on target," Enders added.