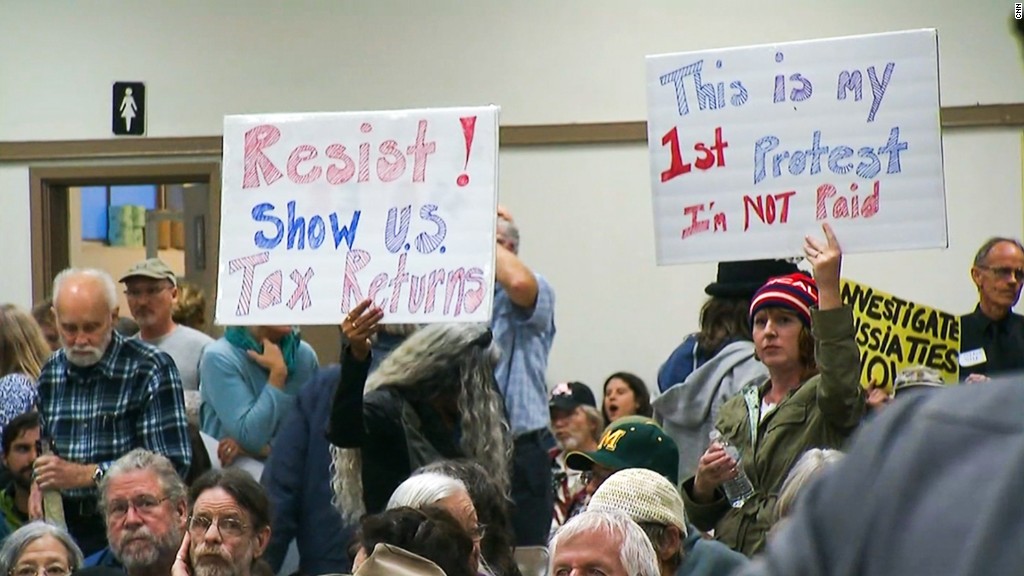 Yes, Mr. President, the public does want to know what's in your tax returns.
Just ask the Republican lawmakers who've been questioned, booed and heckled at recent town halls by constituents pushing their representatives to get President Trump's tax returns.
Though Trump is not legally required to release his returns, every sitting president and presidential nominee has done so for the past 40 years.
Trump chose not to follow that tradition, and has said that the public doesn't care "at all" about his returns.
Under the law, chairmen of the Congressional tax-writing committees are authorized to confidentially review anyone's return -- including the president's -- without that person's consent if they have cause.
The committees may then choose to make the return public if it's in the public interest and advances a legitimate committee purpose.
Representative Tom Reed of New York tried to explain why he and every other Republican member at a House Ways and Means Committee hearing last week voted down a Democratic effort to get the committee chairman to use his legal authority to obtain the returns.
"The reason why we voted against that is because if the government goes on an attack on one individual, that is a very dangerous level of power," Reed said. "We make sure the government is held in check."
Democratic members are pushing for the returns to be reviewed for potential conflicts of interest and possible security risks posed by the president's global business dealings.
Reed's answers were met with loud boos, and chants of "Do your job!" "What are you covering up?" and "Russia! Russia! Russia!"
Related: Democrats vow to keep pushing GOP to get Trump's tax returns
Two constituents of Representative Leonard Lance of New Jersey also brought up Trump's tax returns at his town hall. When asked to give a "yes or no" answer as to whether he'd support Democrats' effort on Ways and Means to obtain the president's returns, Lance said "[it] goes too far" and suggested it would be an "overreach" for Congress to examine the returns of a "private individual."
Amid boos from the crowd in response, the questioner pushed back, "He's the President! He's not a private individual!"
For his part, Ways and Means Committee Chairman Kevin Brady has said he only believes the law lets the committee review returns when there is a question of whether the tax code is being properly administered.
The demands for Trump's tax returns haven't been limited to Republican town halls. Senator Ron Wyden from Oregon, the leading Democrat on the Senate Finance Committee, also addressed the issue.
"I'm the author of the legislation that would require presidential candidates and presidents to disclose their taxes. And I am committed to making sure the American people get that information," Wyden said at a town hall last week.
He had called on Trump to release his returns before the election. And he introduced a bill that would compel all presidential nominees and sitting presidents to publicly disclose their three most recent tax returns. If they don't, Wyden's bill would authorize the Treasury to do it for them. So far no action has been taken on his bill.