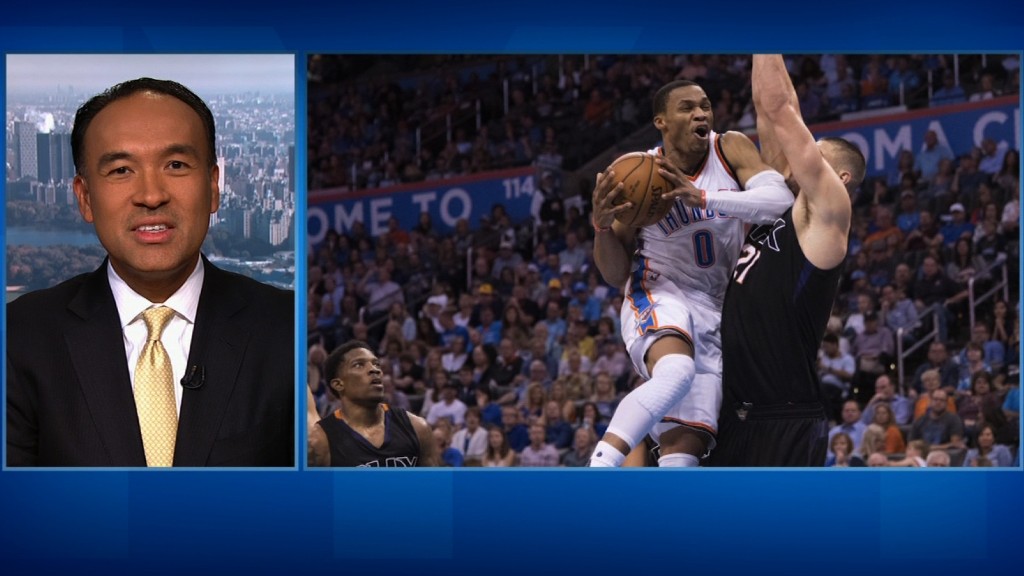 Editor's Note: This article has been updated. Two days after this story was published, the NBA, which had repeatedly declined requests for comment, reached out to tell CNNMoney where player fines are donated.
The NBA imposes millions of dollars worth of fines on players each season, but where does the money go?
NBA players have paid more than $1.6 million in fines about half-way into the 2016-2017 season. That's based on data from Spotrac, which monitors athlete contracts and financials.
According to the league's collective bargaining agreement, the money goes to charities chosen by the NBA and the National Basketball Players Association.
The NBPA's half of the money goes to its foundation, while the NBA's half goes to its NBA Cares community partners. Some of those partners include the Boys & Girls Clubs of America, the Thurgood Marshall College Fund, UNICEF and Share Our Strength.
Related: NBA jersey ads: What's the hold up?
In the NFL, fines are donated to the NFL Player Care Foundation and the Players Assistance Trust.
The foundation provides retired players with financial assistance, while the trust helps former players financially with things like medical expenses and completing their undergraduate degrees.
Since 2009, about $4 million a year from on-field fines has gone to help former players, according to the NFL.
In MLB, the money from fines goes to MLB Charities -- a non-profit that supports groups like the Boys & Girls Clubs of America, the National Recreation and Park Association, the National Urban League and the Jackie Robinson Foundation. Some of that money also goes to the Baseball Assistance Fund, which helps former players in financial need.
Related: Ass or asset? Steph Curry goes after Trump
All fines in the NHL are donated to the league's Players' Emergency Assistance Fund, which helps former players financially.
In addition to fines that players incur during a game, the NBA also fines players for other infractions, according to the CBA.
They're fined $2,500 the first time they skip practice during a season. Failing to make a promotional appearance is a $20,000 fine. So is missing a mandatory educational program like anti-gambling or media training. Skipping the NBA's "business of basketball" program means a $5,000 fine.